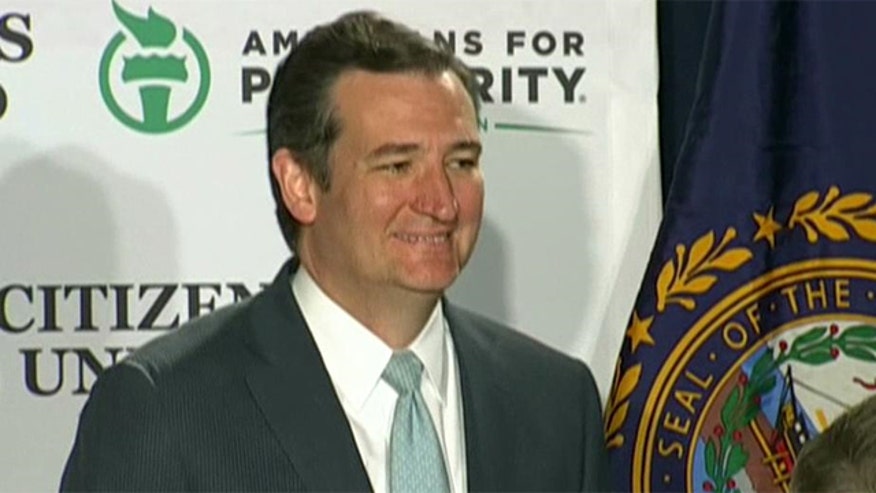 The country's leading conservative voices -- and potential 2016 presidential candidates -- gathered Saturday in New Hampshire to drive more stakes into ObamaCare and urge voters to end Democrats' control of the White House and Senate.
"We win whenever we have an agenda, boldly focused on upward economic mobility for Americans," Utah GOP Sen. Mike Lee told the crowd at the Freedom Summit, in Manchester, N.H. "Expect more from the conservative party. … Expect Congress to do its job … Join me in expecting more, expect freedom."
The conference is being hosted by Citizens United and Americans for Prosperity, which with the help of billionaire brothers Charles and David Koch has already spent millions of dollars on ObamaCare-related attack ads aimed at Democratic senators in New Hampshire, North Carolina, Alaska, Colorado, Iowa and elsewhere.
The summit comes as prospective presidential candidates begin to step up appearances in key states ahead of the 2016 presidential contest, though New Hampshire's first-in-the-nation presidential primary isn't planned for another two years.
"I am profoundly optimistic that together we can turn this nation around," said freshman Texas GOP Sen. Ted Cruz. "Every Republican should have tattooed on each hand 'growth' and 'opportunity.' "
Kentucky GOP Sen. Rand Paul said conservatives need a bold message to "hit those who haven't been listening" and to keep their political movement growing.
He said conservatives must carry messages of justice, concern for unemployed workers and against government surveillance -- if they want to attract new people to the movement, including young people, Hispanics and blacks.
"The question is will you be a sunshine patriot … or will you stand up and fight for you freedom," Paul asked.
Former Arkansas Gov. Mike Huckabee closed the conference for the crowd of roughly 700.
"I've never been so worried in my life about what my own country is doing to me," he said. "We lost our landmarks … the liberties of our country."
Huckabee, Paul, Cruz and New Jersey Gov. Chris Christie are among the top potential GOP candidates, in most early 2016 polls.
Real estate mogul Donald Trump, who has considered a president bid in past election cycles, told the crowd that ObamaCare is "the single greatest lie I've ever witnessed."
New Hampshire GOP Sen. Kelly Ayotte said: "As the eyes of the nation once again turn to New Hampshire, we will hear from some of our best conservative leaders. And my guess is, this is not the last time you will see some of these guys."
Ayotte called for changes to ObamaCare so that Americans can keep the doctors they had before enrolling and suggested Democrats clearly realize that problems with the 2010 law have hurt their party.
"Everything they know that will hurt them electorally … they will change now," said Ayotte, one day after the official resignation of Health and Human Services Secretary Kathleen Sebelius, who oversaw the problem-filled ObamaCare rollout.
Republicans will have to win a net total of six seats to take control of the upper chamber.
Republican operative Mike Biundo, who managed Rick Santorum's last presidential campaign, called the event Saturday "the unofficial kickoff of the 2016 process."
In a conference call Friday, Rep. Chris Van Hollen, D-Md., insisted that "Democrats are not running away from the Affordable Care Act."
Democratic National Committee spokesman Mike Czin noted that Republican opposition to the health care law was the foundation of the GOP's unsuccessful political strategy in 2012. He said that the debate has changed now that the law has been implemented and millions of people are enjoying its benefits.
"That's a debate that we're going to have, and we're eager to have," Czin said.
At the same time, Van Hollen, who leads House Democrats' campaign efforts, called for Republicans to defend their support for a GOP budget plan introduced this week that would repeal the health care law, transform Medicare, reintroduce the "doughnut hole" for prescription drug costs and enact deep cuts in education.
"Republicans in Iowa and New Hampshire are supporting an agenda that hurts middle-class families, hurts women and will benefit billionaires like the Koch brothers," Van Hollen said.
The Associated Press contributed to this report.