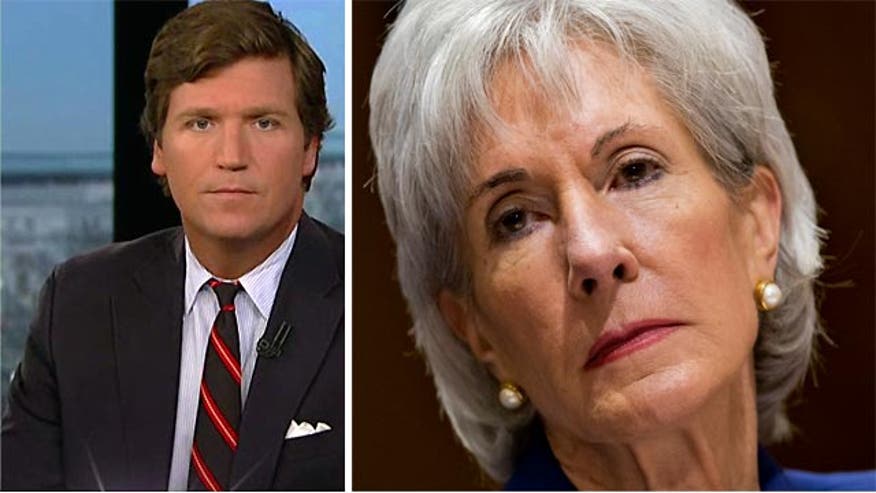 After a rocky ObamaCare rollout, HHS Secretary Kathleen Sebelius resigns, leaving a wake of "don't-let-the-door-hit-you" tweets.
Around 6:30 p.m. Thursday, as breaking news banners flew through the net, it seemed everyone had a spin on Sebelius' resignation including pro-life activist Steven Ertelt.
BREAKING: Pro-Abortion HHS Secretary Kathleen Sebelius to Resign http://t.co/wgb7CNHIen pic.twitter.com/DsLLv0b81A

— Steven Ertelt (@StevenErtelt) April 10, 2014
Seconds after the announcement, many conservatives - a la Senator Cruz' press secretary Amanda Carpenter – make it known it's not enough for her to go.
We don't need a resignation. We need REPEAL

— Amanda Carpenter (@amandacarpenter) April 10, 2014
A tweeter's prowess stems from the ability to be funny or ironic on deadline when your day job doesn't include being a comedian. Drumroll, please. The nominees for "best breaking news tongue-in-cheek tweets during a resignation" go to:
Obama sent a message: if you screw up, I will accept your resignation half a year later.

— jimgeraghty (@jimgeraghty) April 10, 2014
Kathleen Sebelius has resigned to start a little website development business.

— pourmecoffee (@pourmecoffee) April 10, 2014
Before I can support Sylvia Mathews Burwell for HHS Secretary, I must know what her views on marriage were in 2008.

— Jimmy (@JimmyPrinceton) April 10, 2014
Sebelius resigning, finally giving up on her contest with Holder to see what it takes to get fired by Obama.

— Dan McLaughlin (@baseballcrank) April 10, 2014
Will Sebelius get to keep her health plan?

— Ben Howe (@BenHowe) April 10, 2014
The comedians, riffing on Stephen Colbert's announcement he's going to CBS to fill David Letterman's slot, did just as well.
Kathleen Sebelius resigning to take Colbert's slot on Comedy Central.

— Mo Rocca (@MoRocca) April 10, 2014
wait does this mean sebelius is replacing colbert?

— andy levy (@andylevy) April 10, 2014
If you like your health secretary you can keep her.

— Albert Brooks (@AlbertBrooks) April 10, 2014
And the winner is...
Sibelius=Finnish.

— Dennis Miller Show (@DennisDMZ) April 11, 2014
Obamaites, who earlier in the day touted the website's new 7.5 million enrollee number, made sure to send off the secretary with a gracious goodbye.
Thank you Madam Secretary Kathleen Sebelius for your service. Over 7.5 million & counting have signed up for health care. #savelives.

— Donna Brazile (@donnabrazile) April 10, 2014
Kathleen Sebelius did more for women's health than anyone in history - our champion! @Sebelius http://t.co/F9iVULCWRA

— Cecile Richards (@CecileRichards) April 10, 2014
When all is said and done, Sebelius has lots to be proud of, including the surprisingly strong finish on exchange signups after rocky start.

— David Axelrod (@davidaxelrod) April 11, 2014
And vice versa:
HHS statement: "Secretary Sebelius is extremely thankful to President Obama and very proud of the historic accomplishments" of admin

— Ed Henry (@edhenryTV) April 10, 2014
**
The Koch brothers may want to lay low this week. From the looks of his Instagram account, Harry Reid's out for blood.
Excellent @SenatorReid use of his new Instagram account http://t.co/WbEtlwKvhH

— Mike Memoli (@mikememoli) April 10, 2014
Looks like just another day in Washington to me.
Watch Lauren every Sunday on #MediaBuzz at 11 a.m. and 5 p.m. ET. If you'd like to recommend your favorite political tweets, email laurenashburnFNC@yahoo.com or send her a tweet @laurenashburn with the hashtag #TwitterTalk.
Lauren Ashburn joined the network in 2013 and currently serves as a Washington-based contributor for FOX News Channel (FNC). On MediaBuzz with Howard Kurtz, Ashburn contributes commentary on the state of the news media shaping current events, their role in politics, cultures, business, and tech. Click here for more information on Lauren Ashburn.