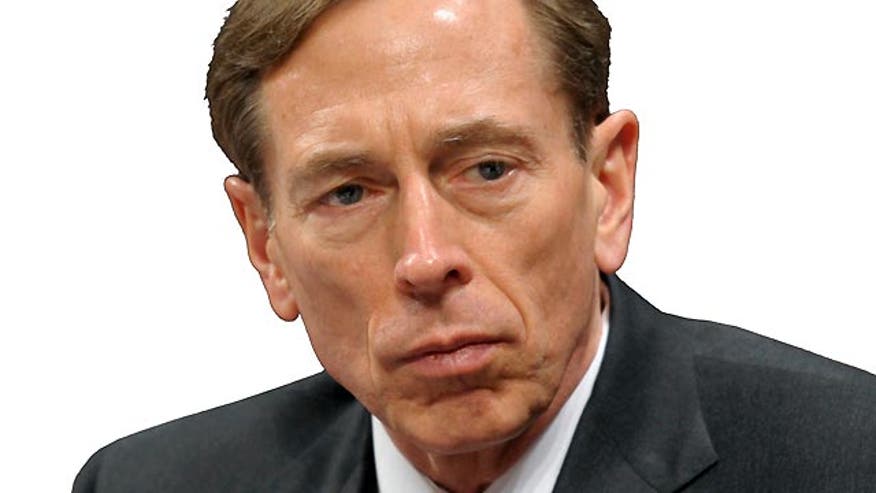 Two years after the FBI first began investigating former CIA director David Petraeus, Attorney General Eric Holder confirmed to lawmakers that the case remains open -- amid allegations it is being used as leverage to keep the former general quiet.
"All I can say is that this is an ongoing investigation," Holder testified Tuesday, in response to a series of questions from Republican Rep. Jason Chaffetz, who wrote to the Justice Department last month about the matter. "I'm really not in a position to say much more about it than that."
Fox News was told there may be friction between the FBI -- whose investigators are on the Petraeus case -- and the Justice Department over how to proceed, though Holder dismissed that claim.
"I've been briefed on this matter, and I did not detect any friction in what is an ongoing investigation," he said.
In March, Chaffetz wrote to Holder, asking why the probe remained open 16 months after Petraeus resigned as CIA director following an affair with his biographer. At the time, Chaffetz suggested it was kept open to keep Petraeus quiet on controversies like the Benghazi terror attack, telling Fox News: "If there is something serious and sinister, then let Congress know. If not, give this man's reputation back. But I worry that the White House is just holding this over his head to keep him quiet."
In a series of questions before the House Judiciary Committee on Tuesday, Holder could not remember when he first learned about the FBI investigation or when the president was notified. He also could not recall when then-White House counterterrorism adviser John Brennan (who is now the CIA director) learned, or when former CIA deputy director Mike Morell, who offered conflicting testimony on the question to the House Intelligence Committee last week, learned.
The exchange went as follows:
Chaffetz: "There is a news report that in spring of 2012, General Petraeus' schedule was compromised and that his security detail was informed of that. Is that true?"
Holder: "Again, I don't want to go into an ongoing investigation."
Chaffetz: "When is this going to be complete?"
Holder: "It is a matter that is ongoing and we are working diligently to resolve."
Chaffetz: "Do you have any idea when the president was told?"
Holder: "I don't remember right now."
Chaffetz: "Do you remember when Mr. Morell was told? …"
Holder: "I don't remember as well."
Chaffetz: "Mr. Brennan? Do you know when Mr. Brennan was told?"
Holder: "I don't remember. I'm not sure."
After the Petraeus investigation was made public, Sen. Dianne Feinstein, D-Calif., chairwoman of the powerful Senate Intelligence Committee, complained at the time to NBC that congressional leaders should have been notified given the national security implications.
But Holder on Tuesday again dismissed that the case rose to that level.
"Why not inform the Congress?" Chaffetz asked. "Why not do the necessary requirements under the law? The National Security Act of 1947?"
Holder answered: "We did not think on the basis of the allegations that we were looking at that there was any basis or any concern that we had about our national security."
A former senior FBI agent, John Gilliam, said affairs or significant personal debt are seen as factors which make it more likely individuals are susceptible to blackmail.
"Foreign countries use blackmail, such as evidence of an affair, to get secrets," he said. "Also an affair can be used to damage an individual's public reputation if they don't cooperate. And it is more common among foreign intelligence agencies."
During a separate hearing last week, Rep. Peter King, R-N.Y., asked Morell if he knew about the FBI investigation into his boss when Morell edited the controversial "talking points" which gave a faulty narrative about the Benghazi terror attack. Morell said he couldn't remember.
"I don't remember the timing of my awareness of that investigation," Morell said.
King pressed further, saying Morell probably "should have been told about that immediately by the White House or somebody in the administration in the event you had to take over on a moment's notice."
Facing the implication that knowledge of the investigation might have influenced Petraeus' or Morell's actions during the Benghazi aftermath, Morell said: "I did not know anything about what was going on with General Petraeus until the day before he resigned."
Sources with knowledge of the investigation have told Fox News investigators have also probed whether classified information was mishandled. Asked whether documents were taken from Petraeus' home by FBI agents, Holder said: "As I said, I can't comment about an ongoing investigation."
Petraeus has not spoken formally to the media about the scandal and most recently was in the news when a new biography of Hillary Clinton quoted the former CIA director regarding her handling of Benghazi.
"She'd make a tremendous president," Petraeus told the authors of "HRC." "Like a lot of great leaders, her most impressive qualities were most visible during tough times. ... In the wake of the Benghazi attacks, for example, she was extraordinarily resolute, determined and controlled."
Fox News first contacted Petraeus about the FBI investigation, and its status, in March but there was no response.
Pamela K. Browne is Senior Executive Producer at the FOX News Channel (FNC) and is Director of Long-Form Series and Specials. Her journalism has been recognized with several awards. Browne first joined FOX in 1997 to launch the news magazine "Fox Files" and later, "War Stories."
Catherine Herridge is an award-winning Chief Intelligence correspondent for FOX News Channel (FNC) based in Washington, D.C. She covers intelligence, the Justice Department and the Department of Homeland Security. Herridge joined FNC in 1996 as a London-based correspondent.