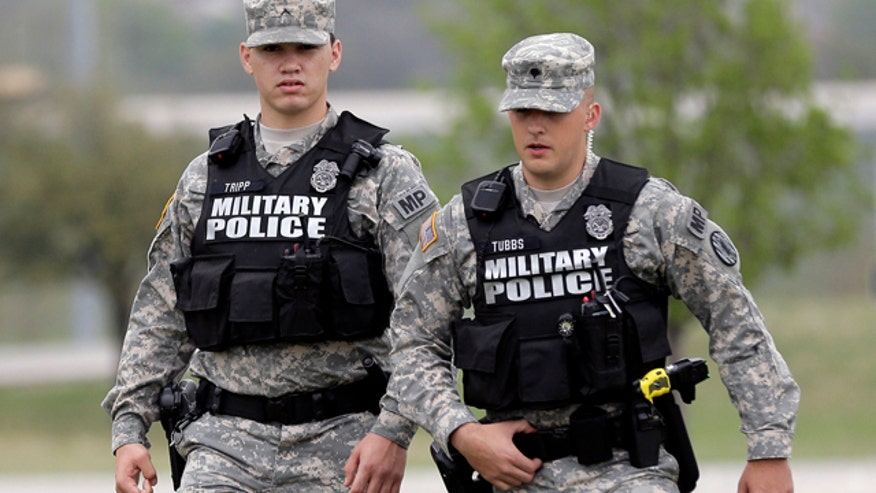 The recent fatal shootings at Fort Hood has sparked new Capitol Hill debate about gun control and the defense budget, with Democrats and Republicans suggesting a possible increase in federal spending to make U.S. military bases safer.
Sen. Tim Kaine, D-Va., a member of the Senate Armed Services Committee, told "Fox News Sunday" he would consider rolling back the sharp cuts through sequestration and would consider increasing the federal budget.
"No blank checks, but sure," said Kaine, who expressed concern about the "nexus of mental health and gun laws."
Congress last year considered tightening federal gun laws, including mental health checks for potential buyers, but passed no significant legislation.
Rep. Mike McCaul, R-Texas, chairman of the House Committee on Homeland Security, pointed out Sunday the defense budget President Obama proposed last month would downsize the Army to pre-WWII troop numbers.
However, he told Fox News that Congress should "review and analyze" base policies to better secure them -- following the shootings Wednesday at the Fort Hood military base in Texas where an emotionally anguished Spc. Ivan Lopez purportedly used his own handgun to fatally shoot three people and wound 16 others before killing himself.
The incident follows the Sept. 2013 attack at the Washington Navy Yard in which defense contractor Aaron Alexis, a former Navy reservist, entered the facility and fatally shot 12 people and injured three others before he was shot and killed by police.
In 2009, Army Maj. Nidal Hasan opened fire inside Fort Hood, killing 13 and injuring more than 30 others. Hasan, an Army psychiatrist, was sentenced to death in August 2013 for the rampage, which was the deadliest in history inside a U.S. military base.
McCaul suggested leaders on bases -- officers and senior enlisted personnel -- be allowed to carry guns.
"They defend us overseas, yet they're defenseless at bases," he told Fox News. "When these things happen … it doesn't take very long to kill a lot of people."
Military leadership said after the shootings this week that it stands by its policy of not allowing people to carry their personal weapons on bases.
Kane also called for tighter perimeter security at bases.