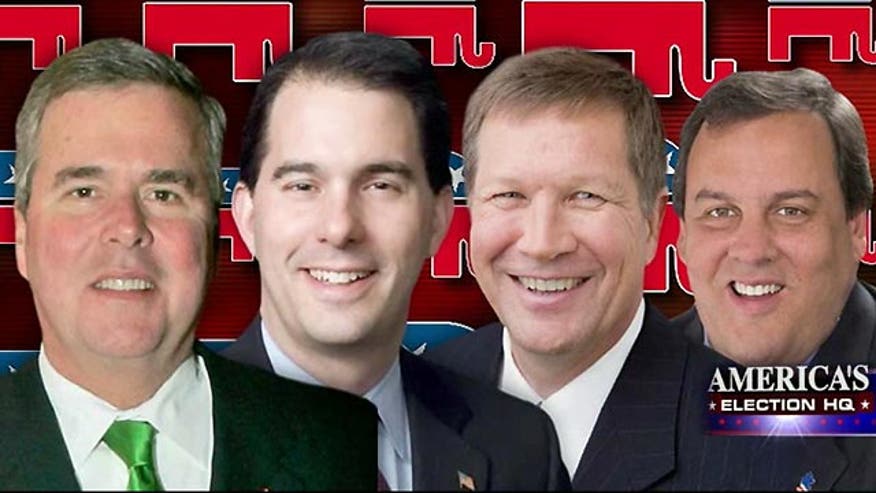 So much for "What happens in Vegas stays in Vegas."
For a handful of potential 2016 Republican presidential candidates visiting Sin City this weekend, the doors are closed to the press and public -- but the speakers very much want voters to know they are there.
Ostensibly, a parade of high-profile Republicans are streaming through Las Vegas for a four-day gathering hosted by the Republican Jewish Coalition. But they're also there for face time with casino magnate and GOP mega donor Sheldon Adelson, who is on the board of the coalition and whose Venetian casino is hosting the affair.
Being seen in Adelson's company at this early stage is a political plus. The billionaire effectively bankrolled Newt Gingrich's presidential run in 2012, and is poised to make another political gamble in 2016.
Among the first to arrive, former Florida Gov. Jeb Bush was honored Thursday at an exclusive gala in Adelson's private Vegas airport hangar -- a big deal for Bush, who is considering a White House run.
Other potential 2016 presidential contenders will be addressing the RJC in Vegas behind closed doors as well this weekend, including: Wisconsin Gov. Scott Walker, Ohio Gov. John Kasich and New Jersey Gov. Chris Christie.
Christie, speaking Friday at a press conference otherwise called to address a newly released internal report on the New Jersey bridge lane scandal, acknowledged that he would be speaking to the Republican Jewish Coalition but said he wasn't sure if he'd meet with the Adelsons.
"Oftentimes, they set up other private meetings for me with donors or potential donors to solicit them for the Republican Governors Association, so I'm sure I'll have some meetings," he said.
Adelson was a major donor in the 2012 race. While spending $15 million to help Gingrich, he also gave $30 million on top of that to help the GOP nominee Mitt Romney -- and even flew to Jerusalem for Romney's Israel tour.
Overall, Adelson spent more than $90 million trying to defeat President Obama in 2012, and that may not include some donations that went to groups not required to report them.
This time, Adelson wants to help elect a mainstream economic conservative who supports Israel and stands a good chance of -- well, winning. Adelson downplays socially conservative issues, preferring to focus on the economy and foreign policy.
For Bush, the Las Vegas reception marks an important moment. By this point in past presidential cycles, this son of one president -- and brother of another -- had already taken himself out of the running. He knows full well these Vegas appearances will be widely seen as an important step closer to running, and he's said he will make a decision by the end of the year.
Both Kasich and Walker face re-elections in their home states before any presidential run can really start, and the governors want Adelson's support in both campaigns.
Since Christie's landslide re-election four months ago, he's been battling to clear his name in the scandal over lane closures last year near the George Washington Bridge -- Adelson's invitation is a key signal that Christie remains very much in the mix.