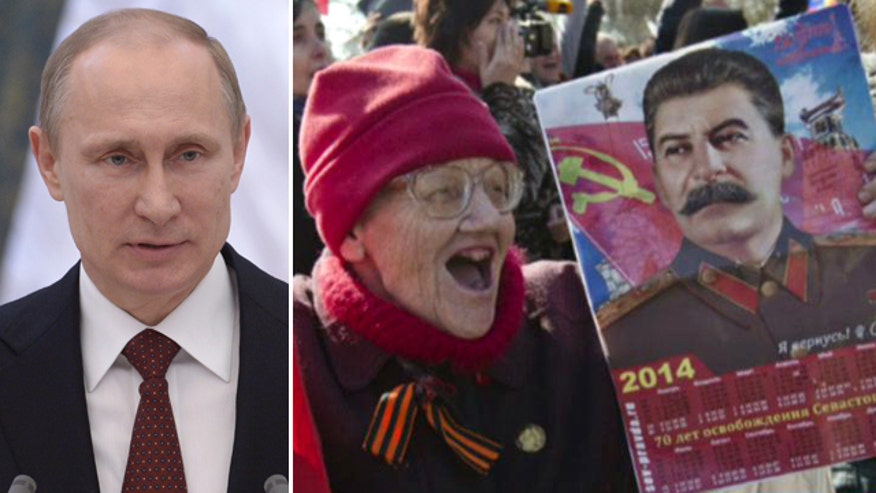 President Obama told Russian President Putin during a phone call Friday that the U.S. strongly opposes Moscow's aggression in Ukraine, and urged him to pull back his troops from the border.
The White House said in a press release that Putin called Obama to discuss the U.S. proposal for a diplomatic solution in Ukraine, which Secretary of State John Kerry has presented to Russian Foreign Minister Sergei Lavrov.
The release said Obama, who is currently in Saudi Arabia, asked Putin to deliver a written response to the proposal, and the two agreed to have Kerry and Lavrov meet again.
Obama also urged Putin to avoid further military provocations in Ukraine, and to pull back the troops that Russia has on the Ukraine border. Obama said Ukraine's government is pursuing de-escalation despite Russia's incursion into Crimea.
However the Russian government's account of the call has a different take, with the Kremlin asserting Putin led the conservation. It states Putin told Obama the international community needs to work together to stabilize the Ukraine situation.
The Kremlin release also says Putin drew Obama's attention to the "continued rampage of extremists" in Ukraine, saying they are intimidating citizens, law enforcement and the government.
The call comes as Ukraine's government and the West are concerned about a possible Russian invasion in eastern Ukraine. Obama and Putin last spoke on Mar. 6.
The Associated Press contributed to this report