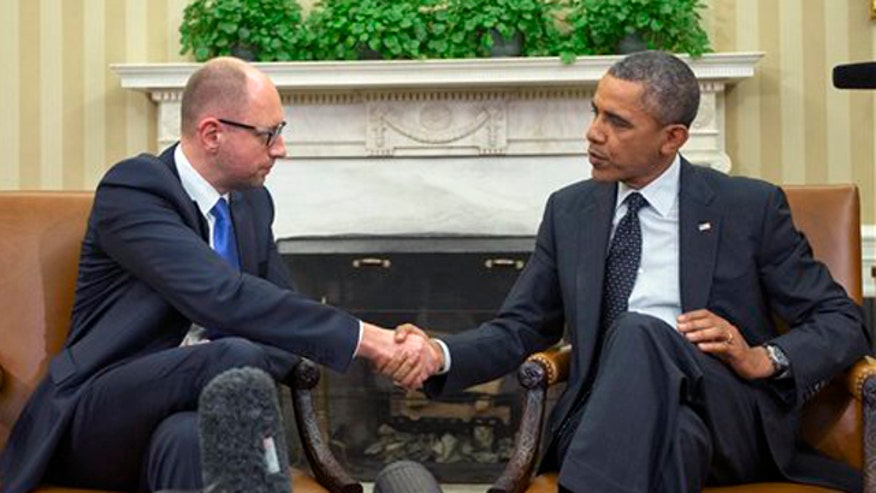 WASHINGTON – Even an international crisis can't break the stalemate that is Capitol Hill.
Democrats and Republicans seemed to be coming together here after Ukraine's new pro-western government came to power, and after Russian President Vladimir Putin responded by sending thousands of troops into the Crimean Peninsula.
Just late last week, when President Obama denounced Putin's actions and announced limited sanctions against Russia, House Speaker John Boehner was quick to back up the commander-in-chief. "We remain committed to working with the administration to give President Obama as many tools as needed to put President Putin in check," Boehner pledged.
Sure enough, the House followed through with a rare showing of unity, passing a $1 billion package of financial assistance to Ukraine on a whopping 385-23 bipartisan vote. The cash-strapped country is nearly bankrupt. Its treasury has less than $500,000 in its coffers, and the interim government there says it needs an infusion fast to prevent a default on its debt payments.
"I expect you'll see quick action in the Senate on that issue as well," Boehner said.
Don't hold your breath.
The Senate soon started stalling on its version of a loan guarantee bill, with a partisan problem once again threatening to grind things to a halt.
The issue is over whether to include reforms to the International Monetary Fund as part of the deal. Reforms which would allow the IMF to move $63 billion from its crisis fund to its general accounts. Reforms the White House has been pushing for months, saying it would help keep up America's clout with the world lender.
They are reforms which require congressional approval, and which some conservative Republicans say is a deal-breaker. Among other issues, if the White House wants this, they want something in return.
In fact, back in January, Republican leaders said they would approve it -- but only if the administration backed off of its new IRS proposals aimed at cracking down on tax exemptions political nonprofits like some Tea Party groups currently claim.
When it looked like the Senate Foreign Relations Committee would still pass a bill with the IMF provision, Republican leaders got vocal.
"This IMF money isn't necessary for dealing with this Ukraine crisis," Boehner warned. "What the Senate ought to do is take up the House-passed loan guarantee package."
"This is not the time to try to attach riders to something of this importance," Rep. Hal Rogers, R-Ky., insisted as Secretary of State John Kerry testified before his House Appropriations Committee.
When the Senate Foreign Relations Committee went ahead and passed the bill with the IMF provision anyway, House Armed Services Chairman Buck McKeon, R-Calif., blasted the measure, saying it raided accounts tied to the military.
"[The] bill to fund reforms at the IMF on the backs of our troops is just looney and I will strongly oppose it if it comes to the House," he said in a statement. "If the Senate is serious about protecting Ukraine, they should work with the House to pass something that can be adopted quickly by both chambers."
The legislation that passed out of the Foreign Relations Committee still has to go to the full Senate for a vote, which hasn't been scheduled yet and may not even happen this week. "We'll see," Senate Majority Leader Harry Reid said. "I hope so."
With the House and Senate at odds yet again, and with both chambers out on recess next week, it doesn't look like a Ukraine bill will be getting to the president's desk anytime soon.
All this is unfolding as Ukraine's interim Prime Minister Arseniy Yatsenyuk arrived on Capitol Hill to meet with congressional leaders. But even with his country quickly running out of money, Yatsenyuk doesn't appear too worried.
Asked about the impasse, the prime minister responded with a smile. "It always takes time to make good things."