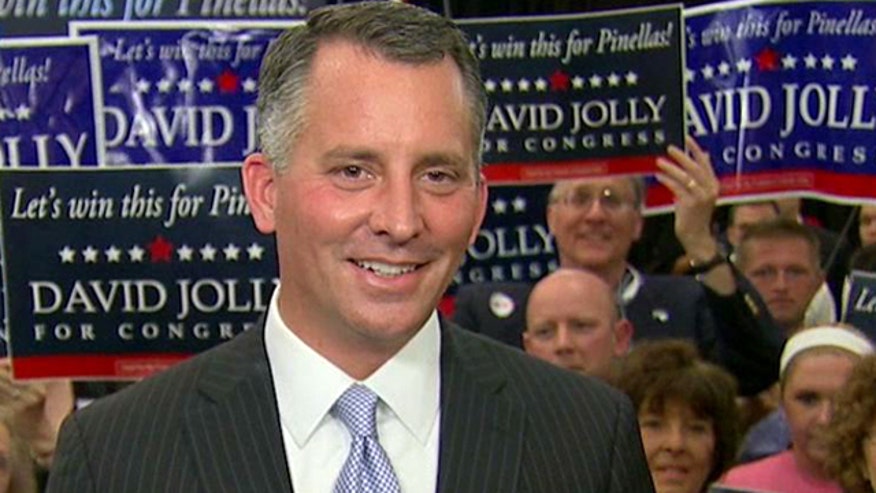 Good news about ObamaCare is hard to come by these days.
New numbers show just about 4.2 million signed up for the health care plan through the end of February making it unlikely the White House will reach its 6-7 million enrollee estimate by the end of March.
Percent of Obamacare enrollees between 18 and 35 unchanged in February. pic.twitter.com/VUMUuP95Ie

— Sarah Kliff (@sarahkliff) March 11, 2014
And in a special election, in Florida's 13th district, Republican David Jolly wins, which could spell big trouble for the Dems in midterm elections. Jolly ran for the seat of the late Rep. Bill Young. As Jolly thanked his "loving God" in his acceptance speech, Twitter thanked ObamaCare.
From @davidlauter, a good night for the GOP: Republican wins Florida congressional race seen as test on Obamacare http://t.co/yhdjNCmUnf

— Cathleen Decker (@cathleendecker) March 12, 2014
.GOP wins FL House special. That collective groan you here from coast 2 coast? Nervous Dems haunted by #Obamacare Beware the Ides of March!

— Patrick Griffin (@PatWGriffin) March 12, 2014
congrats to @NRCC @GOP @Reince @votegregwalden for a HUGE win in #FL13 -- and thank you #Obamacare

— Sean Spicer (@seanspicer) March 12, 2014
Former DNC comms director and Obamaite, Brad Woodhouse, pooh-poohs the idea, saying that one race does not a trend make.
FL13 is a GOP plus 8-13 district. This nail-biter shows the ACA attacks are not the slam dunk the @GOP wld like to think it is.

— Brad Woodhouse (@woodhouseb) March 11, 2014
Final numbers: 48.5 percent Jolly; 46.7 percent Alex Sink.
***
In other crises, comedian Dave Rubin thinks the administration should turn to Dr. Indiana Jones to save the day. Cue Raiders of the Lost Ark music.
Russian invasion, missing airplane, CIA spying on Senate. If only Harrison Ford was younger he could fix all this.

— Dave Rubin (@RubinReport) March 11, 2014
The 71-year-old could be busy buying an earring to match the one he wore on the night of the Oscars.
***
Forget Russian peace negotiations. To toast its official envoys, the State Department slapped its own label on what we have to believe is Secretary of State John Kerry's favorite brewsky.
Wrapping up great mtgs w our Ambassadors at @StateDept–toasting them:#Boston's best beer for America's best diplomats pic.twitter.com/XZppz6tu6X

— John Kerry (@JohnKerry) March 11, 2014
Maybe it is time for another beer summit.
Lauren Ashburn joined the network in 2013 and currently serves as a Washington-based contributor for FOX News Channel (FNC). On MediaBuzz with Howard Kurtz, Ashburn contributes commentary on the state of the news media shaping current events, their role in politics, cultures, business, and tech. Click here for more information on Lauren Ashburn.