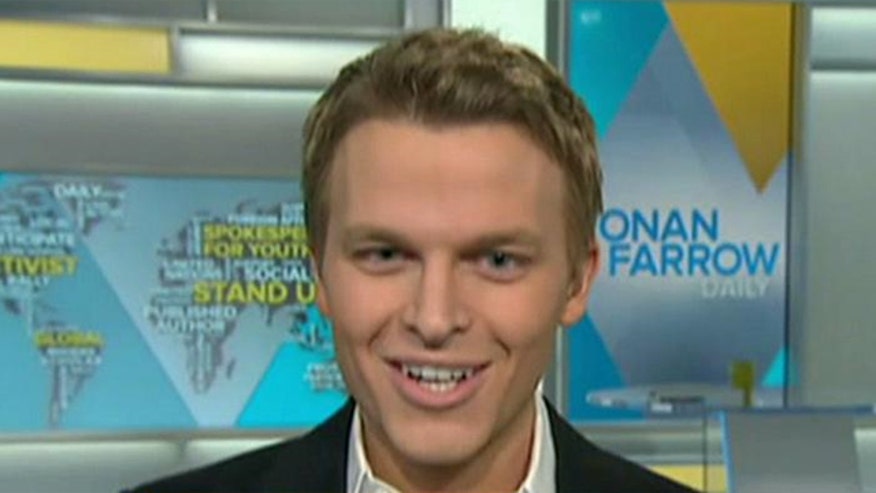 Also ...
The people's front page
Fox vs. MSNBC: Which one carries a broader range of opinions?
The esteemed Columbia Journalism Review says Fox News is … fair and balanced?
Well, not quite. But the magazine declares quite emphatically that Fox airs a far more diverse array of ideological voices than MSNBC.
This is a fascinating argument that goes to the heart of cable news. There is no question that Fox's most prominent pundits are conservative: Sean Hannity, Karl Rove, Charles Krauthammer, George Will, Sarah Palin. And that nearly all of MSNBC's hosts and commentators are liberal: Rachel Maddow, Chris Matthews, Al Sharpton, Ed Schultz, Lawrence O'Donnell, David Axelrod, Robert Gibbs, and on and on.
But who allows for more clashing views?
On Fox I often see the likes of Juan Williams, Kirsten Powers and Dennis Kucinich going at it with conservative panelists. And Fox's newest hire, James Carville, has had some spirited exchanges with Bill O'Reilly.
On MSNBC, about the only conservative folks I see regularly are Joe Scarborough and Michael Steele. Otherwise, with a couple of exceptions, it's a parade of mostly liberal hosts interviewing mostly liberal guests on mostly liberal topics.
Some viewers, depending on their own leanings, are always going to dismiss Fox as a GOP outlet, or write off MSNBC as DNC-TV. But CJR takes a closer look under the headline "And From the Left … Fox News":
"Unlike many of Fox's liberal pundits, who've built their public personas playing David to a team of conservative Goliaths, Carville has been one of television's most visible progressives for decades, often debating his wife, the conservative political consultant Mary Matalin. (The Washington Post covered his move to Fox with the headline 'Pundit James Carville prepares for further torture as Fox News contributor.' ) If there were any doubts about whether Fox just looks for middling also-rans to do the left's bidding, the arrival of Carville should resolve them.
"Though MSNBC has a handful of moderate conservatives — namely Morning Joe's Joe Scarborough — Fox stands out for the prominence it awards its on-air naysayers, many of whom occupy regular roles on the network's most popular shows. Personalities like Kirsten Powers, who made her way up through the Clinton administration and now goes head-to-head with Bill O'Reilly on nationalized healthcare (she's for it), the death penalty (against), and the Iraq war (against). Their screen relationship is one of playful respect; when their debates grow heated, O'Reilly warmly calls her 'Powers.'
"Why would liberals in good standing risk becoming Democratic Party outcasts by going to work for Fox? And why does Fox spend good money acquiring them?"
Well, it's good television, and more interesting for viewers when everyone doesn't agree. I used to argue with Keith Olbermann when he had an MSNBC show that it would be less predictable if he would sometimes debate people on the right. He said he didn't like such fake debates — but the result was, in those years, endless Bush-bashing.
The numbers aren't always equal, which CJR says produces "brawls" and "fireworks" (occasionally, I would say) at Fox. Bob Beckel is obviously outnumbered on "The Five" (just as moderate conservative Abby Huntsman is outnumbered on MS's knockoff show, "The Cycle"), but there are real arguments.
And the magazine has this to say about NBC's cable channel:
"While MSNBC's docket of shows contains the occasional conservative guest, they appear without the bluster and hyperbole of the typical Fox News debate—an aesthetic that MSNBC courted from its earliest days, when it aimed to resemble the amicable banter of a coffee shop. While the liberal hosts of MSNBC often skewer conservatives, the debates happen with villains who are not in the studio: lambasted, by proxy, in news clips. At Fox, they happen in person, with a real-live liberal who is often on staff."
CJR notes that Juan Williams has guest-hosted the "O'Reilly Factor" — and that "it's hard to imagine a conservative subbing in for Rachel Maddow."
What's more, MSNBC has moved away from journalists anchoring programs. Its latest hires — Ronan Farrow, Joy Reid, Melissa Harris-Perry — make clear that non-liberals need not apply. (CNN, which values its non-ideological brand, is booting gun control crusader Piers Morgan from prime time.)
My point here is not to boost Fox or denigrate MSNBC. I want to see vibrant debates on all the news channels. There's a reason that "Morning Joe," which pits a former GOP congressman against mostly left-leaning guests and Mika Brzezinski, is the network's most respected show. Conflicting views are just a heckuva lot more compelling than preaching to the choir.
The people's front page
If readers picked the Page 1 stories for the New York Times, Wall Street Journal, Washington Post, USA Today, New York Post and so on, they would look very different.
An outfit called NewsWhip compared the actual front pages to those based on the stories that readers shared online most frequently. The results are worth a look.
Click for more from Media Buzz.
Howard Kurtz is a Fox News analyst and the host of "MediaBuzz" (Sundays 11 a.m.). He is the author of five books and is based in Washington. Follow him at @HowardKurtz. Click here for more information on Howard Kurtz.