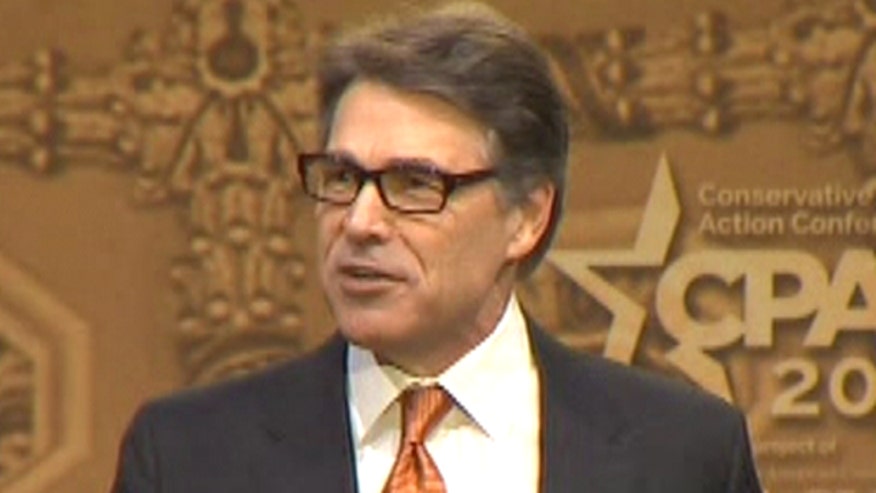 The lengthy roster of potential GOP presidential candidates were zipping through the must-attend conservative conference outside Washington this week to test drive their message and check the pulse of the base, as they navigate the tricky-to-read divisions in the party.
Just about every talked-about 2016 possibility is passing through the halls of the Conservative Political Action Conference. They'll unofficially square off in Saturday's annual straw poll, but more importantly, the event gives them a stage to fire up the movement or even re-brand themselves ahead of the presidential campaign season.
Kentucky Sen. Rand Paul pulled in the largest crowd Friday, with attendees lining up in the hallway to see him. Paul, who received multiple standing ovations, told the audience that it was important to elect a "lover of liberty."
"You may think I'm talking about electing Republicans," he said. "I'm not. It isn't good enough to pick the lesser of two evils."
Most of his remarks focused on privacy rights and the National Security Agency.
"Yet as our voices rise in protest, NSA monitors your every call," he said. "If you have a cell phone, you are under surveillance. What you do on your cell phone is none of their damn business. Can a warrant be applied to millions? Government says you don't own your own records. I disagree."
The speakers Thursday included more of the GOP's most influential voices, among them Texas Sen. Ted Cruz and New Jersey Gov. Chris Christie.
Friday's program, aside from Paul, included several Republicans who ran for president before and could be mulling another run. In that crowd, Texas Gov. Rick Perry kicked off the morning festivities with a bang, in an animated speech where he called for a "rebellion on the battlefield of ideas."
He urged the crowd to not only oppose President Obama's agenda but also to challenge the status quo within the GOP.
"That is why we must elect the right kind of leaders," Perry said to a cheering crowd that gave him a one-minute standing ovation. "Leaders who believe in free markets."
Perry also made the push for eliminating the federal government's role in businesses and education. As he wrapped up his speech, he told the fired-up CPAC crowd that they "represent the new hope that America can be great again."
Like Christie on Thursday, the Texas governor stressed the economic accomplishments of America's conservative governors. In doing so, they were also highlighting another divide of sorts ahead of 2016 -- not just between Tea Party conservatives and establishment moderates, but between senators and governors.
Christie on Thursday spoke derisively of "dysfunction" in Congress, notably not exempting Republicans from that description, while praising the work of Republicans at the state level. He urged the party to figure out how they want to be seen on a national stage – to "start talking about what we're for and not what we're against."
For Christie, getting the crowd on his side took a little work. The governor was initially greeted with little fanfare but gained favor with the audience as his speech continued. By the end, the CPAC members in the ballroom had risen to their feet and clapped and cheered wildly.
On Saturday, CPAC will hold a straw poll that includes 26 names for the 2016 GOP presidential nomination – highlighting just how deep the potential pool for the 2016 race has become in a party that's been struggling to redefine itself in the past two election cycles.
Of the candidates included in the straw poll, eight are younger than 50 years old and many have embraced a more libertarian approach.
The parade of politicians vying for votes Friday also included former Sen. Rick Santorum of Pennsylvania and former Arkansas Gov. Mike Huckabee, who criticized former Secretary of State Hillary Clinton on her handling of the Benghazi terror attack.
"With all due respect to Hillary Clinton, it does make a difference why they died," he said, of the four Americans killed in the attack.
On Thursday, Rep. Paul Ryan, R-Wis., the 2012 running mate of Mitt Romney, urged the crowd to be optimistic about the upcoming midterm elections in November.
"Our side is energized," he said. "On Election Day, we're going to win."
Christie also said it was important to meet in the middle on some polarizing issues – an idea Cruz didn't seem to embrace during his fiery speech. Instead, the Tea Party favorite took a hard-line approach to how the party needs to present itself – and, to him, that meant standing firm on issues, with no backing down, no compromises.
Reince Priebus, chairman of the RNC, told a handful of reporters at CPAC that the party needs to hold on to its core values, which includes a strong stance of being pro-life and anti-gay marriage.
"That's our party platform, and it's a position I've never backed away from," he told FoxNews.com. "What I have said, though, is that we need to treat each other with grace, dignity and respect. And that's not code language. It comes out of the New Testament. And so there should be no confusion on where we stand, and so that's where we are."