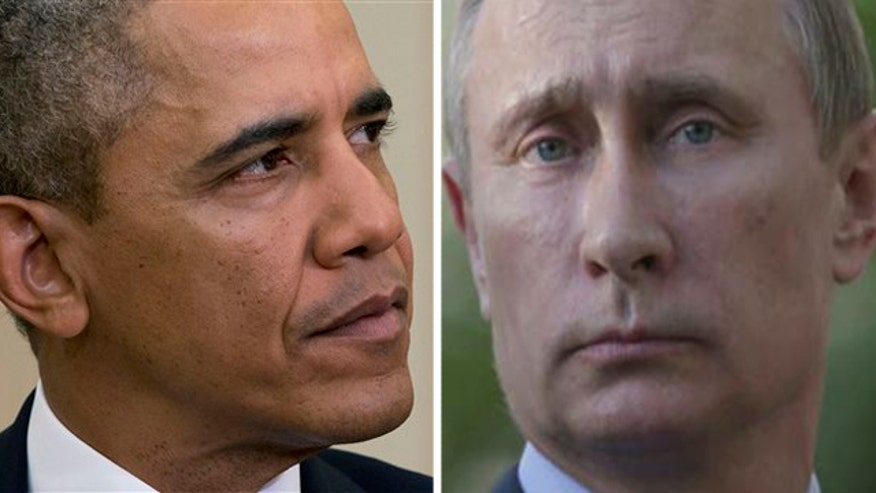 Get a spine. That's the message from Washington's largest paper of record.
And sitting around a table isn't going to cut it.
President Obama convenes a National Security Council mtg in Sit Room tonight on Ukraine: http://t.co/2xt0ZRr1rl

— petesouza (@petesouza) March 4, 2014
The invasion of 16,000 Russian troops into Crimea this week ticked off the editorial writers for the Washington Post, prompting an out-of-character, Obama take-down. It's a big deal; it's not every day that John McCain, who has called U.S. foreign policy "feckless," says the Post is a "must-read" on any subject.
Must-read Wash Post editorial: "President Obama's foreign policy is based on fantasy" http://t.co/o1u9ogte32

— John McCain (@SenJohnMcCain) March 3, 2014
The editorial concurs with Republican talking points claiming that the U.S. is exhibiting weakness. "Military strength, trustworthiness as an ally, staying power in difficult corners of the world such as Afghanistan — these still matter, much as we might wish they did not. While the United States has been retrenching, the tide of democracy in the world, which once seemed inexorable, has been receding."
Laugh or cry? Also, fantasy vs, reality. pic.twitter.com/liJnBCylAt

— Ken Gardner (@kesgardner) March 4, 2014
Former Ambassador John Bolton couldn't agree more, saying that Putin won't care about incremental sanctions, and Europe – too dependent on Russia for oil and natural gas -- won't put its shaky economy in danger by supporting those sanctions.
The Gas Pipeline Map That Shows Why The Crisis In #Ukraine Affects All Of #Europe - http://t.co/QDA1S83lA1 pic.twitter.com/4ytznofmWP

— WeAreUkraine (@WeAreUkraine) March 3, 2014
US should immediately endorse path to NATO membership for Ukraine. Obama's warning to Russia dismissed the moment it was uttered. #Ukraine

— John Bolton (@AmbJohnBolton) March 3, 2014
Many prominent Republicans have taken to TV and Twitter to warn of impending trouble for the U.S. unless, as Lindsey Graham says, "We push back soon."
Every time the president goes on national television and threatens Putin or anyone like Putin, everybody's eyes roll, including mine.

— Lindsey Graham (@GrahamBlog) March 3, 2014
From #Venezuela to #Ukraine, only clear & decisive US leadership can stop return of totalitarianism. #russiainvadesukraine #SOSVenezuela

— Marco Rubio (@marcorubio) March 3, 2014
Meanwhile, U.S. Ambassador to the U.N. Samantha Power ripped into Russia for its actions at an emergency session, and President Obama said, "Russia was on the wrong side of history."
Link to my full remarks at today's #UN Security Council session on #Ukraine: http://t.co/rHUQUsrK5F

— Samantha Power (@AmbassadorPower) March 4, 2014
***
It's Mitt's day in the sun. Remember when President Obama mocked him in a debate for saying Russia was our biggest geopolitical foe? It went like this: "The 1980s called, they want their foreign policy back."
The Pres wasn't the only one who mocked him.
Amazing. Can't make this stuff up. ==> pic.twitter.com/9vEUf0c0WW

— Sean Parnell (@SeanParnellUSA) March 3, 2014
Mediaite compiled a string of videos of media naysayers, including MSNBC's Chris Matthews, Andrea Mitchell, Rachel Maddow, and Lawrence O'Donnell, piling on.
This is hilarious. Good for @NoahCRothman. http://t.co/m4ZiSVfvh5

— Charles C. W. Cooke (@charlescwcooke) March 4, 2014
Wonder if anyone will issue a correction?
Watch Lauren every Sunday on #MediaBuzz at 11 a.m. and 5 p.m. ET. If you'd like to recommend your favorite political tweets, email laurenashburnFNC@yahoo.com or send her a tweet @laurenashburn with the hashtag #TwitterTalk.
Lauren Ashburn joined the network in 2013 and currently serves as a Washington-based contributor for FOX News Channel (FNC). On MediaBuzz with Howard Kurtz, Ashburn contributes commentary on the state of the news media shaping current events, their role in politics, cultures, business, and tech. Click here for more information on Lauren Ashburn.