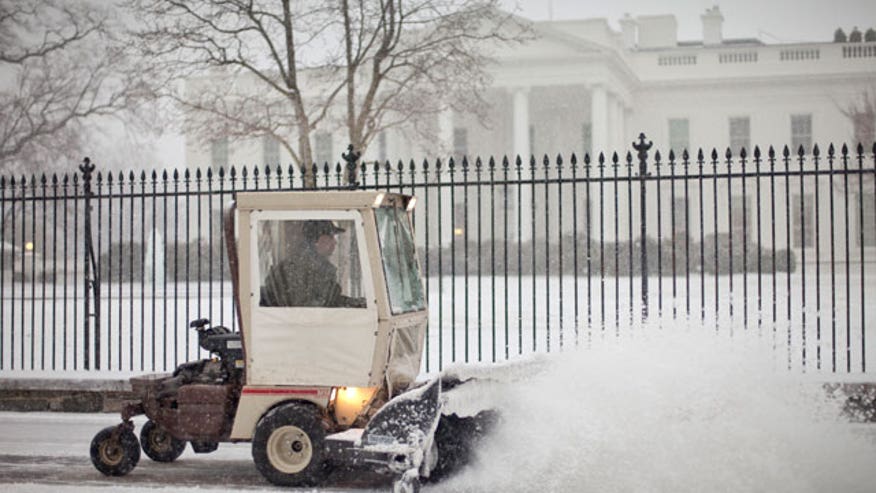 Another storm, another day off for the D.C. government.
The news came early enough Sunday for workers to enjoy watching the Oscars without worrying about setting an alarm. But then what?
Since Congress is shut down for what seems like the umpteenth time this season, our fearless lawmakers are acting just like a lot of other snowed-in Americans. They're tweeting.
Downtown streets are anything but snow free. New York, 12th and I Sts among clearest. @drgridlock @capitalweather pic.twitter.com/O2uEOEzRK1

— Alison (@tikidaisy) March 3, 2014
The white stuff prompts three types of missives from our elected officials. There's the, "Meh, this is nothing," tweet:
PHOTO: Snow doesn't deter a Vermonter from getting to work. Opened Senate session today, then enjoyed the view pic.twitter.com/06JXyQXgUf

— Sen. Patrick Leahy (@SenatorLeahy) March 3, 2014
Snow in DC shuts down the city, but a few of us Coloradans were able to walk in to work. pic.twitter.com/9Wy3oGbdu5

— Scott Tipton (@RepTipton) March 3, 2014
A little snow in DC doesn't close my office. We're open and working hard. pic.twitter.com/hWW4Rsaica

— Sen. Heidi Heitkamp (@SenatorHeitkamp) March 3, 2014
Heading into the Capitol as crews work hard to clear snow. Thanks to @CapitolPolice & staff at their posts today. pic.twitter.com/RePrJCnSFj

— Rep. Greg Walden (@repgregwalden) March 3, 2014
And there's the "Look, it really is snowing!" tweet.
Snowy view from my balcony in #DC https://t.co/BU6v8NnhfA

— Sen. Lisa Murkowski (@lisamurkowski) March 3, 2014
Then there's this guy. Why, we'll never know. The answer is, probably, because he can.
Guy in a Bigfoot costume walking around snowy #DupontCircle #DC for no good reason. Told me he was warm & high5'd. pic.twitter.com/Qy3ctLb9ZL

— Aaron Myers (@aaronemyers) March 3, 2014
While it was a great snap, everyone knows it's Chewbacca! "Grawawwwwhhhh!"
Watch Lauren every Sunday on #MediaBuzz at 11 a.m. and 5 p.m. ET. If you'd like to recommend your favorite political tweets, email laurenashburnFNC@yahoo.com or send her a tweet @laurenashburn with the hashtag #TwitterTalk.
Lauren Ashburn joined the network in 2013 and currently serves as a Washington-based contributor for FOX News Channel (FNC). On MediaBuzz with Howard Kurtz, Ashburn contributes commentary on the state of the news media shaping current events, their role in politics, cultures, business, and tech. Click here for more information on Lauren Ashburn.