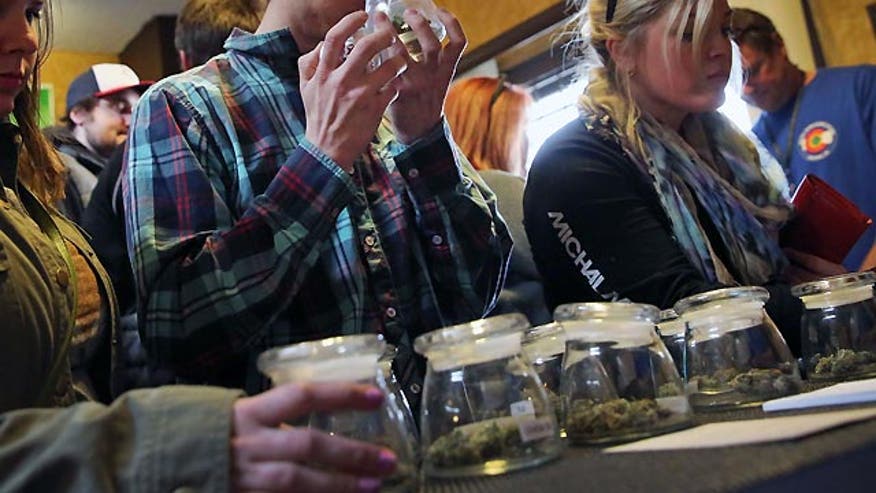 Republican lawmakers plan to introduce legislation next week aimed at preventing the misuse of the food stamp funds amid reports that welfare debit cards have been used to withdraw cash at ATMs at marijuana dispensaries in Colorado.
The "Preserving Welfare for Needs Not Weed Act," is expected to be introduced on Monday by Washington Republican Reps. Dave Reichert, Scott Tipton and Cory Gardner, KDVR.com reported.
The bill would add pot dispensaries to the current list of locations where states must block welfare electronic benefits transfer (EBT) cards from being used for purchases or ATM withdrawals, Reichert's office told the station.
KDVR.com reported last week that at least 19 different dispensaries allowed electronic benefits transfer withdrawals inside their pot shops in January. Public records obtained by the station showed 56 transactions, totaling nearly $4,000.
A separate report by National Review Online said the amounts withdrawn ranged from $20 to $400, averaging $85.55. The maximum monthly benefit for the average household receiving Temporary Assistance for Needy Families (TANF) benefits is $462.
Last year, Colorado lawmakers passed a bill prohibiting access to welfare benefits at casinos, gun shops, bars, and liquor stores. State lawmakers recently failed to pass legislation that would have prohibited such transactions at pot shops, NRO reported.
"It's time to close this 'pot shop loophole' before it gets any bigger," the lawmakers said in a letter circulated among House lawmakers and obtained by The Colorado Observer.
"This bill does not comment on whether it makes sense for states to legalize the sale of pot, as Colorado and Washington have done," the lawmakers wrote. "It simply says that, wherever pot is legally sold, welfare recipients shouldn't be able to readily access welfare funds to pay for it."
Click here for more from KDVR.com.
Click here for more from National Review Online.
Click here for more from The Colorado Observer.