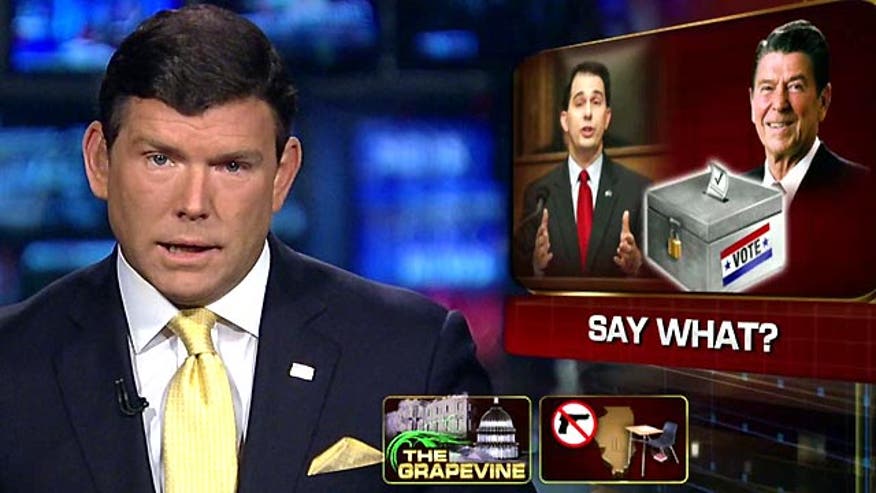 It seems Scott Walker is a big Ronald Reagan fan. So much so that he said he voted for him as a very, very young man. Or someone said he voted for him.
Happy Birthday President Reagan! pic.twitter.com/97pkdtWbCN

— Scott Walker (@ScottWalker) February 6, 2014
According to a Right Wing News blog post published Monday, Walker said in a taped interview, "I remember, I was a teenager, had just become a teenager and voted for Ronald Reagan — limited government, you know, smaller government, lower taxes, strong national defense. You knew what you were getting. You knew how a Reagan administration, a Reagan presidency was going to be better for you."
Except the Wisconsin governor didn't say that. It was a transcription error later corrected by the blog's author, John Hawkins.
Correction: Scott Walker Didn't Say He Voted For Reagan http://t.co/0tQovPb9Xv via @rightwingnews

— John Hawkins (@johnhawkinsrwn) February 10, 2014
Before the clarification, the left – including faux television anchor Will McAvoy, who stars in "The Newsroom" on HBO – ripped the Wisconsin Republican for lying.
Scott Walker says that he voted for Ronald Reagan. Problem? He was 17 in 1984. http://t.co/JgpVfB9dEM

— Will McAvoy (@WillMcAvoyACN) February 10, 2014
Scott Walker voted for Reagan immediately after escaping Cuba with Marco Rubio.

— David Waldman (@KagroX) February 10, 2014
FWIW, I barely blame Walker for this. Reagan mythologizing is part of the price of entry into GOP politics http://t.co/TCInabYuAl

— Brian Beutler (@brianbeutler) February 10, 2014
Salon's Joan Walsh retweeted the National Memo headline:
Did Scott Walker Commit Voter Fraud, Or Is He Just A Liar? http://t.co/dFSBkQvCYC via @nationalmemo

— Joan Walsh (@joanwalsh) February 10, 2014
And Salon devoted a blog post to the flap, which it later updated with the truth.
Wisconsin Gov. Scott Walker claims he voted for Ronald Reagan. Here's why that's impossible http://t.co/CtAcwAjvKx

— Salon Politics (@Salon_Politics) February 10, 2014
All I have to say, is poor Scott Walker. So instantaneous is the power of Twitter, he never knew what hit him. After the dust settled, and the correction filtered through the web, Walker posted his own tweet proclaiming his innocence.
To clear up any inaccuracies, I would've loved to vote for Reagan but I turned 13 before he was elected in 80 http://t.co/v09tI5a16u

— Scott Walker (@ScottWalker) February 10, 2014
A lotta good that did him. Brad Woodhouse, former DNC communications director, still ain't buying it. He wants "the whole audio," not the snippet released by Hawkins.
Lot of backpedaling in Walker-land re:him saying he voted for Reagan when he was too young to do so. Let's hear the whole audio then decide

— Brad Woodhouse (@woodhouseb) February 10, 2014
RNC spokesman Sean Spicer is asking Woodhouse to kindly make amends.
please send the apology @woodhouseb : No, Scott Walker didn't say he voted for Reagan Daily @DailyCaller http://t.co/6KErUT1Gur

— Sean Spicer (@seanspicer) February 10, 2014
For Walker, who is weighing a 2016 presidential run, this Twitter maelstrom is a classic case of overreach by his opponents.
***
At Monday's Heritage Action event, National Review's Betsy Woodruff live blogs Ted Cruz's SRO speech. One of the highlights:
Cruz: "it is so cold I actually saw a democrat with his hands in his own pockets. Now that's cold!"

— Betsy Woodruff (@woodruffbets) February 10, 2014
Not so cold, apparently, as to freeze the senator's sharp tongue.
Watch Lauren every Sunday on #MediaBuzz at 11 a.m. and 5 p.m. ET. If you'd like to recommend your favorite political tweets, email laurenashburnFNC@yahoo.com or send her a tweet @laurenashburn with the hashtag #TwitterTalk.
Lauren Ashburn joined the network in 2013 and currently serves as a Washington-based contributor for FOX News Channel (FNC). On MediaBuzz with Howard Kurtz, Ashburn contributes commentary on the state of the news media shaping current events, their role in politics, cultures, business, and tech. Click here for more information on Lauren Ashburn.