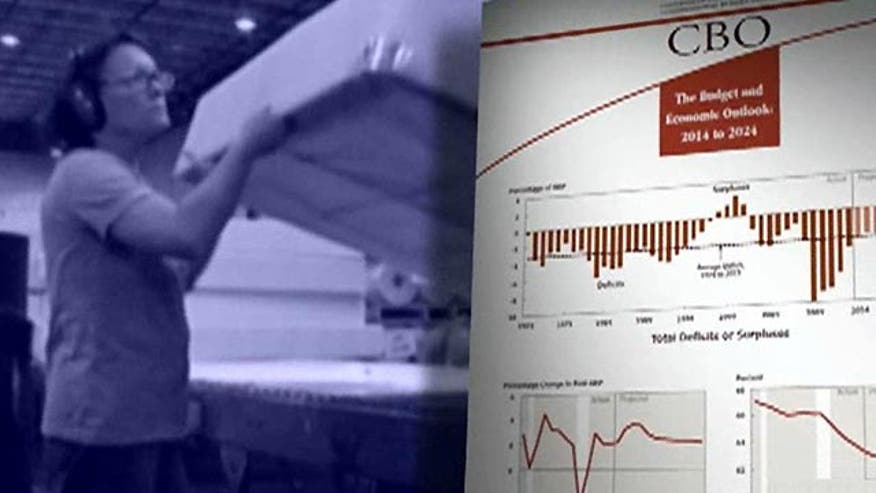 Forget that Congress passed the farm bill.
The Congressional Budget Office released its annual economic projection Tuesday, sending tweeters into a tizzy.
At issue: the impact of ObamaCare and the number of full-time jobs that might go away as a result of the federally mandated insurance program.
The CBO predicts nearly 2.5 million workers could opt out of the work force to stay eligible for Medicaid and other federal subsidies -- resulting in the loss of 2.3 million jobs.
GOP brass hopped on the report like frogs on a lily pad, and the "I told you so's" reverberated into the far corners of the Twitterverse.
Late Tuesday night, Kansas GOP Sen. Pat Roberts tweeted that he wants the CBO to explain itself … in Congress. He took to the Senate floor earlier in the day to demand the Senate Finance Committee hold a hearing to investigate conflicting CBO reports.
CBO should come before Senate Finance Committee and explain #Obamacare $2trillion "revision"

— Pat Roberts (@SenPatRoberts) February 5, 2014
We need accurate #'s on the cost of legislation so we can do our jobs. This isn't politics - It's people's lives. CBO needs accountability.

— Pat Roberts (@SenPatRoberts) February 5, 2014
CBO adds $1t and 1.5m jobs to the #Obamacare tab. We deserve accountability & hearings. Were the books cooked? http://t.co/m2is1JMSpJ

— Pat Roberts (@SenPatRoberts) February 5, 2014
House Speaker John Boehner points to a Wall Street Journal article; the NRCC makes a meme; and Ted Cruz plays riddle-me-this.
.@WSJ: Health-care law expected to cut 2.3 million full-time workers http://t.co/XdWtwgUdbK

— Speaker John Boehner (@SpeakerBoehner) February 4, 2014
Not spin. Fact. pic.twitter.com/gTmuyQiQVe

— NRCC (@NRCC) February 4, 2014
Q: What would you call taking jobs away from nearly entire population of NV? A: What Obamacare does to workforce: http://t.co/73TNlarGnn

— Senator Ted Cruz (@SenTedCruz) February 4, 2014
And the Washington Examiner's Byron York predicts a fact-checking melee.
With new CBO report, factcheckers will have to re-factcheck factchecks that accused GOP of misrepresentation. http://t.co/MyCGXNdOXA

— Byron York (@ByronYork) February 4, 2014
How right he was. The most read story on the Washington Post was written by -- you guessed it -- its fact-checker, who slammed the GOP for its analysis of the "confusing issue." He gives the two million-plus job loss claim three Pinocchios.
New #FactChecker: No, the CBO did not say that Obamacare would kill 2 million jobs. http://t.co/gaeIKgU5yQ

— Glenn Kessler (@GlennKesslerWP) February 4, 2014
Democrat top dogs barked in agreement.
It woulda been awesome if folks had actually read the CBO report today before wrongly claiming ACA will kill 2m jobs.

— Chris Murphy (@ChrisMurphyCT) February 5, 2014
Nancy Pelosi didn't tweet, but retweeted Chris Van Hollen's tweet.
#FactCheck: No, the ACA will not kill jobs. http://t.co/9AEc4mv0pu

— Chris Van Hollen (@ChrisVanHollen) February 4, 2014
And while she says she didn't read the report fully, she was quoted saying this: "What we see is that people are leaving their jobs because they are no longer job-locked."
Today's CBO report is going to be in a ALOT of GOP ads this fall. http://t.co/2lndc9t9vA

— The Fix (@TheFix) February 4, 2014
He's got that right.
…
The secretary of State finally cleared some bureaucratic hurdles.
It only took a year but @StateDept finally let me have my own @Twitter account. #JKTweetsAgain

— John Kerry (@JohnKerry) February 4, 2014
He got his account back one day after Susan Rice came to his defense on Twitter.
Personal attacks in Israel directed at Sec Kerry totally unfounded and unacceptable.

— Susan Rice (@AmbassadorRice) February 4, 2014
In one of his first tweets, he says goodbye to outgoing Russian Ambassador Michael McFaul.
Mike, thanks for the extraordinary service to your nation. Don't think going back to Cali means I won't call for advice. #ProBono @McFaul

— John Kerry (@JohnKerry) February 4, 2014
Maybe he should just tweet him.
Lauren Ashburn joined the network in 2013 and currently serves as a Washington-based contributor for FOX News Channel (FNC). On MediaBuzz with Howard Kurtz, Ashburn contributes commentary on the state of the news media shaping current events, their role in politics, cultures, business, and tech. Click here for more information on Lauren Ashburn.