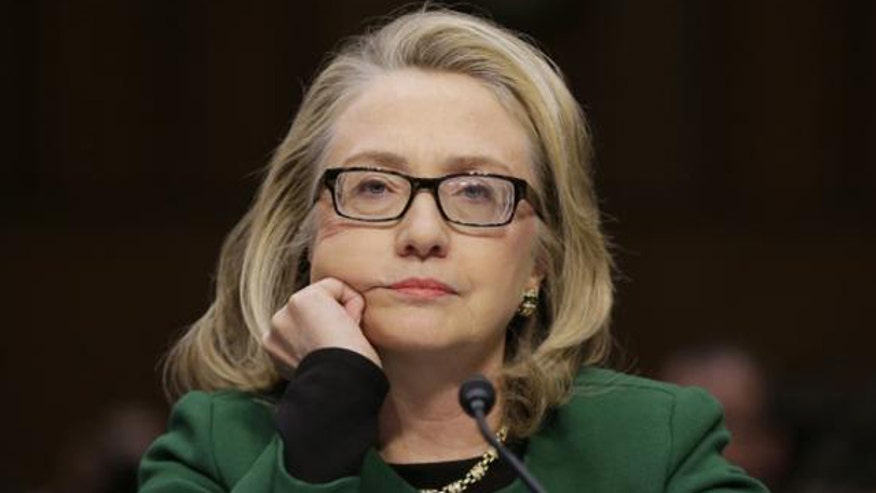 "My biggest regret is what happened in Benghazi."
And with that statement yesterday from Hillary Clinton, many in punditland and politics proclaimed her admission pathetic.
Ted Cruz certainly wasn't having any of it.
#Benghazi Politico-Ted Cruz to Hillary Clinton: "Talk is cheap" http://t.co/cLkLGgB8c4

— Amanda Carpenter (@amandacarpenter) January 27, 2014
Nor were other hard-line conservatives who believe that Clinton knew more about the deaths of four Americans at the U.S. Benghazi consulate than she let on. The White House initially claimed the Sept. 11 attack began "spontaneously" in response to an anti-Muslim video.
#thefive Butcher Hillary Clinton biggest regret. That she couldnt pin entire Benghazi solely on Obama and Susan Rice ahead of 2016.

— Hardline Stance (@Hardline_Stance) January 27, 2014
Hillary = Liar = Complicit in Benghazi. Unfit for future elected office. Period.

— Barry White (@BarryWhite4) January 27, 2014
Meanwhile, CNN yesterday apologized for airing – back to back -- two clips of Clinton, one showing her laughing.
Anchor Ashley Banfield told her audience at the end of her show, "Let's be very clear. The secretary of state was not laughing about the previous comments about Benghazi."
Whoops.
Good for them for correcting the mistake.
***
The "hip hop conservative," as he calls himself, is resigning and heading back to Florida, hat in hand. Trey Radel pleaded guilty late last year to cocaine-possession charges. He originally planned to stay in office after rehab.
His spare time is clearly being spent with family. This is the most recent post from Radel to his 9,000 followers.
Took son to his 1st movie tonight-Frozen (suggested by a good friend). Best part- watching him, his giggling & smiles instead of the movie!

— Trey Radel (@treyradel) January 4, 2014
He was a frequent tweeter until his mea culpa on Nov. 19 linking to a post on his Facebook page about the charges.
I'm profoundly sorry to let down my family, particularly my wife and son, and the people of Southwest Florida. http://t.co/PfVwSHQsbq

— Trey Radel (@treyradel) November 19, 2013
But the people of Southwest Florida need a leader, and the problem with politics is that when you're out, you're kaputsky until the next race.
Soon we'll be saying, "Trey Radel, who?"
The 4 things you need to know about the Trey Radel open seat. http://t.co/lfSLDpT4vY

— The Fix (@TheFix) January 27, 2014
It's a dog-eat-dog town.
***
Last week's Top Twitter Talk column on Michelle Obama's admiration for Jane Fonda, brought an avalanche of responses aimed at "Hanoi Jane."
I'm still struck by how emotional people feel about her visit to North Vietnam in 1972. Here are some of your responses:
Hanoi Jane is Michelle Obama's role model……..NO SURPRISE HERE! http://t.co/QdWVDAnQ5X

— The Buck (@bucksergeant1) January 23, 2014
#MichelleObama looks to #jane Hanoi Fonda as a role model? I guess when you hit 50 intelligence is the first to go.

— Grumpy Old Guy (@GrumpyOldGuy2) January 23, 2014
HANOI JANE IS MICHELLE'S ROLE MODEL. (I swear to God ... This administration lies awake at night, thinking of things to piss off Americans.)

— BillB (@Bill_Bing) January 23, 2014
***
First, Time magazine shows Hillary walking out of frame wearing a high heel with a man dangling from it. Now, the New York Times magazine is over the moon for the likely 2016 Democratic frontrunner.
Hillary has a "gravitational pull"?! Well, the NYTimes saved us from seeing the pantsuit again. pic.twitter.com/z2CjW67tet

— Jim Sharpe (@JimSharpe) January 23, 2014
If someone made my face look like that, I'd sue. Something tells me we won't be seeing this celestial image on Hillary's bumper stickers.
***
John McCain is known for making jokes which sometimes come back to bite him.
But Chris Murphy must be secretly thrilled to hear this one.
McCain at #CSISLIVE : "If I looked like Senator Murphy, I'd be president of the Unjted States right now."

— Josh Rogin (@joshrogin) January 27, 2014
Gear up the SuperPACs.
Watch Lauren every Sunday on #MediaBuzz at 11 a.m. and 5 p.m. ET. If you'd like to recommend your favorite political tweets, email laurenashburnFNC@yahoo.com or send her a tweet @laurenashburn with the hashtag #TwitterTalk.
Lauren Ashburn joined the network in 2013 and currently serves as a Washington-based contributor for FOX News Channel (FNC). On MediaBuzz with Howard Kurtz, Ashburn contributes commentary on the state of the news media shaping current events, their role in politics, cultures, business, and tech. Click here for more information on Lauren Ashburn.