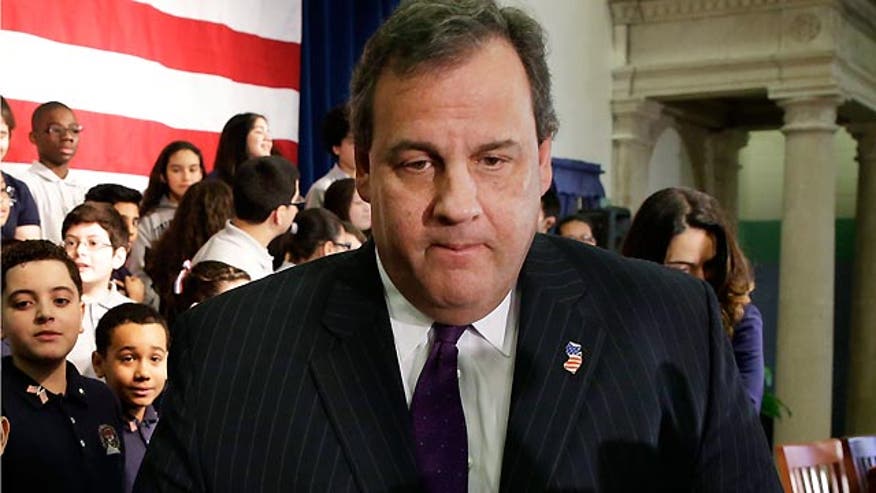 Remember when the media was all gaga for Chris Christie? We saw glowing stories after his reelection about his straight-shooting demeanor. Happy cable talkers panted about the New Jersey guv's growing chances in 2016. He even made the cover of Time Magazine!
Screech.
So long, love affair. Enter #Bridgegate, where members of his staff allegedly tried to make Fort Lee's mayor "pay" for not supporting Christie's reelection. It seems a plan was hatched to shut down lanes of the George Washington Bridge, backing up traffic in Fort Lee, hampering EMTs, and causing kids to be late for school. The evidence of foul play is in emails between staff members. Christie denies knowing anything about it.
All of a sudden, 2016 isn't looking so hot. And the buzz is causing a big traffic jam on Twitter – even Hollywood actor Albert Brooks got in on it.
If you believe Christie knew nothing about those emails there's a bridge I want to clog up for you.

— Albert Brooks (@AlbertBrooks) January 8, 2014
Beltway insiders and political junkies weren't as funny, baring their fangs with dire predictions.
Christie's famed bluster might work well along the Acela corridor but it will prove disastrous on the campaign trail. http://t.co/0ii43q8NVR

— Jonathan Capehart (@CapehartJ) January 8, 2014
Chris Christie's biggest problem is that he's really, truly a bully http://t.co/nBm5s3IQKK

— Ezra Klein (@ezraklein) January 9, 2014
Perhaps it's no surprise to discover that Christie is a vindictive, petty egomaniac contemptuous of those he serves: http://t.co/88x2jPGyL6

— Andrew Sullivan (@sullydish) January 8, 2014
Chris Christie's staff shares Obama admin's penchant for petty tyranny. #SpiteHouse politics, NJ-style==> http://t.co/5vC0Zx3bN5

— Michelle Malkin (@michellemalkin) January 8, 2014
New Jersey's Top Newspaper Blasts Christie: 'How Can We Trust Him As A Potential Future Leader Of Our Country?' http://t.co/MXAtaUP4RZ

— Josh Marshall (@joshtpm) January 8, 2014
Chris Christie A Petty, Vengeful Monster, Part Infinity, Section Fort Lee Lane Closures, Subsection Amateur Hour http://t.co/RsuFXrruqr

— Wonkette (@Wonkette) January 8, 2014
Just talked to Fort Lee Mayor Mark Sokolich. Furious over the news: "most disheartening example of petty politics" http://t.co/AgBpEqVS0o

— Amanda Terkel (@aterkel) January 8, 2014
If these emails are real, Chris Christie will never be president. http://t.co/DlHxpox9Sk

— Kurt Eichenwald (@kurteichenwald) January 8, 2014
And that's just the tip of the iceberg. Notice the wrath comes from both left and right.
But a commensurate outcry comes from those who see a disparity in how the media investigates its leaders including National Review's Jim Geraghty.
It's galling to see people insist abuse of power isn't that bad when their own side does it. http://t.co/HRSQfjJgDk cc: @MaxTwain

— jimgeraghty (@jimgeraghty) January 8, 2014
News this week: Obama did the 30,000 troop surge for political reasons, Christie aid causes a traffic jam. Headline? CHRISTIE!

— Chris (@forewit) January 8, 2014
I'd be happy if the media were equally curious about Obama's "lack of knowledge" on important matters, but they're not.

— RB (@RBPundit) January 8, 2014
Oh, Chris Christie left Americans to do die at the hands of terrorists? Oh, what's that, he didn't?

— Melissa Clouthier (@MelissaTweets) January 8, 2014
As Twitter jams go, this one was more like four lanes than three.
***
I usually don't award a best scandal tweet, but Mother Jones' David Corn made me laugh out loud by combining Jersey legends and infrastructure into a faux media statement.
Christie releases statement: "The highway was jammed with broken heroes on a last chance power drive."

— David Corn (@DavidCornDC) January 8, 2014
Corn is the Boss of tweets today. Bonus points: Which Bruce Springsteen song is it?
***
D.C. society reporter Carol Ross Joynt reports on a shout-out to the Obamas both old and young. .
The head of Sidwell Friends School: the Obamas are "quite elegant," their daughters: "high performance kids." http://t.co/Dhom7pL8od

— Carol Ross Joynt (@caroljoynt) January 7, 2014
For $30,000 plus per child, per year tuition, he'd better have nice things to say – no matter who you are.
***
And here's looking on the bright side of social etiquette from the Blaze's Dana Loesch:
I don't care if FLOTUS told people to "eat before they come" to a WH party. Saves the public money on catering.

— Dana Loesch (@DLoesch) January 7, 2014
Maybe they can also save money by keeping the lights off. Or limiting bathroom visits?
Watch Lauren every Sunday on #MediaBuzz at 11 a.m. and 5 p.m. ET. If you'd like to recommend your favorite political tweets, email laurenashburnFNC@yahoo.com or send her a tweet @laurenashburn with the hashtag #TwitterTalk.
Lauren Ashburn joined the network in 2013 and currently serves as a Washington-based contributor for FOX News Channel (FNC). On MediaBuzz with Howard Kurtz, Ashburn contributes commentary on the state of the news media shaping current events, their role in politics, cultures, business, and tech. Click here for more information on Lauren Ashburn.