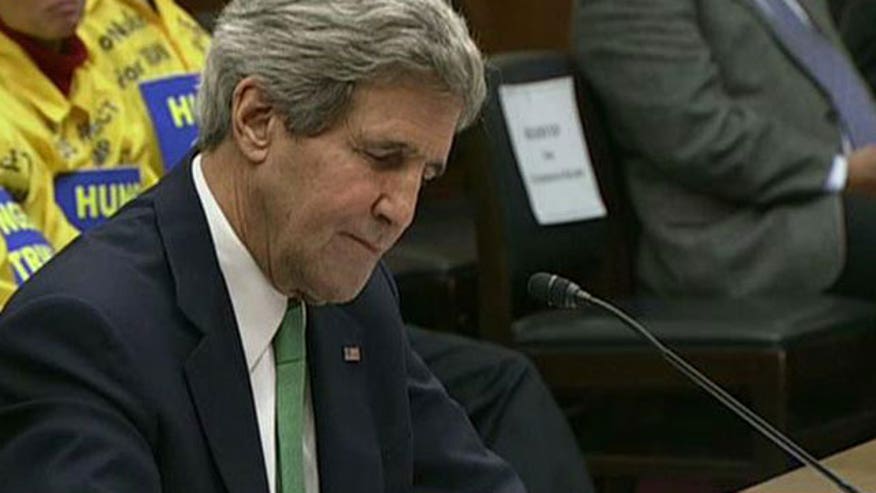 Secretary of State John Kerry appealed to Congress to "hold off" on new sanctions against Iran, testifying Tuesday that such legislation would be "gratuitous" and could give Tehran an excuse to "flout" the recently struck nuclear deal.
"We're asking you to give our negotiators and our experts the time and the space to do their jobs," Kerry said. "I'm not saying never [pass additional sanctions]. ... I'm just saying not right now."
The secretary described the current talks as a "hinge" point, and suggested that failure here could lead to "continued hostility" and potentially "conflict."
The secretary addressed the House Foreign Affairs Committee as a bipartisan group of senators is preparing to propose new sanctions against Iran. The concern is that the current deal gives the country too much leeway, and additional pressure may be needed.
"This deal is a bad deal," Rep. Ileana Ros-Lehtinen, R-Fla., said at Tuesday's hearing.
News reports on the Senate bill, though, prompted Iran's foreign minister to warn such a step would kill the nuclear deal negotiated last month aimed at curbing Tehran's uranium enrichment program.
"The entire deal is dead," Iran Foreign Minister Javad Zarif told TIME Magazine in an interview conducted Saturday and published Monday. "We do not like to negotiate under duress. And if Congress adopts sanctions, it shows lack of seriousness and lack of a desire to achieve a resolution on the part of the United States."
The Obama administration is adamantly opposed to new legislation at this stage, and Kerry tried Tuesday to persuade lawmakers to hold off.
Citing the agreement by the U.S. and other world powers, during talks in Geneva, not to impose new sanctions during a six-month period, Kerry said Congress could threaten that unity if it goes on a "tangent" with new legislation.
In a riff on an old Reagan maxim, Kerry said the U.S. would "test but verify" and disputed claims that the deal provides significant sanctions relief. Kerry said the relief could be quickly reversed if needed.
Stressing that the ultimate goal is to prevent Iran from acquiring a nuclear weapon, he said: "We now have the best chance we ever had to rigorously test this proposition, without losing anything."
He was challenged by committee Chairman Ed Royce, R-Calif., and other members, who complained that the current deal does not require Iran to stop enriching uranium entirely.
"We are facing an immoral and very dangerous regime in Iran," Royce said. "I am hard-pressed to understand why we would be letting up sanctions pressure" at this point.
The Senate group drafting a new bill, led by Sens. Robert Menendez, D-N.J., and Mark Kirk, R-Ill., has agreed that the new sanctions would take effect in six months, when the current interim deal brokered between the U.S., Iran, and five other world powers expires, if a satisfactory long-term deal is not struck. The sanctions would permit Iran to develop nuclear power for commercial purposes, so long as the development is monitored by the international community.
State Department spokeswoman Jen Psaki said Monday that imposing new sanctions on Iran, even those that are delayed, would be counter productive and could "unravel the unity" of the six world powers working to implement the deal.
"It could certainly put the negotiations that we have all worked so hard on that we believe is the best chance we've had in a decade to achieve a peaceful outcome at risk," Psaki told reporters.
The United States and other Western powers suspect Iran's nuclear program is aimed at weapons development. Iran says it is for peaceful purposes like power generation, medicine and research.
Iran's President Hassan Rouhani on Sunday told an open session of parliament that, after the "success" of the nuclear talks, investors were gravitating to businesses and the stock exchange.
"Economic activities have been shifted to the stock exchange from gold, hard currency and real estate," said Rouhani in his televised speech. He gave no specific figures.
Iran's economy has been hit hard by sanctions imposed over its nuclear program. Rouhani has recently stressed the deal's offer of sanctions relief in return for a halt to parts of Iran's uranium enrichment program to challenge criticism from hard-liners who say Iran is giving up too much for too little.
The Obama administration estimates relief from some sanctions in exchange for a temporary pause in Iran's nuclear enrichment program will amount to just $7 billion, a meager amount for a nation of nearly 80 million people - it's less than one month's worth of Iran's oil production and just 7 percent of Iran's overseas cash that remains frozen under the sanctions.
The Associated Press contributed to this report.