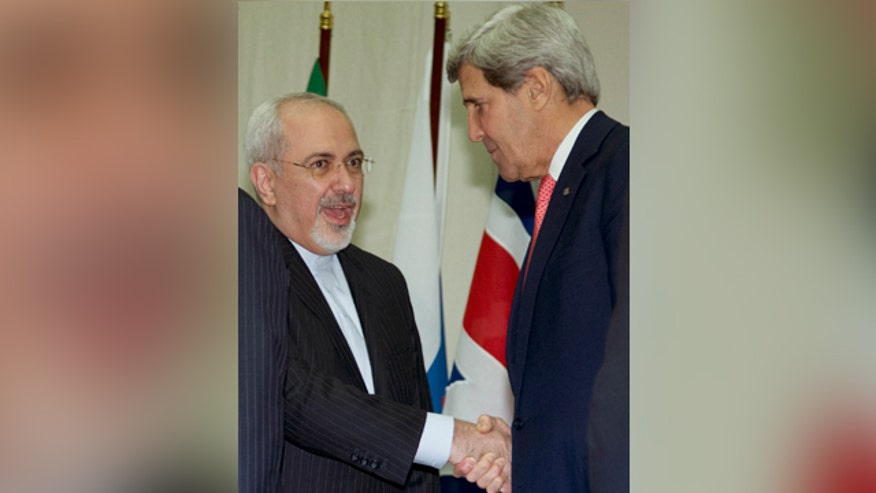 There is a fine line between holding a story to get more details and sitting on a scoop.
It looks to me like the Associated Press failed to publish a highly newsworthy revelation: secret nuclear talks between the Obama administration and Iran.
And my source is none other than the wire service itself.
In a tick-tock of how the deal announced Saturday (trading a six-month freeze in some of Teheran's nuclear efforts for a partial lifting of sanctions) came to be, we read this:
"The AP was tipped to the first U.S.-Iranian meeting in March shortly after it occurred, but the White House and State Department disputed elements of the account and the AP could not confirm the meeting. The AP learned of further indications of secret diplomacy in the fall and pressed the White House and other officials further. As the Geneva talks between the P5+1 and Iran appeared to be reaching their conclusion, senior administration officials confirmed to the AP the details of the extensive outreach."
Now perhaps the AP reporters were simply trying to get a fuller story. But the value of an exclusive is greatly diminished if you publish it as a look back after the big news has already been unveiled by Barack Obama and John Kerry.
AP spokesman Paul Colford tells me the wire service had to meet its own standards: "AP sought solid confirmation of the information we had learned in recent months, and what we had was not going to be published without the kind of confirmation that we obviously received over the weekend."
Let's go back to the story. It says the administration "disputed elements of the account," which perhaps gave the reporters pause about how much they had. But then the AP learned of "further indications of secret diplomacy" in the fall, and ran nothing.
Even a story with one explosive sentence—that secret nuclear talks were going on—would have reverberated with headlines around the globe.
Perhaps the wire service didn't want to tick off the administration by going with that story, although there's no mention here of the White House or State Department asking the AP not to publish.
But as the Huffington Post reports, that did happen with another outlet, Washington-based al-Monitor, which specializes in the Middle East. Al-Monitor writes that it found out about the secret discussions in June, but "agreed to hold the story at the administration's request until the conclusion of the third round of nuclear talks that ended here in a breakthrough."
Laura Rozen, an al-Monitor reporter, tweeted that the AP had also agreed to hold the story until a deal was reached.
Yahoo Makes It Official: It's Katie
As I mentioned on "Media Buzz," Katie Couric is becoming the global news anchor for Yahoo.
Here are the quotes. Marissa Mayer says the former "Today" host and CBS anchor will "pioneer a new chapter of digital journalism."
And Couric told Capital New York she plans to be unconventional: "We are trying to be very open-minded. I don't think it is going to be a half-hour evening news broadcast or a two-hour morning show."
Can Yahoo really become a player in news? Its home page does huge traffic, but its content generates little buzz.
On the other hand, Mayer has also hired Matt Bai, a terrific political writer for the New York Times, and Times tech columnist David Pogue.
So will TV news morph into the likes of Yahoo News, or will Katie & Co. invent something new?
Big Bonus for Ex-Time Editor
As Rick Stengel, the former top editor at Time, heads for a new job as undersecretary of State, his financial status is much improved.
As the Washington Times reports, Stengel was presiding over serious cutbacks at the magazine while accepting a large check:
"The cuts apparently only went so far. They didn't extend to the more than quarter-million-dollar bonus that Time had doled in 2012 out to Mr. Stengel on top of his $700,000 base salary, records obtained by The Washington Times show.
"And while Time Inc. has moved to freeze pay and lay off hundreds of employees this year, Mr. Stengel estimates that he is still in line to receive another bonus worth $100,000 to $250,000, according to a recent government ethics filing."
Click for more from Media Buzz.
Howard Kurtz is a Fox News analyst and the host of "MediaBuzz" (Sundays 11 a.m. and 5 p.m. ET). He is the author of five books and is based in Washington. Follow him at @HowardKurtz. Click here for more information on Howard Kurtz.