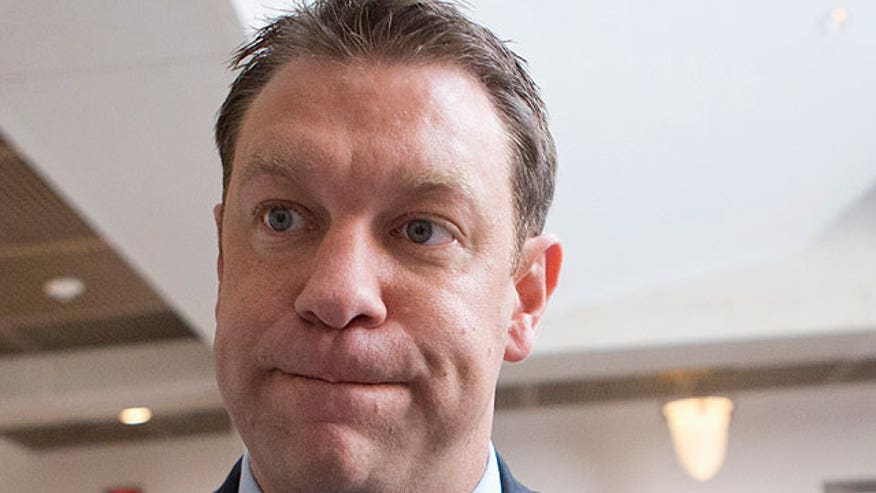 Republican Florida Rep. Trey Radel said late Wednesday he will take a leave of absence and donate his salary after pleading guilty to misdemeanor cocaine possession, one day after his run-in with the law was made public.
Radel was sentenced to one year of supervised probation for purchasing 3.5 grams of cocaine, valued at $250, from an undercover officer. He also had a vial of cocaine at his apartment which police later confiscated.
"I've let down our country," Radel said at a press conference Wednesday night. "I've let down our constituents. I've let down my wife, and even though he doesn't know it, I've let down my 2-year-old son."
Radel recalled the support he received from constituents when his mother died. He said they made him feel like "Southwest Florida's adopted son."
"I hope, like family, Southwest Florida can forgive me for this. I've let them down, but I do believe in faith, forgiveness and redemption, and I hope to come out of this a stronger, a better man for all of you."
According to a statement from Ronald Machen Jr., U.S. attorney for the District of Columbia, FBI and DEA agents learned recently that Radel was buying cocaine for personal use and sometimes sharing it.
"Today's guilty plea emerges from a broader narcotics investigation that brought to light information that a sitting member of Congress was routinely using and buying cocaine. Once this information was confirmed, law enforcement could not ignore this illegal conduct," Machen said in the statement.
Radel said that his leave of absence takes effect immediately and that he had filed the necessary papers with the House clerk. In the meantime, he said constituent services would continue. He gave no indication he was going to resign.
"I want to come out of this stronger," Radel said in court, later adding that he wants to "continue serving this country."
A spokesman for House Speaker John Boehner said in a statement Tuesday the incident was between Radel, his family and his constituents, but that "members of Congress should be held to the highest standards."
The maximum penalty for the charge Radel faces was 180 days of imprisonment and/or a fine of $1,000. The probe that led to the charge against Radel involved multiple law enforcement agencies, including the FBI.
Fox News' Chad Pergram and The Associated Press contributed to this report.