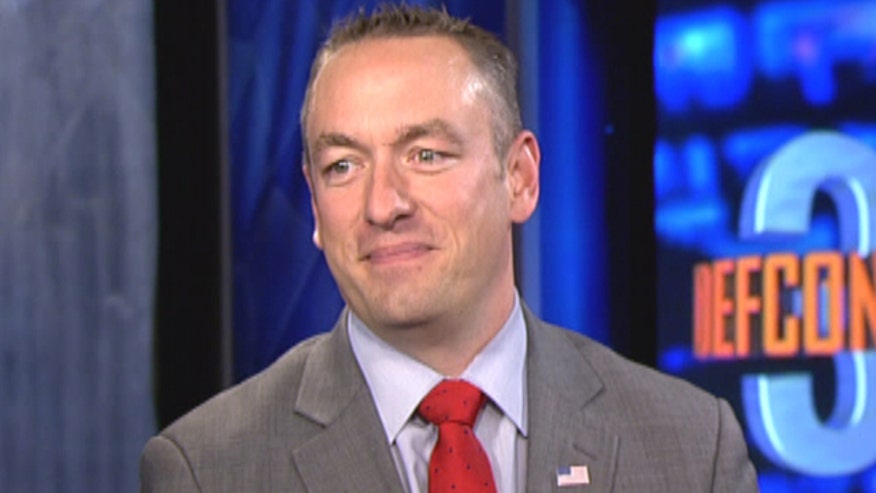 Former Nebraska Republican state treasurer and retired U.S. Navy Lieutenant Commander Shane Osborn is making a run to be his state's next senator. He's hoping to succeed retiring Republican Senator Mike Johanns.
Osborn gained national attention in April 2001 when flying a routine Navy mission in the Pacific. His plane was hit by a Chinese fighter over international airspace and landed in China. The Chinese government held him and his crew hostage for 12 days.
Fox News National Security Analyst K.T. McFarland spoke to Osborn about his experience in China and his senate campaign.
Osborn explained how the incident with China first happened.
"We were off the coast of China … a Chinese fighter jet was being a hotshot, joined up on us and hit us … we fell into a dive … we lost almost 16,000 feet before we got it out," said Osborn. "We have to land in China and taken off at gunpoint and held for 12 days … they just interrogated us for 12 days and my new name was 'Master Spy' and they threatened our lives."
After the September 11 terrorist attacks, Osborn extended his tour.
"I volunteered and flew some of the initial combat missions in Afghanistan," said Osborn.
Osborn said his experience in the military allows him be a strong leader for Nebraska. "My ability to serve my country and survive pretty tough times taught me a lot about leadership."
He said his time already as the state's treasurer proves he shares the same values as Nebraskans.
"I'm a fiscal conservative," said Osborn. "I actually shrunk my budget over 10% over 4 years … I cut over 1/5 of the staff but we made the office more efficient."
Osborn pointed out the low number of current combat veterans in the U.S. Senate.
"That's a problem," said Osborn. "We need more people that are going to put the country above their own political wellbeing and get things done."
Chris Snyder is a producer for Fox News based in New York. Follow him on twitter: @ChrisSnyderFox.