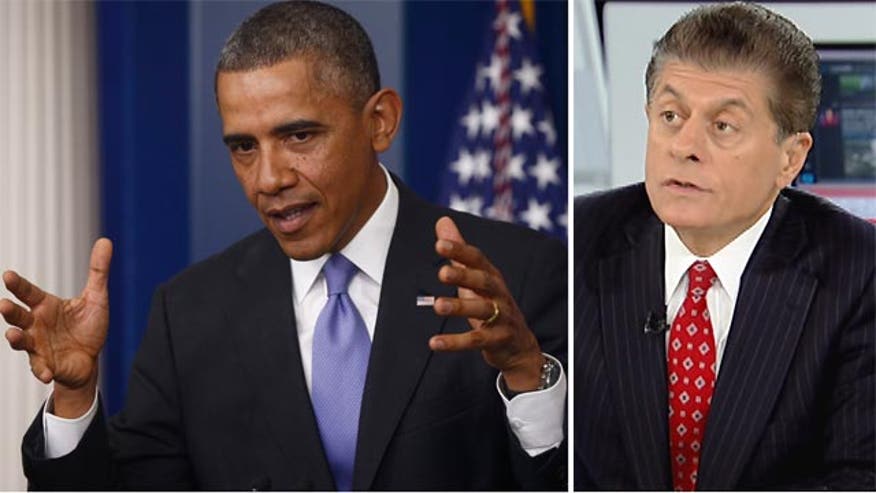 Judge Andrew Napolitano told viewers Wednesday on "Special Report with Bret Baier" that new revelations of administration concerns over the implementation of ObamaCare are another example of "the problem when government attempts to manage something that it is constitutionally, and institutionally incapable of managing."
An email obtained by Fox News on Wednesday showed Henry Chao, deputy chief information officer at the Centers for Medicare and Medicaid Services, expressing doubts about the Heathcare.gov website on September 25, just days before the site's October 1st launch. The email references a meeting the previous day including White House Chief Technology Officer Todd Park and CMS chief Marilyn Tavenner.
Napolitano, Fox News' senior judicial analyst, said revelations showing private concerns despite public reassurances are just the latest in a pattern of deception from the administration -- and the president -- with regard to the healthcare law.
"We learned in the past two weeks that lawyers for the Justice Department a year ago had said in briefs submitted to federal courts, people are going to lose their coverage once ObamaCare becomes effective," he said. "Now we learned in the past two days that the technical people didn't think this was working. This was an unmitigated disaster for the president, for the Democrats, for his administration, and it was based upon a reliance on the president's deception. Deception that this wouldn't happen. Deception that you could keep your doctor. Deception that you can keep your health care. He was wrong then, he's wrong now, he should know it."