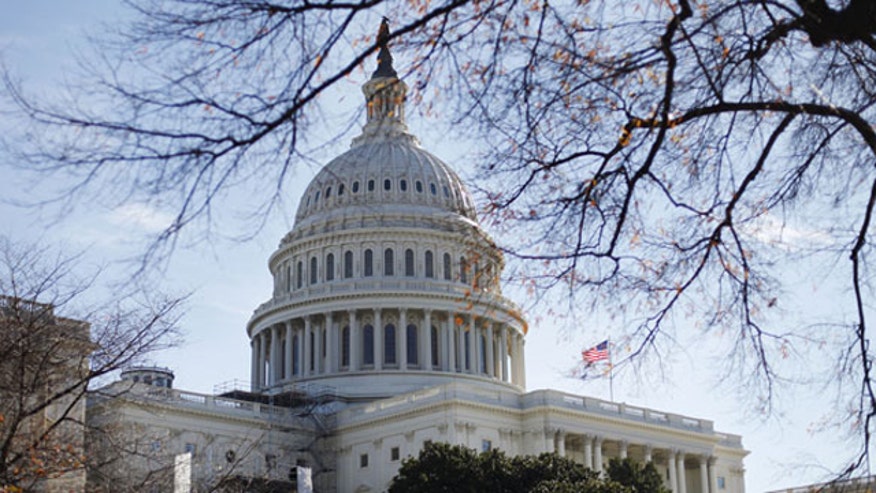 President Obama's bid to use an administrative fix to reverse millions of insurance cancellation notices has failed to stop panicked Democrats from pursuing legislation that would go even further.
The president's announcement on Thursday was aimed in part at easing the concerns of House Democrats, whose constituents are complaining loudly about losing their current coverage due to ObamaCare. Democrats had been looking for cover ahead of Friday's vote on a Republican bill to let insurers sell previously canceled plans for another year.
But that vote Friday afternoon exposed sustained divisions among the Democratic ranks. Despite Obama's assurances, a total of 39 Democrats defected and supported the GOP bill.
"If people prefer their existing coverage, they should be able to keep it," said Rep. Kyrsten Sinema, D-Ariz., one of the Democrats who backed the House bill. "Healthcare reform should work for Arizona's hardworking families, and Democrats and Republicans must be willing to listen to new ideas to fix this law to make it as good as it can be."
The House bill would go a step further than Obama's plan by allowing insurance companies to sell the old plans to customers who previously had them, as well as new customers, for another year.
The White House has already threatened to veto the legislation, and there's certainly no guarantee that Senate Democratic Leader Harry Reid would call it to the floor.
But Democrats are separately pursuing two additional pieces of legislation on the Senate side that -- if they can convince Reid to consider them -- could prove problematic for the president.
Both those bills go further than even the House bill.
One, from Sen. Mark Udall, D-Colo., would allow the old policies to be extended for another two years.
The other, from Sen. Mary Landrieu, D-La., would effectively allow an indefinite extension of those plans by grandfathering in all plans as late as Dec. 31, 2013.
Landrieu, while praising Obama for his announcement on Thursday, gave no indication she would let up on her own bill. She said in a statement she would be working in the weeks ahead to "support legislation" to keep the promise that people can keep their health plans if they want.
Both bills were continuing to attract Democratic supporters after Obama's announcement.
Sen. Mark Begich, D-Alaska, said after Obama's proposal that he would be supporting the Udall bill.
Landrieu also announced the support of Sen. Joe Donnelly, D-Ind., for her bill. Donnelly joins fellow Democratic Sens. Dianne Feinstein, of California, and Jeff Merkley, of Oregon, in backing the Landrieu bill.
"As the momentum builds to keep the promise made to the American people, I will continue to push for a targeted solution because the Affordable Care Act is worth fighting for," Landrieu said.
Obama, though, was trying to avoid a legislative "solution" for ObamaCare. He and his advisers insisted they could, administratively, allow insurers and state commissioners to sell plans that were previously deemed ineligible under ObamaCare.
The president met with top insurance executives Friday in Washington, as the industry voiced serious concern that any plan to suddenly allow canceled policies to be renewed would be difficult to implement.
White House Press Secretary Jay Carney, though, said Friday that the administration disagrees "with the assertion that this is not something that [can] be dealt with."
A number of top Democratic leaders were standing by the president. House Democratic Leader Nancy Pelosi called the House GOP bill a "Trojan horse."
"If we have to thread a needle let's do that, but let's not unravel the entire sweater," she said.