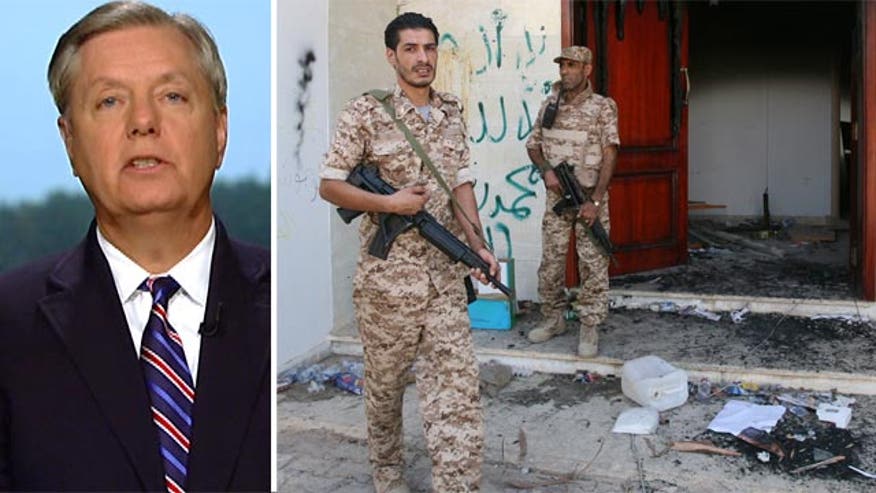 New details about what took place on the night of the Benghazi terror attack more than a year ago may come to light when witnesses who were on the ground during the assault meet with congressional lawmakers later this month.
Three CIA employees who were eyewitness to the attack are expected to testify in a closed-door session before the House Intelligence Subcommittee on Oversight and Investigations during the week of November 11, sources told Fox News on Thursday.
Two State Department security agents who have firsthand knowledge of the Sept. 11, 2012, raid that killed U.S. Ambassador Chris Stevens and three other Americans already has been deposed by the House Oversight and Government Reform Committee.
The Justice and State departments, under pressure from Republican lawmakers to allow survivors of the attack to testify, recently cited a year-old FBI investigation and a future criminal prosecution to block access to survivors.
Sen. Lindsey Graham, R-S.C., threatened Monday to hold up all nominations for federal government positions until survivors of last year's deadly attack on the diplomatic post in Libya appear before Congress.
"What I am asking for is to talk to the people who were there," Graham told reporters at a Capitol Hill news conference, insisting that congressional investigators have access to survivors.
Graham said that only occurred because the individual was subpoenaed.
In a letter to Graham, the State Department said it was concerned about congressional interviews with the survivors of the attack because of Justice Department advice that they could be witnesses in a criminal trial and any interviews outside the criminal justice process could jeopardize a case.
The department also wrote that "because these survivors are potential witnesses in a terrorism prosecution, as well as law enforcement professionals who engage in security activities around the world including at high-threat posts, disclosure of their identities could put their lives, as well as those of their families and the people they protect, at increased risk."
Republicans who joined Graham at the news conference, including Sen. Kelly Ayotte, who served as New Hampshire's attorney general, dismissed that argument from the department. Republicans said they would neither compromise national security nor jeopardize any prosecution.
Rep. Mike McCaul, R-Tex.,chairman of the House Committee on Homeland Security and a senior member of the House Foreign Affairs Committee, sent a letter signed by 84 other lawmakers to Secretary of State John Kerry this week asking why his department has not offered a reward for tips leading to the Benghazi suspects.
According to the State Department's website, the "Rewards for Justice" program offers millions of dollars for information about suspects who are accused of murdering Americans and is valuable tool in counter-terrorism cases.
The State Department has not offered an explanation as to why the suspects are not on the list.
Fox News' Catherine Herridge, Peter Doocy and The Associated Press contributed to this report.