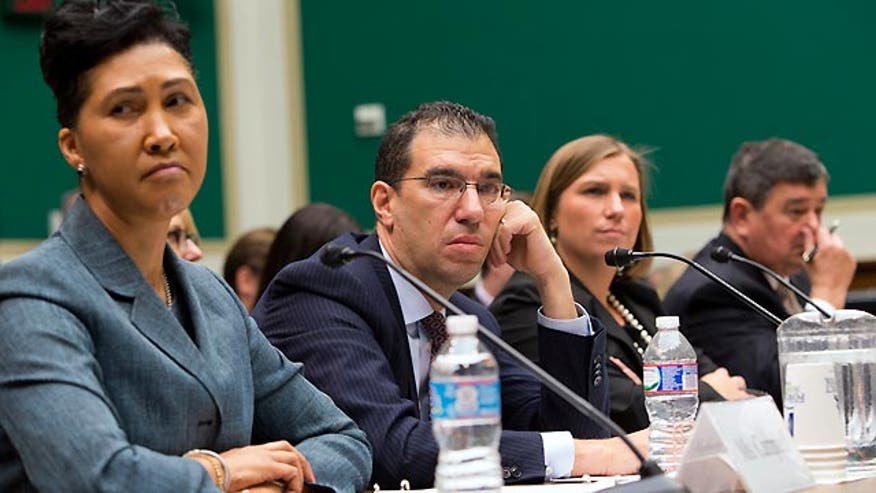 The big moment had arrived, the four lead federal contractors had been sworn in, and they were ready to answer questions about the ObamaCare debacle.
As the cameras rolled, they offered their responses:
"It was not our decision to go live."
"We had a very limited view of the program."
"Our solution was ready to go."
"We were ready to process on 10/1."
This was mildly amusing as an exercise in finger-pointing, buck-passing and the no-one's-in-charge culture of government contracting. But despite the heavy cable news coverage, it didn't tell us a helluva lot.
I've covered endless congressional hearings, and between long-winded lawmakers and obfuscating witnesses, they can drone on for hours. That's true in spades when a hearing's focus is IT problems, and there's no top government official to harass. (Kathleen Sebelius will testify next week.)
Little wonder that after covering the hearing live, Fox, CNN and MSNBC started using pundits to talk over the proceedings. Then President Obama engaged in a bit of counterprogramming, announcing at the White House that it was time to be "fixing a broken immigration system," as opposed to fixing a broken health care website.
The cable newsers all broke away for the president's remarks, but Fox soon cut back to the hearing while the other two stayed with Obama.
The president, as he is wont to do, took a mild swipe at the media and their coverage of immigration: "There are going to be moments -- and there are always moments like this in big efforts at reform -- where you meet resistance, and the press will declare something dead, it's not going to happen, but that can be overcome."
All three cable channels eventually gave up on the hearing and returned to regular programming. Whatever the session accomplished, it wasn't scintillating television.
The most dramatic moment, perhaps, was a partisan squabble on the dais, with Democratic congressman Frank Pallone saying, "No, I will not yield to this monkey court or whatever this thing is!"
Here's how the big papers played it right afterward. Washington Post:
"Private contractors in charge of the new federal health-insurance Web site told a House committee Thursday that they did not have enough time to thoroughly test the system before its problem-riddled rollout early this month.
"Executives of two of the four companies represented at the hearing of the House Energy and Commerce Committee said they needed 'months' to conduct the testing, rather than the two weeks or less they were given before the Oct. 1 launch."
New York Times: "Federal officials did not fully test the online health insurance marketplace until two weeks before it opened to the public on Oct. 1, contractors told Congress on Thursday.
"While individual components of the system were tested earlier, they said, the government did not conduct 'end-to-end testing' of the whole system from start to finish until late September."
So I'd say the hearing incrementally advanced our knowledge of the situation, even if it wasn't great TV. And by the way, none of the contractors offered anything resembling an apology.
But ObamaCare may have far bigger problems on the horizon than a malfunctioning website, if this piece by Kaiser Health News is any indication:
"Health plans are sending hundreds of thousands of cancellation letters to people who buy their own coverage, frustrating some consumers who want to keep what they have and forcing others to buy more costly policies.
"The main reason insurers offer is that the policies fall short of what the Affordable Care Act requires starting Jan. 1. Most are ending policies sold after the law passed in March 2010. At least a few are canceling plans sold to people with pre-existing medical conditions.
"By all accounts, the new policies will offer consumers better coverage, in some cases, for comparable cost -- especially after the inclusion of federal subsidies for those who qualify."
That may be true. But it does undercut the president's vow that if people like their current coverage they can keep it. And that may prove to be the next battlefield.
Click for more from Media Buzz.
Howard Kurtz is a Fox News analyst and the host of "MediaBuzz" (Sundays 11 a.m.). He is the author of five books and is based in Washington. Follow him at @HowardKurtz. Click here for more information on Howard Kurtz.