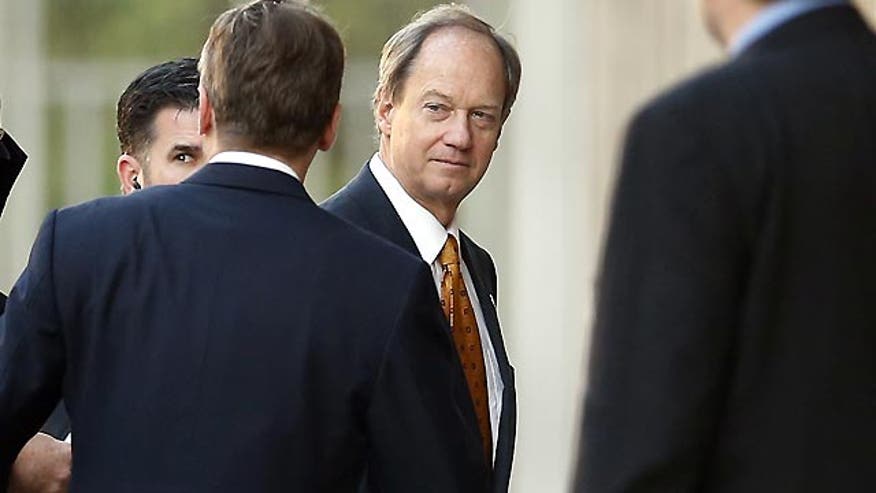 For the second time in less than a week, the American ambassador to a major European ally has been summoned by that country's Foreign Ministry to explain published reports of surveillance by American intelligence.
The German Foreign Ministry confirmed Thursday morning that it had summoned U.S. Ambassador John B. Emerson to meet with Foreign Minister Guido Westerwelle in the wake of allegations that American intelligence may have targeted Chancellor Angela Merkel's cellphone.
Fox News is told Emerson will be informed of Germany's displeasure "in no uncertain terms."
German officials emphasized to Fox News how unusual this is. In any previous cases of displeasure with Washington, the session would have been handled at a lower level than the German foreign minister. One official said this kind of treatment usually is reserved for Syria and Iran.
German officials are not saying, if they even know, how long the surveillance on Merkel's phone went on for -- but they did indicate that they know more about it than what they read in the open press. The German government "would not have come out with the statements it has if there were not a basis for it," one German official said, adding that the episode has led to "a serious breach of trust" because the monitoring of a foreign head of state poses grave issues of violation of sovereignty, an intrusion into "the most inner sanctum of governance."
The officials noted the statement in Wednesday's briefing by White House Press Secretary Jay Carney that "the United States is not monitoring and will not monitor the communications of the Chancellor" -- flagging the fact that Carney did not address past behavior.
Merkel complained to President Obama on Wednesday after learning of the suspected targeting, and said that would be "a serious breach of trust" if confirmed, her government announced.
The White House denied that the U.S. is listening in on Merkel's phone calls.
The German government said it responded after receiving "information that the chancellor's cellphone may be monitored" by U.S. intelligence. It wouldn't elaborate but German news magazine Der Spiegel, which has published material from NSA leaker Edward Snowden, said its research triggered the response.
Merkel spokesman Steffen Seibert said in a statement the chancellor made clear to Obama in a phone call that "she views such practices, if the indications are confirmed ... as completely unacceptable."
Merkel said among close partners such as Germany and the U.S., "there must not be such surveillance of a head of government's communication," Seibert added. "That would be a serious breach of trust. Such practices must be stopped immediately."
In Washington, White House spokesman Jay Carney said "the United States is not monitoring and will not monitor the communications of the chancellor."
Merkel raised concerns over electronic eavesdropping issue when Obama visited Germany in June, has demanded answers from the U.S. government and backed calls for greater European data protection. However, Wednesday's statement was much more sharply worded and appeared to reflect frustration over the answers provided so far by the U.S. government.
Merkel called for U.S. authorities to clarify the extent of surveillance in Germany and to provide answers to "questions that the German government asked months ago," Seibert said.
On Monday, the U.S. ambassador to France, Charles Rivkin, was summoned to the French Foreign Ministry to discuss a report published by the newspaper Le Monde that the National Security Agency had accessed the phone records of over 70 million French citizens over a 30-day period.
The Le Monde report was strongly denied by U.S. Director of National Intelligence James Clapper, and Obama and French President Francois Hollande agreed to continue to hold diplomatic discussions on the issue at a later date.
Fox News' James Rosen and The Associated Press contributed to this report.