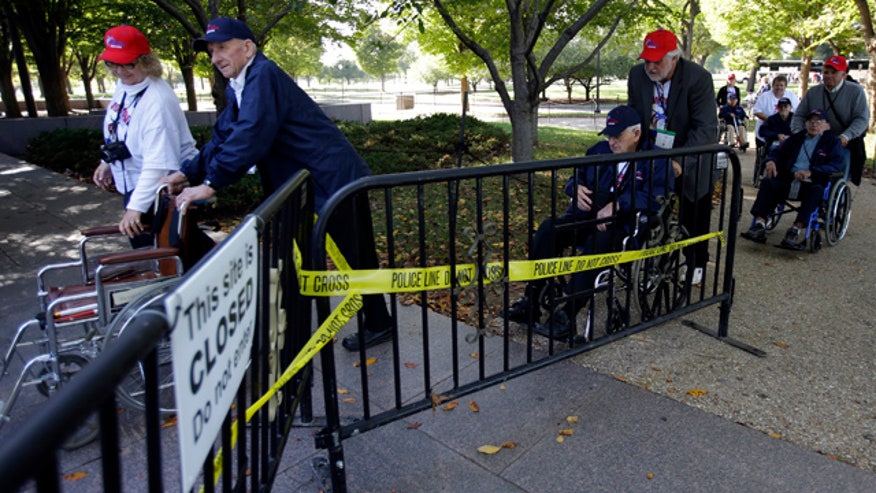 Veterans returned Tuesday to the closed World War II Memorial in Washington to highlight what they call the partial government shutdown's "devastating impact" on the military community.
The rally at the memorial -- now a national symbol of allegedly excessive cutbacks tied to the partial government shutdown – was organized by the Military Coalition, a group of 33 veteran and military-oriented services groups representing more than 5.5 million members.
Members say that veterans have become a pawn in the jockeying over the partial government shutdown -- pointing to decisions to block visitors from the open-air WWII memorial and threaten the cut-off of military benefits for millions of active and retired military if no deal is reached to increase the federal debt limit.
"Millions of men and women who are transitioning or have already transitioned from military service will be forced to depend on charity," Steve Gonzalez, an American Legion economic director, told those in attendance.
Organizers also said Marine reservists are concerned about shutdown-related cutbacks impacting their "readiness" to deploy to Afghanistan in early 2014 and that millions in the military community are at risk of not receiving disability, pension or GI Bill payments if the fiscal crisis is not resolved by the end of the month.
The rally follows one over the weekend in which veterans and supporters took down barricades around the WWII memorial and dropped them off in front of the White House. Some barricades are still standing, but many people were just walking around them.
"The shutdown has been devastating for the nation's military readiness and for the veterans, service members, families and survivors in the uniformed services community," group organizers said.
Among the scheduled speakers were leaders of the Reserve Officers Association; National Military Family Association; and the Veterans of Foreign Wars.