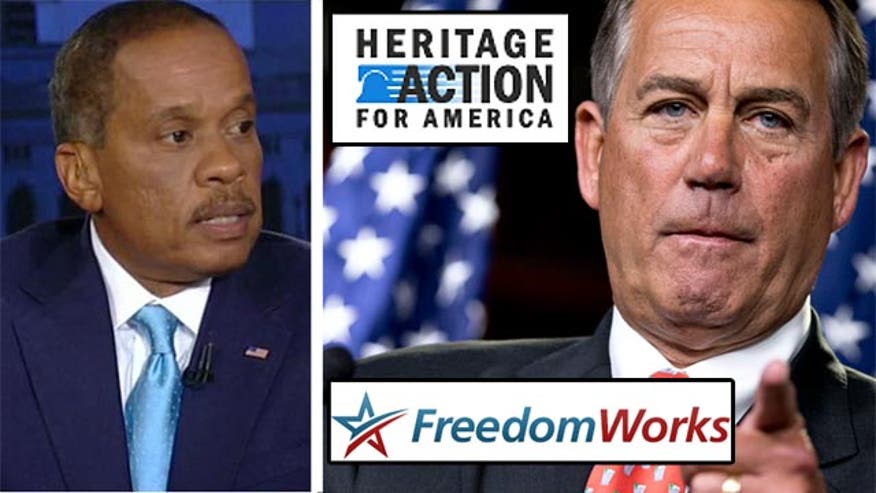 Juan Williams told viewers Tuesday on "Special Report with Bret Baier" that the abrupt cancellation of a House vote on a new proposed budget plan - a plan that was announced by House GOP members earlier Tuesday -- signals a "war within the Republican ranks."
Conservative groups like Heritage for Action and Freedomworks made an effort to torpedo the plan as soon as it was unveiled, urging House GOP lawmakers to vote "no" on the bill because, the groups said, it didn't do enough to curb ObamacCare. Without enough likely votes to pass, House Speaker John Boehner canceled the planned vote at the last minute.
"The idea that you have these outside groups putting pressure on Boehner, again, is evidence - John Boehner, as attractive a man and an interesting man as he is, is not really in charge here," said Williams, a Fox News contributor. "He can't get his troops in line as the Speaker."
With time running out before Thursday's debt ceiling deadline, the sidelined House vote threw shutdown negotiations back into uncertain territory. The proposed House plan would have curbed the Treasury Department's ability to take emergency steps to stay under the debt ceiling - a provision which proved controversial with some House members.
'You can't use this as an opportunity, especially given the urgency of the moment, to start grabbing authority from other agencies of government," Williams said. "Obviously, you're going to get people fighting."