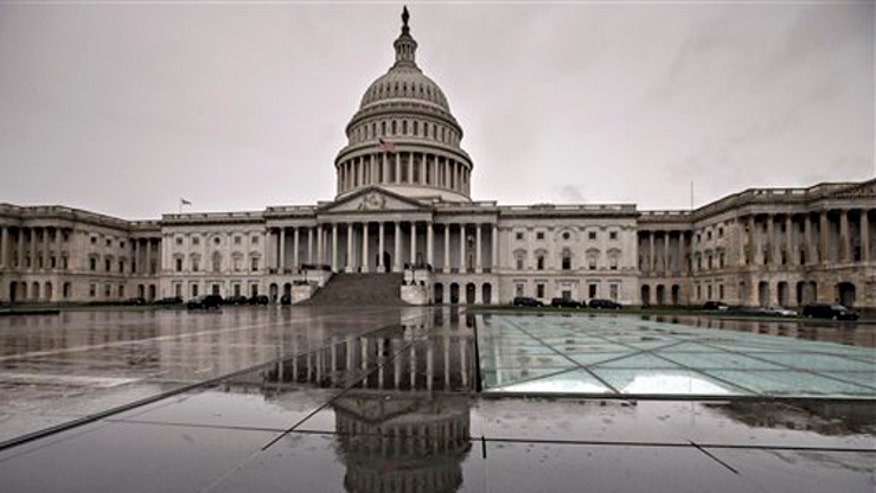 The Senate will be in session on Monday as time runs short to negotiate an increase of the nation's debt ceiling and the partial government shutdown concludes its second week.
The Senate participated in essentially a pro forma session Sunday in which they made floor speeches but took no votes. The House is not expected to meet until Tuesday.
On Sunday, lawmakers expressed little optimism about reaching a deal before Monday night to fix the country's fiscal crisis.
"We will see our way through this, but the last 24 hours have not been good," Tennessee Sen. Bob Corker told "Fox News Sunday." "It's not clear how this will end."
Any deal to end the partial shutdown of government services and another to increase the country's borrowing limit before Thursday's deadline now appears to be in the hands of Senate Democratic Leader Harry Reid and Mitch McConnell, the chamber's Republican leader. The two spoke by phone Sunday, but failed to reach an agreement, though Reid described the talks as "productive."
"The discussions were substantive, and we'll continue those discussions," Reid added. "I'm optimistic about a positive conclusion."
Negotiations appears to be centering on whether Republicans will agree to undo or change the automatic, across-the-board spending cuts to domestic and defense programs known as sequester, which the GOP sees as crucial to reducing the country's deficit.
"Americans want Congress to compromise," Reid said at the start of the rare Sunday session in the Senate, during which he pressed for a long-term budget deal.
Optimism about the sides agreeing on a spending bill to end the partial shutdown and a plan to increase the borrowing limit were buoyed Saturday amid reports Reid and McConnell were talking behind the scenes.
But hopes for a breakthrough appeared dashed when Reid rejected a proposal by Maine Republican Sen. Susan Collins that would fix both fiscal issues and had bipartisan support.
Corker seemed to acknowledge that Republicans had gone too far in their gambit of insisting that dismantling ObamaCare must be part of any spending bill to fully reopen the government, which has been partially shut down since Oct. 1.
However, he thinks Democrats have now gone too far by demanding the rollback of sequester, considering the 2011 Budget Control Act makes them just as much "the law of the land" as ObamaCare.
"I agree that Republicans started with the overreach, but now Democrats are one tick too cute," he told Fox. "They are now overreaching."
West Virginia Democratic Sen. Joe Manchin, who is among the 12 senators who have given bipartisan support to the Collins proposal, told Fox News, "I don't know what [Senate leadership] wants. We are in a crisis mode now."
Said Corker: "It's not clear how this will end. Both sides need to come to the middle of the road."
After rejecting the Collins proposal, leaders of the Democratic-led Senate met with President Obama at the White House.
Whether they will try to revive the proposal remains unclear. They left the 75-minute meeting without talking to reporters.
Reid also rejected the plan -- which calls for funding the government for six months and increasing the federal debt limit through January -- in part because the government-spending level of $967 billion next year was too low, despite it providing more flexibility in administering the sequester cuts.
Collins' plan also calls for a two-year delay on ObamaCare's medical device tax and requires income verification for Americans seeking subsidies for ObamaCare.
The upper chamber also failed Saturday to get the necessary 60 votes on a bill to increase the debt limit through 2014 that was "clean" of Republican demands for spending cuts or changes to ObamaCare.
In the Republican-controlled House, negotiations ended abruptly when Republicans refused to let Democrats vote on a bill to reopen the government, which resulted in an exchange between a staffer from each party.
Christine Lagarde, the International Monetary Fund's managing director, said on NBC's "Meet the Press" that disruption and uncertainty puts the United States at risk of "tipping, yet again, into recession" after the fitful recovery from 2008.
"We're in a free-fall as Republicans, but Democrats are not far behind," Sen. Lindsey Graham, R-S.C., told ABC's "This Week."
The partial government shutdown has furloughed 350,000 federal workers, impeded various government services, put continued operations of the federal courts in doubt and stopped the IRS from processing tax refunds. Some parks and monuments remain closed, drawing a protest at the National World War II Memorial on Sunday that included tea party-backed lawmakers who had unsuccessfully demanded defunding of President Barack Obama's 3-year-old health care law in exchange for keeping the government open.
The Associated Press contributed to this report