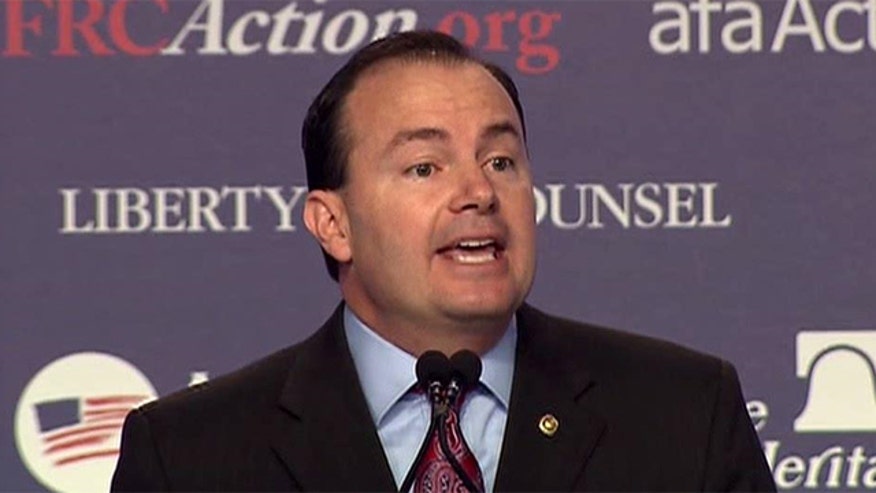 Conservative activists gathered at an annual political conference are calling on Republicans to embrace the Tea Party-backed refusal to support spending measures that fund ObamaCare, even as GOP lawmakers appeared to be scaling back some of their demands for ending the budget impasse.
Republican Sen. Ted Cruz and his Tea Party-aligned colleagues and high-profile activists rallied attendees Friday to keep up the fight to unravel ObamaCare at the annual the Values Voter Summit for social conservatives in Washington, D.C.
Cruz was introduced by conservative activist and Media Research Center President Brent Bozell, who asked the crowd if they would stand with the Texas senator "and his crusade to save America?" The crowd greeted Cruz crowd with a roaring applause and standing ovation, the International Business Times reported.
Cruz, who along with Sen. Mike Lee, R-Utah, helped drive the showdown with the White House over ObamaCare, joked that he'd be heading next to the meeting with his colleagues at the White House, and "if I'm never seen again, please send a search-and-rescue team."
President Obama held discussions with Senate Republicans at the White House Friday morning.
But Cruz also delivered a stern message to conservatives, amid signs that the upcoming meeting could lead Senate GOP leaders to dial back their demands on ObamaCare.
"We're nearing the edge of a cliff," Cruz said, focusing his remarks almost exclusively on the health law. "What does it take to win this fight? It takes the men and women in this room."
Cruz also urged the House of Representatives to keep "standing strong."
Cruz and his allies had demanded that ObamaCare be defunded as part of any spending bill. Failure to reach an agreement with Democrats resulted in the partial government shutdown which started Oct. 1. Lawmakers are now grappling with both the spending debate and a looming Oct 17 deadline to raise the debt ceiling.
Marlene Kellett of Columbia, Md., said Republicans needed to hold firm in their opposition to the so-called Obamacare law. But she expressed pessimism that Republicans would make progress.
"I'm very opposed to Obamacare -- it's a disaster," Kellett said. "But I'm not feeling very positive about it. So often the Republicans cave and they can't seem to get what they want."
Adrienne Grizzell of Lexington, Ky., said the accumulation of nearly $17 trillion in debt -- the source of a debate over whether to raise the nation's borrowing limit -- is too often shrugged off.
"It's as if, `No, it's not a problem, let's keep spending,"' she said. "Nobody is saying, `OK, we've going to start spending less."'
House Budget Committee chairman, Rep. Paul Ryan, R-Wis., said in a video played at the conference that conservatives must "never give up on repealing and replacing ObamaCare."
Ryan has put forward a plan that would extend the U.S. borrowing cap for four to six weeks while jump-starting talks on a broader budget deal that could replace cuts to defense and domestic agency budgets with cuts to benefit programs like Medicare and reforms to the loophole-cluttered tax code.
House Republicans pitched a plan to the White House Thursday night to approve a short-term debt-ceiling increase, but President Obama pushed back because it did not address the partial shutdown.
Senate Republicans are now crafting an alternate proposal that deals with both. It includes a provision dealing with ObamaCare, but is far short of what Cruz campaigned for -- and advocated with a 21-hour address on the Senate floor last month.
The emerging proposal comes from Sen. Susan Collins, R-Maine, and others. It would propose a six-month extension of government spending, a repeal of the health care law's medical device tax and greater flexibility for agencies to deal with across-the-board spending cuts in effect this year.
The Senate on Saturday planned to take up a one-year extension of the debt limit. Democratic sponsors, though, may have difficulty advancing the measure given the ongoing negotiations.
The Senate Conservatives Fund, an independent political action committee, has run ads asking Tea Party supporters to recruit primary election opponents for Republicans who voted for a measure that would have kept the government running with modifications in the health care law.
Returning from a two-hour meeting at the White House, Senate Republican leader Mitch McConnell told reporters Friday that the session with Obama was useful and he hoped that Senate Republicans could find a way out of the impasse.
Cruz, decrying the health law as a "train wreck," claimed the American people remain "energized" around the goal of gutting the law. He claimed it is causing "enormous harm" to the economy -- though the administration says there's no hard evidence that the economy is being hurt by the roll-out.
Cruz was also interrupted more than a half-dozen times by protesters. To the delight of the audience, he repeatedly accused them of being Obama's "political operatives."
"How scared is the president?" Cruz asked, as another protester was escorted.
Where the budget and debt talks go from here is unclear. Obama called House Speaker John Boehner at midafternoon Friday, and Michael Steel, a spokesman for the leader of House Republicans, said, "They agreed that we should all keep talking."
Jay Carney, the president's press secretary, said Obama "appreciates the constructive nature of the conversation and the proposal that House Republicans put forward. Yet, the spokesman said, "He has some concerns with it."
The Associated Press contributed to this report.