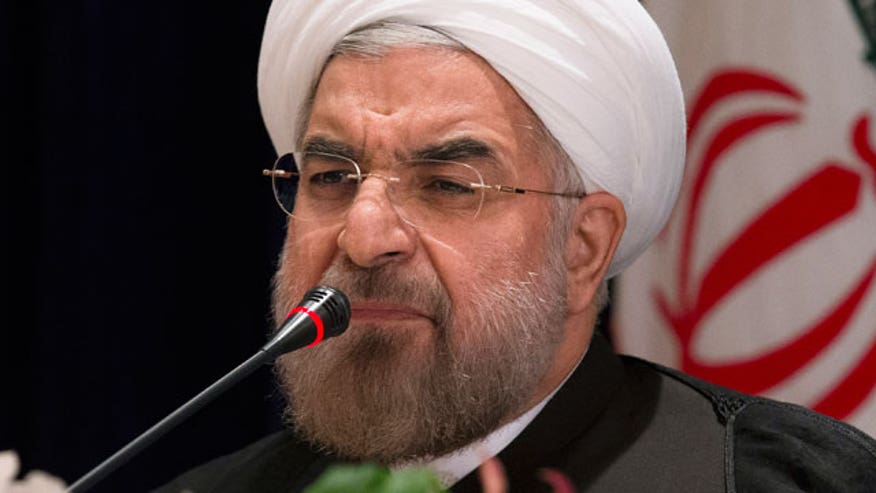 Secretary of State John Kerry, along with fellow diplomats, met briefly Thursday with his Iranian counterpart, marking the highest-level meeting between the two countries since the Iranian revolution of 1979.
EU foreign policy chief Catherine Ashton later described the talks as "substantial" and said they had set the stage for a new round of negotiations over Iran's nuclear program Oct. 15-16 in Geneva.
Speaking to reporters later, Kerry warned there was still "a lot of work to be done" but added he welcomed the "change in tone."
Iranian Foreign Minister Javad Zarif said he was "satisfied with this first step."
Kerry sat next to Zarif at the meeting, the Associated Press reported. Others attending were the five permanent members of the U.N. Security Council and Germany.
The diplomats met on the sidelines of the U.N. General Assembly in New York, amid mixed signals about how serious Iran was about coming back to the negotiating table over its nuclear program.
Iranian President Hassan Rouhani said before the U.N. on Tuesday that he was ready to engage in "time-bound" talks on Tehran's nuclear program, hours after Obama said he had directed Kerry to once again pursue diplomacy with Iran. The U.S. president noted indications of a more "moderate course" from Iran's new leader.
But Obama was snubbed by the Iranians, as U.S. officials revealed that Rouhani declined to meet with Obama, even informally, on the sidelines of the U.N.
A senior administration official said a formal, one-on-one meeting was never on the table. But, the official said, "we indicated that the two leaders could have had a discussion on the margins if the opportunity presented itself."
The official said: "The Iranians got back to us; it was clear that it was too complicated for them to do that at this time given their own dynamic back home."
Despite the snub, U.S. officials remained optimistic. A senior State Department official said ahead of the meeting Thursday that while they didn't anticipate any issues would be resolved, "we are hopeful that we can continue to chart a path forward."
"We hope that this new Iranian government will show that it is prepared to engage substantively to address these long standing concerns and we will see today and in months ahead whether they will follow words with action," the official said.
Among the agenda items at Thursday's meeting was a review of the latest report on Iran's nuclear program issued by the Director General of the International Atomic Energy Agency (IAEA) to that agency's Board of Governors.
The report shows that Iran has moved forward aggressively on its nuclear program this summer, continuing to enrich uranium to levels consistent with weapons development and carrying out undeclared activities at the previously undeclared site of Parchin, leading the agency to say its verification duties have been "seriously undermined."
Fox News' James Rosen and Associated Press contributed to this report.