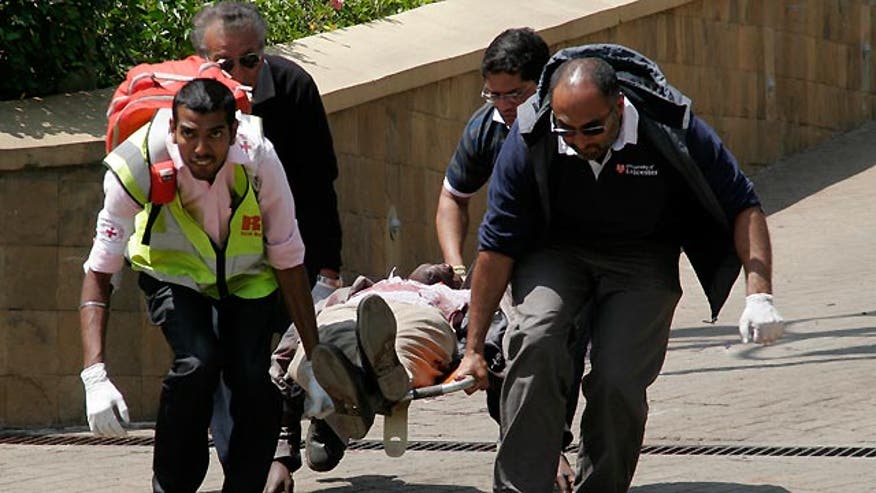 As Kenyan authorities declared the mall siege by Al Qaeda affiliate al-Shabab over, new evidence emerged about the terrorists' multi-layered strategy, according to the Republican chairman of the House Intelligence Committee, who receives regular briefings.
"Hostage taking, different stages of the attack, they had very,very good intelligence, meaning they had probably cased out this location for some time, they knew how it operated," Rep. Mike Rogers of Michigan told Fox News. "It came in waves. They had each phase, (it) was well thought out (and) had different actors and different leaders at each portion of the phase."
Based on intelligence, Rogers said the Nairobi attack included gunmen, small explosives, setting fires to cause panic and block first responders as well as taking hostages.
The chairman said the attack, which left 61 civilians and six security officers dead, bears striking similarities to the January takeover of a natural gas facility in Algeria, near the Libyan border.
"All of those things were consistent with what we saw in Algeria, which to me shows that there's a level of cooperation across eastern and northern Africa when it comes to Al Qaeda affiliates," he said.
After an al-Shabab senior operative, Ahmed Warsame, was captured in 2011 and interrogated on the USS Boxer for two months before being transferred to the U.S. for trial, the administration suggested that the training and sharing of resources between Al Qaeda in Somalia and Yemen were shut down.
Not so, according to Rogers, based on the intelligence he's seen out of Kenya.
"I absolutely believe it's the fruits of that cooperation," he said. "It shows the growing level of danger of these al Qaeda affiliates, who are willing to launch external operations from the area (where) they operate normally."
Federal law enforcement sources tell Fox News that investigators are waiting for forensic evidence, including fingerprints from inside the mall, or other methods of identification such as dental records, to verify reports of some Americans among the terrorists.
On Tuesday, Kenya's president insisted to reporters there is no evidence American citizens took part, nor that a radicalized British citizen, Samantha Lewthwaite -- known as the "white widow" after her husband blew himself up in the 2005 London subway bombing – participated.
In addition to the FBI, the CIA is on the ground in Nairobi but without immediate access to the mall, the progress is described by law enforcement sources as slow.
Peter King, the former Republican chairman of the House Homeland Security committee, told Fox the FBI must get access to the surviving terrorists, and it must intensify its effort to question Somali-Americans in this country.
"To prevent casualties at all is to stop the attack before it happens," King said. "We only do that by getting intelligence, and not by being afraid and backing off for politically correct reasons from getting that intelligence."
Separately, Fox News has confirmed that a joint Homeland Security-FBI bulletin was sent out to federal, state and local law enforcement forces Sunday.Fox News understands the bulletin emphasizes the continuing threat from al Shabab, and its American fighters, but it does not advise changes to security at U.S. malls.
Catherine Herridge is an award-winning Chief Intelligence correspondent for FOX News Channel (FNC) based in Washington, D.C. She covers intelligence, the Justice Department and the Department of Homeland Security. Herridge joined FNC in 1996 as a London-based correspondent.