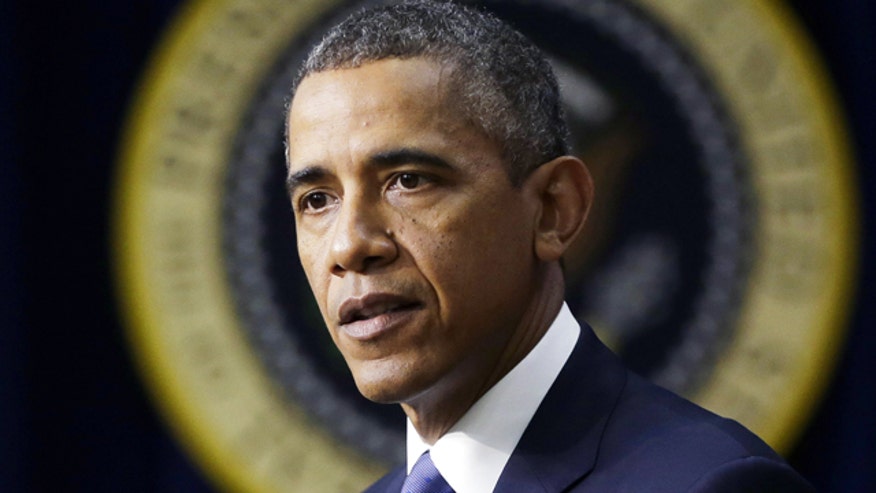 House Speaker John Boehner ripped President Obama for negotiating with Vladimir Putin while giving congressional Republicans the cold shoulder, as he and his rank-and-file prepared for a potentially bruising showdown over ObamaCare.
The Capitol Hill air was filled with recriminations on Thursday, as Republican and Democratic leaders accused each other of flirting with a government shutdown. Boehner has teed up a vote for Friday on a bill that would condition a stopgap spending measure on support for de-funding ObamaCare.
President Obama and his allies say this is a formula for a government shutdown, since Democrats will not support the ObamaCare measure; and without a stopgap spending bill, funding for the government runs out by Oct. 1.
Boehner kept a stiff upper lip in advance of the vote. Speaking to reporters, he chided Obama for recently negotiating with the president of Russia over Syria's chemical weapons while allegedly employing less diplomacy with Congress.
"While the president is happy to negotiate with Vladimir Putin he won't engage with the Congress on a plan that deals with the deficits that threaten our economy," Boehner said.
The White House escalated the fight on Thursday, formally threatening to veto the bill.
In a written statement, the White House announced it opposes the bill and alleged that it "advances a narrow ideological agenda that threatens our economy and the interests of the middle class."
At the president's back, top Senate Democrats vowed to defeat the House Republican measure.
"Any bill that defunds ObamaCare is dead, dead. It's a waste of time, as I've said before," Senate Democratic Leader Harry Reid said.
Sen. Charles Schumer, D-N.Y., said: "We're sending the strong message to the House, we will not blink. Don't get it into your heads that we will. We won't. Don't make it part of your strategy that eventually we'll cave, we won't. We're unified, we're together. You're not."
Schumer's comments were a reference to some internal party bickering in the GOP. Though Sen. Ted Cruz, R-Texas, and his Tea Party allies were among the most vocal advocates for the "de-fund ObamaCare" push, he released a statement on Wednesday saying Senate Democrats probably have the votes to defeat the bill.
"At that point, House Republicans must stand firm, hold their ground, and continue to listen to the American people," Cruz said.
But House Republicans are concerned that this kind of approach effectively pins the entire effort on the House.
Boehner urged his Senate Republican colleagues to buck up.
"We'll deliver a big victory in the House tomorrow and then this fight will move over to the Senate where it belongs," Boehner said Thursday. "I expect my Senate colleagues to be up for the battle."
GOP leaders, though, have telegraphed that they might concede to the Senate's demand for a stopgap spending bill shorn of the ObamaCare provision but that they would carry on with the fight on legislation to increase the government's borrowing cap.
"There should be no conversation about shutting the government down," Boehner said. "That's not the goal here."
A separate debt-limit measure, required to allow the government to pay all of its bills on time, would be brought to the House floor as early as next week and would allow the Treasury to borrow freely for one year.
Republicans vow to load that bill with a GOP wish list, including another assault on the health care bill and a provision to force the construction of the Keystone XL pipeline from Canada to Texas Gulf Coast refineries, a project that environmentalists oppose and that the Obama administration so far has refused to approve. Other elements will reflect different Republican budget priorities, including as-yet-undisclosed savings from health care and government benefit programs and steps to speed work on an overhaul of the tax code.
Democrats strongly denounced the Republican move. Sen. Chuck Schumer of New York said the GOP was pursuing an "insane plan." Sen. Amy Klobuchar of Minnesota said, "A group of extremists is threatening to hold our government hostage."
The Associated Press contributed to this report.