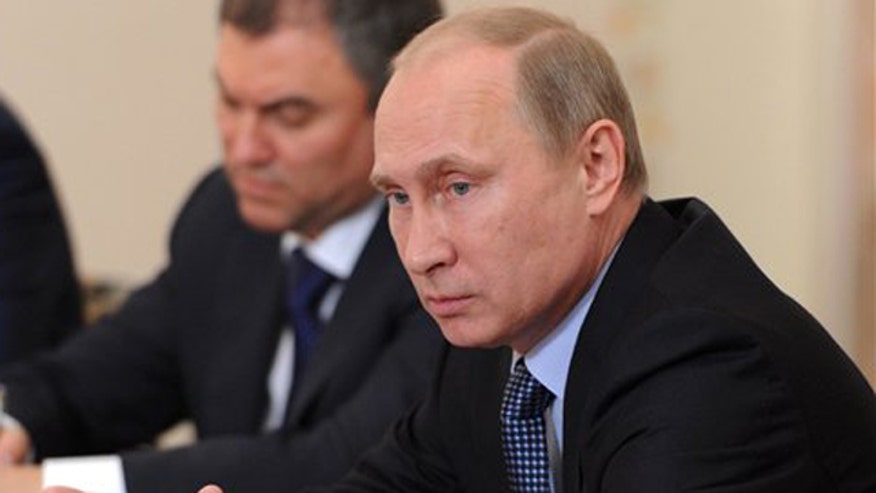 U.N. inspectors are preparing to issue their report on the Syria chemical weapons attack by Monday, though questions are emerging about how directly they can tie the Aug. 21 attack to Bashar Assad.
Foreign Policy reports that the inspectors will present a strong circumstantial case that implicates the Assad regime in the attack -- through a combination of samples and interviews -- but will not directly accuse the Syrian government of launching the sarin attack on its own people.
A Washington Times report further claimed that U.S. intelligence has not been able to show evidence that Assad himself ordered the attack, though many in Washington believe members of his inner circle were responsible.
The open questions about the attack could continue to hinder the U.S. case for military action should ongoing diplomatic efforts -- now under way in Geneva, Switzerland -- fall through.
In a defiant op-ed published in The New York Times, Russian President Vladimir Putin urged the Obama administration to back off threats of military action and let diplomacy run its course -- specifically a plan to have Assad turn over his chemical weapons to international control.
"It is alarming that military intervention in internal conflicts in foreign countries has become commonplace for the United States. Is it in America's long-term interest? I doubt it," he wrote.
In response, a senior Obama administration official said it is Putin whose credibility is on the line, and the "world will note" whether he convinces Assad to transfer and destroy his chemical weapons.
But with holes left in the intelligence, Putin continues to exploit the opening to push claims that "there is every reason to believe" the poison gas attack was launched by opposition forces, "to provoke intervention by their powerful foreign patrons."
U.S. officials have adamantly rejected that claim, saying the evidence points overwhelmingly in the other direction.
The Obama administration is keeping the threat of military force on the table, as Secretary of State John Kerry meets with Russian Foreign Minister Sergey Lavrov in Geneva.
Kerry and a team of U.S. experts will have at least two days of meetings with their Russian counterparts on Thursday and Friday. They hope to emerge with an outline of how some 1,000 tons of chemical weapons stocks and precursor materials as well as potential delivery systems can be safely inventoried and isolated under international control in an active war zone and then destroyed.
Officials with Kerry said they would be looking for a rapid agreement on principles for the process with Russians, including a demand for a speedy Syrian accounting of their stockpiles.
Kerry planned to meet with Lakhdar Brahimi, the U.N.-Arab League envoy for Syria, before sitting down with Lavrov.
The hastily arranged meeting in Geneva comes as the White House tries to pin success or failure of the diplomatic track on Russia's willingness to take a tough line with its ally Syria. Syrian rebels, however, are disappointed at best in President Obama's decision to forgo a military strike in favor of an agreement to take access to chemical weapons away from Assad.
At the same time, the CIA has begun delivering light weapons and other munitions to the rebels over the past two weeks, along with separate deliveries by the State Department of vehicles and other gear, The Washington Post reported late Wednesday. The deliveries have lagged, the newspaper said, because of logistical challenges and U.S. fears that any assistance could wind up in the hands of extremists. Some U.S. lawmakers have chided the administration, which said months ago it would send lethal aid, for not moving more quickly to help the rebels.
The Associated Press contributed to this report.