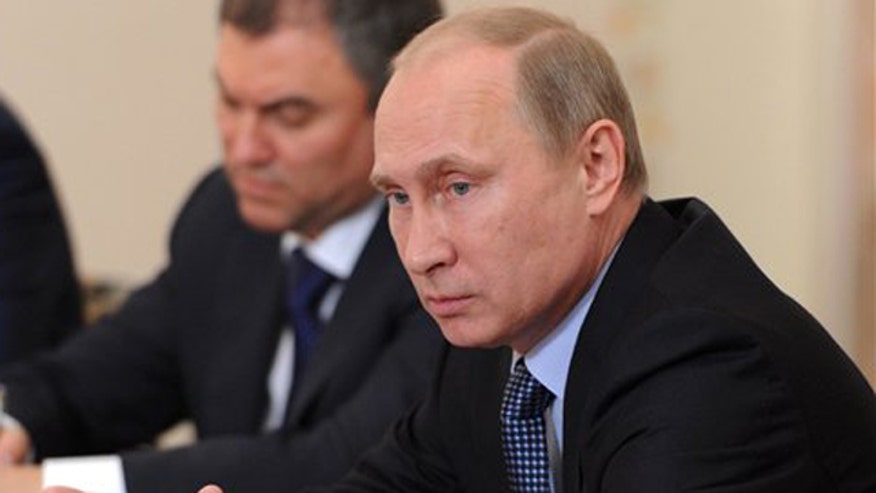 President Obama and members of Congress suddenly find themselves waiting on the gadfly of the world stage to call their next move in America's foreign policy -- Vladimir Putin, who until now was derided as the obstacle to an international solution on the Syria crisis.
The head-spinning turn of events has many lawmakers worried, openly voicing concern that the Russians are in control, and that they and the Assad regime are not the most trustworthy deal makers.
Waiting in the wings is Secretary of State John Kerry, who will travel Thursday to Geneva to meet with his Russian counterpart, Foreign Minister Sergey Lavrov.
Members of the Syrian opposition have also warned any deal that has Syrian President Bashar Assad turn over his chemical weapons would not stop him from using conventional weapons to keep fighting Syria's bloody civil war.
"Putin and Assad are not exactly people whose promises you accept blindly," Rep. Eliot Engel, D-N.Y., said in a statement.
But Engel and others say they're willing to give the Russia-backed proposal a chance.
After Obama asked Congress to postpone a vote on authorizing the use of force Tuesday night, Russia seemed to be steering the debate.
Moscow on Wednesday reportedly gave the U.S. its official plan for bringing the weapons under international control.
Putin, though, is trying to extract additional concessions out of the U.S. He called Tuesday for the Obama administration to abandon the threat of military action against Syria, suggesting the diplomatic option would only work if the U.S. backs down.
Lavrov made similar comments.
Obama did not address that demand in his speech on Tuesday, but said he would keep U.S. military assets in position to keep the pressure on Syria.
Sen. John McCain, R-Ariz., a supporter of military action in Syria, said Russia's demands were "unacceptable."
On Wednesday, White House Press Secretary Jay Carney defended the president's decision to hit pause on a possible military strike in order to let negotiations play out. He said Assad has only agreed to pursue this, and the Russians only agreed to facilitate, because of the credible threat of U.S. military action.
"We are doing the responsible thing here" by opening the door to diplomacy, Carney said. He said the U.S. is not interested in "delay or avoidance of responsibility."
McCain and Sen. Lindsey Graham, R-S.C., made clear they were viewing the diplomatic option with a skeptical eye. They released a statement overnight saying Obama should have laid out a "clearer plan to test the seriousness" of the chemical weapons handover plan.
"Such a plan would require the United States, together with our friends and allies, to immediately introduce a tough U.N. Security Council Resolution that lays out what steps Syria would have to take to give up its chemical weapons, including making a full and accurate declaration of all of its chemical weapons and granting international monitors unfettered access to all sites in Syria that possess these weapons," they said. "This Resolution would have to threaten serious consequences if the Assad regime does not comply, and it would have to be presented to the Security Council for an up or down vote."
Obama did say Tuesday night that any agreement must verify that Assad is keeping his commitments. He said the U.S. will work with other members of the U.N. Security Council on a resolution to compel Assad to surrender his chemical weapons and ultimately destroy them.
France has drafted a Security Council resolution that calls for the elimination of chemical weapons along the lines of what Russia is pushing.
However, the draft also says "non-compliance" by Syrian authorities would open the door to "further necessary measures."
The Russians are likely to take issue with this section, since it could open the way for international military action.
Meanwhile, Putin continued to challenge the U.S., and its allies, with reports that he plans to renew an offer to Iran for air defense missile systems, and help Iran build another nuclear reactor at the Bushehr plant.
House Intelligence Committee Chairman Mike Rogers, R-Mich., told Fox News that Obama, in his address Tuesday night, was not the "steely resolved commander-in-chief" that America needed -- and did not do enough to warn Syria and Russia that the U.S. would take action if diplomacy fails.
"He needed to set the table to say that listen -- peace through strength. If you don't negotiate this right, if we don't get a negotiated settlement, something really bad is going to happen," Rogers said. "That's how you get to a good diplomatic solution, and all of that to me was lost."
Others on Capitol Hill hailed the Russian proposal as a promising way out of a stand-off that many lawmakers and members of the public do not want to see result in military action.
Rep. Brad Sherman, D-Calif., quipped that the Russian proposal "may be the best thing to come out of Russia since vodka."