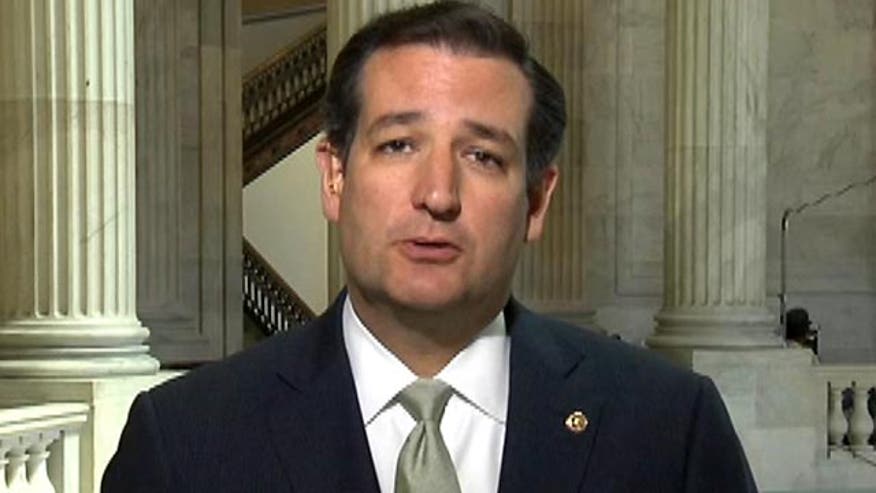 President Obama's decision to ask lawmakers to back a military strike on Syria could have a far-reaching impact on the rest of his administration's and Congress' agenda, as the debate pushes off votes on some critical items early in the president's second term.
Congress has to put on the backburner a laundry list of pressing issues as members return this week to debate whether to punish the Syrian government for ordering a deadly nerve-gas attack last month. But no issue will likely be more critical to Obama than immigration.
Providing a path to citizenship for at least some of this country's estimated 11 million illegal immigrants is a major plank of Obama's second-term agenda, and passage would no doubt be a highlight of his two-term presidency, along with his signature Affordable Care Act. The White House successfully lobbied Republican senators to back the legislation in that chamber in June.
But with the debate now focused squarely on Syria, few are talking about an immigration overhaul right now. The bill has been parked in the Republican-led House with no votes on the horizon.
"I don't think [Syria] helps the president on immigration," Dan Holler, a spokesman for the conservative Heritage Action for American, said Monday. "He's had to spend his political capital."
Still, Holler argues, House Republicans were already walking away from the Senate plan.
"This was never a sure-fire bet," he said.
After Syria, Congress's most immediate task is passing a temporary spending bill to prevent much of the government from shutting down on Oct. 1, the start of the new budget year.
The spending measure is typically passed every 12 months with considerable wrangling. But this year's negotiations are expected to be even tougher with a small-but-vocal group of congressional Republicans saying they will not include money for the president's signature health care law, with enrollment starting in about three weeks.
GOP leaders want to avoid a shutdown and have indicated they want a temporary spending bill that would keep agencies running at current budget levels – set by the automatic, across-the-board spending cuts known as "sequester" that defense-minded Republicans, congressional Democrats and the White House want to reverse.
On Monday, several sources told Fox News that House Republican leaders will not have a formal agreement on a temporary spending measure until after the chamber's GOP conference meets Tuesday morning.
However, sources say the plan is essentially to have the House vote on the temporary spending bill (also known as a continuing resolution) and to defund ObamaCare. The chamber would then send the combination to the Senate, which would assuredly jettison the defunding part and return to the House a "clean" bill on which to vote.
The strategy would essentially allow Republicans to say they voted to defund ObamaCare while blaming the Senate and keeping open the government.
The other potential crisis Congress is tasked with avoiding has to do with the debt ceiling.
Treasury Secretary Jack Lew said in late August that a White House-Capitol Hill deal on increasing the federal debt limit might have to come sooner than expected, considering the Treasure Department could hit the ceiling by mid-October.
House Speaker John Boehner and Obama reached a complex deal in 2011 that eventually increased the cap in exchange for deep cuts. But negations took so long that the U.S. came perilously close to defaulting on loans, which roiled financial markets worldwide and contributed to Standard & Poor's downgrading the credit rating on U.S. bonds.
Though Boehner has indicated a willingness to pass a short-term spending bill to avoid a shutdown, he reportedly has vowed to put up a "whale of a fight" over the debt ceiling, which is now at $16.7 trillion.
House Majority Leader Eric Cantor told conference members Friday to expect a "robust" debate on Syria in the next couple of weeks and said the chamber will move on the debt ceiling before the middle of next month.
Holler said the Syria issue might in fact help Obama in negotiations, allowing him to avoid fights under the cover of dealing with a potential international crisis.
He said that regardless of whether Congress supports a Syria strike, the president appeared to be losing political clout this summer.
And he argued that Obama's political legacy might be defined less by immigration than the requirements he is poised to impose on power plants to reduce their carbon emissions, setting the course for American's energy policy.
Other top issues for Congress include whether to rein in National Security Agency's spying, following revelations this spring that the agency has been gathering data on Americans' phone calls and Internet activities.
Congress also will have to finish a farm bill before the end of the year if lawmakers want to avert the threat of milk prices doubling for consumers. Most of current farm law expires at the end of September, but its effects won't be felt until the end of the year when dairy supports expire. Without the supports, milk prices are expected to rise.
"That's a heavy autumn load by any measure," said Maryland Rep. Chris Van Hollen, the top Democrat on the House Budget Committee. "Obviously the Syria issue is [now] dominating the discussions and legislative agenda."
The Associated Press contributed to this report.