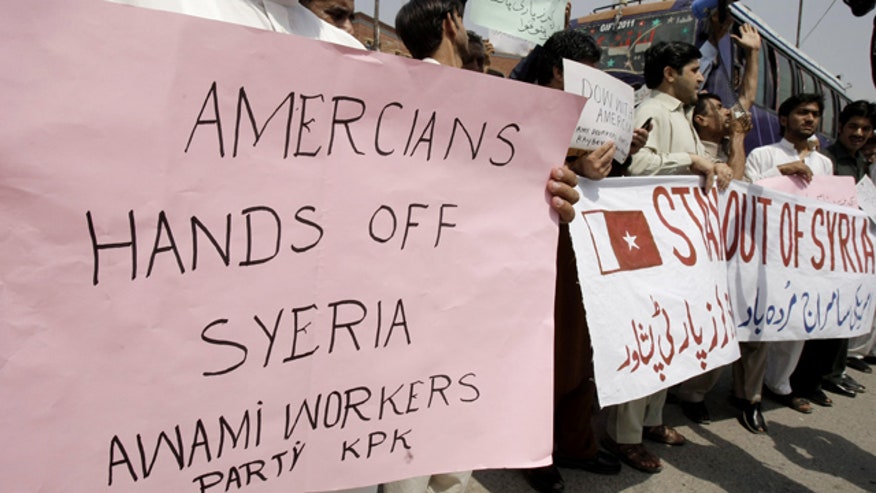 ** Want FOX News First in your inbox every day? Sign up here.**
Buzz Cut:
• Obama wages air war (on TV)
• Hillary helps on war pitch?
• Syria delay resolution gains ground
• Jeb Bush in for Cuccinelli
• Cheers, mates
OBAMA WAGES AIR WAR (ON TV) - How tight is President Obama's bind on Syria? He's sitting down today to face the tough questions from Chris Wallace in order to win approval for the president's proposed air strikes against Syria in retaliation for the use of chemical weapons last month in that country's civil war. Obama will face Wallace and anchors from the broadcast networks as well as CNN and PBS to make his pitch ahead of his scheduled national address on Tuesday night. Obama's answers to Wallace's hardball questions will air in the 6 p.m. ET hour.
"Little wars start big wars, and we have to remember that."— House Homeland Security Chairman Mike McCaul, R-Texas, on NBC's "Meet the Press."
ASSAD BRACKETS OBAMA - CBS News: "President Bashar Assad warned … that if President Obama decides to launch military strikes on Syria, the U.S. and its allies should 'expect every action' in retaliation…. 'You should expect everything. Not necessarily from the government,' Assad told 'CBS This Morning' co-host Charlie Rose. … In a clear reference to his allies in Iran and the Islamic militant group Hezbollah, Assad warned that his government is 'not the only player in this region.'"
WILL HILLARY HELP ON WAR PITCH? -WaPo reports former Secretary of State Hillary Clinton will address Syria when she visits the White House campus this afternoon for a forum promoting her family foundation's initiatives to combat wildlife trafficking. A full embrace from Clinton could bolster support among moderate Democrats looking to track with their party's 2016 frontrunner.
Clintons raise cash in Georgetown - Former President Bill Clinton and former Secretary of State Hillary Clinton are headlining a fundraiser for the Clinton Foundation. Chelsea Clinton will join her parents for a reception and dinner in Washington, according to an invitation obtained by The Associated Press. The event costs $1,000 a person for a cocktail reception and $25,000 a couple for a reception and dinner at the family's Washington residence.
Ed Henry wants to know - "How much now does the White House wish President Obama had a few more dinners with GOP senators in years one, two, three and four -- instead of just year five?"
BAIER TRACKS: SYRIA A TOUGH SELL WITH DEMS…"Whenever a story in Washington starts with: "...because Barack Obama's presidency depends on it," you know the White House has problems. That is the case in several recent write ups about White House efforts to convince Democrats that attacking Syria is the right move and the right vote for them.
While we're told the president and Vice President Joe Biden passed around spaghetti and meatballs "family-style" Sunday night with six Republican senators -- Lindsey Graham, R-S.C., Susan Collins, R-Maine, Kelly Ayotte, R-N.H., Saxby Chambliss, R-Ga., Bob Corker, R-Tenn., and Deb Fischer, R-Neb. -- it's really Democrats who may need an extra helping of personal attention from the president to get them to sign on.
And even then, there are real doubts. This quote from Politico sums up the pressure for House Democrats and lawmakers all over the Capitol: "One Democratic lawmaker who fielded calls from constituents this week said he got a call from his mother. It was the first time she had called him on a policy issue even though he's been in Congress for more than a decade. 'As a constituent,' his mother said, 'vote no.'"
There may be a lot of moms calling." – Bret Baier.
SYRIA RESOLUTION SERIOUSLY SHORT OF SUPPORT - Fox News: House members are either opposed to or leaning against Obama's plan for a military strike by more than a 6-1 margin. USA Today: "19 senators and 130 House members — say they will oppose a resolution that would authorize military strikes." WaPo: 227 House members and 27 senators oppose military action in Syria.
[White House details Syria outreach – WSJ from an administration official: 85 Senators and over 165 House members have been called by Obama officials concerning Syria in the past two weeks.]
"…[T]his is not an empty exercise. We are expending a great amount of energy and investment in trying to ... make sure that Congress understands." – White House Chief of Staff Denis McDonough on "Fox News Sunday with Chris Wallace" when asked if President Obama would abide by what Congress decides.
[Watch Fox: Michael Barone, Washington Examiner's senior political analyst discusses what Congress will do about Syria in the 11 a.m. ET hour]
Rice to brief CBC - Members of the Congressional Black Caucus will have a closed-door briefing this afternoon with National Security Adviser SusanRice. House Democrats will head to the White House Tuesday for a meeting with Chief of Staff Denis McDonough ahead of President Obama's speech.
[The WSJ explores how the president is finding little support for his Syria strategy in largely African-American House districts and the Congressional Black Caucus]
"If I were the president, I would withdraw my request for the authorization at this particular point. ... I don't believe the support is there in Congress. I think people view war as a last resort, and I don't think people think that we're at that point." – Rep. Jim McGovern, D-Mass., on CNN's "State of the Union"
Pelosi pesters - House Minority Leader Nancy Pelosi has sent five "dear colleague" letters urging Democrats to get in line with the president on Syria.
MANCHIN, HEITKAMP START SHOPPING ALTERNATE SYRIA RESOLUTION -Sens. Joe Manchin, D-W.Va., and Heidi Heitkamp, D-N.D., are starting a sales pitch today for an alternate Senate resolution on Syria. According to a source familiar with the proposal, the moderate Democrats are offering a plan that gives Syrian dictator Bashar al-Assad 45 days to sign on to the international treaty against the use of chemical weapons before allowing U.S. attacks. If the authorization of immediate force looks headed for trouble, this could be a face-saving alternative for Democrats.
Key Syria vote likely Wednesday - Senate Majority Leader Harry Reid is expected to start action on authorization for use of force in Syria today and could call for a vote as soon as Wednesday. The critical test vote would require 60 senators in support, setting up final passage on a simple majority.
What gets lost in the shuffle? - Fox News: Domestic issues including budget impasses and an immigration overhaul may take a back-seat as the Syria debate unfolds.
FOREIGN ENTANGLEMENTS - Kerry seeks Britain's Backing - Secretary of State John Kerry continues to sell the international community on launching strikes on Syria. Kerry is in London today meeting with British officials, including Foreign Secretary William Hague. Responding to protesters who called on the U.S. and U.K. to "keep your hands off Syria," Kerry said, "I think it would be good to hear people say to a dictator, 'Keep your hands off chemical weapons that kill your own people."
Better than Snapchat - The State Department announced Secretary of State John Kerry will take part in a Google "Hangout" to discuss Syria on Tuesday.
[Watch Fox: Gen. Anders Fogh Rasmussen, NATO secretary general, appears in the 9 a.m. ET hour]
Mon Dieu! Hollande seen as Obama lackey - The NYT reports French President François Hollande "…is facing an avalanche of sometimes contradictory criticism from left and right: that he is acting rashly in committing France to military action; that he is being too timid in awaiting the go-ahead from the United States and the United Nations; that he needs to heed public and parliamentary opinion and that he needs to assert the traditionally broad powers of the French president to employ the armed forces without parliamentary approval."
"It's an uphill slog from here. ... It's very clear [President Obama has] lost support in the last week"— House Intelligence Committee Chairman Mike Rogers, R-Mich., on CBS' "Face the Nation."
[New at Fox News Opinion: Lt. Col. Tony Shaffer, Sun Tzu would not be happy with Obama's plans for Syria strike.]
SENATE CONSERVATIVES TO RENEW PUSH ON DEFUNDING OBAMACARE The Hill - Sens. Ted Cruz, R-Texas, Mike Lee, R-Utah, Rand Paul, R-Ky., plus House members and Tea Party leaders will host an event Tuesday in Washington to try to revive support for their push to make defunding ObamaCare the key objective in looming fiscal negotiations with the White House.
WHITE HOUSE WON SECRET BID TO DUMP NSA LIMITS - WaPo - "The Obama administration secretly won permission from a surveillance court in 2011 to reverse restrictions on the National Security Agency's use of intercepted phone calls and e-mails, permitting the agency to search deliberately for Americans' communications in its massive databases…"
WITH YOUR SECOND CUP OF COFFEE...Washington Examiner's Steve Chapman looks at how the great-granddaddy of liberal interventionism would see the Syrian civil war. What would Theodore Roosevelt do in Syria?: "Advocates of war against Syria have taken Theodore Roosevelt's advice and turned it upside down. They believe that in confronting Bashar Assad, the United States should speak loudly and carry a tiny stick."
Got a TIP from the RIGHT or LEFT? Email FoxNewsFirst@FOXNEWS.COM

POLL CHECK - Real Clear Politics Averages
Obama Job Approval: Approve – 43.8 percent//Disapprove – 51.0 percent
Direction of Country: Right Direction – 29.3 percent//Wrong Track – 62.0 percent
CUCCINELLI GETS BUSH BACKING - Former Florida Gov. Jeb Bush will be the headliner for an invitation-only, closed-door fundraiser for Virginia Republican gubernatorial candidate Ken Cuccinelli, a campaign source tells Fox News First. Meanwhile, WaPo reports that Boyd Marcus, an adviser to former Virginia Republican governors Jim Gilmore and George Allen, has endorsed Democrat Terry McAuliffe.
TEAM OBAMA UPSIDE DOWN IN AUSTRALIA - Former Australian Prime Minister Kevin Rudd lost his re-election bid to Tony Abbott over the weekend. Rudd, leader of the Democrat-style Labor Party, had flown in some of President Obama's top digital attack dogs, including Tom McMahon, former executive director of the Democratic National Committee during Obama's last campaign, to help with his online strategy.
REDEFINING MASCULINITY: BEER DRINKERS' SENSITIVE SIDE - A new advertisement from Guinness is gaining lots of online attention for doing something beer advertisements rarely do: extolling compassion. The ad features a group of athletic, beer-drinking men in the throes of an intense game of wheelchair basketball. What happens next is stirring and inspiring, as the voice-over reminds us "The choices we make reveal the true nature of our character."

Chris Stirewalt is digital politics editor for Fox News. Want FOX News First in your inbox every day? Sign up here. To catch Chris live online daily at 11:30 a.m. ET, click here.
Chris Stirewalt joined Fox News Channel (FNC) in July of 2010 and serves as politics editor based in Washington, D.C.