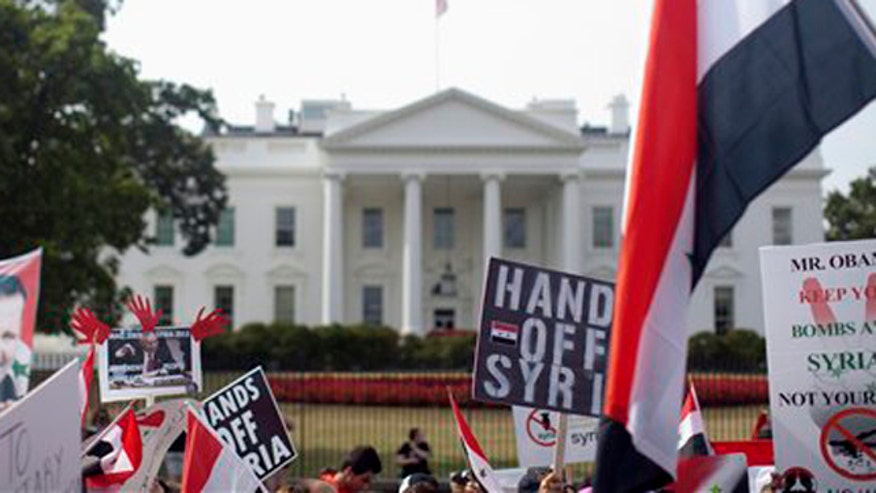 Congress returns to Washington on Monday with the same rapid-fire agenda it left in August, but now facing the more immediate task of deciding if the United States should launch a military strike on Syria.
The first floor action could come as early as Monday in the Senate, setting up a vote Wednesday in the chamber on a resolution authorizing the "limited and specified use" of U.S. armed forces against Syria for no more than 90 days and barring American ground troops from combat. A final vote in the 100-member chamber is expected at week's end.
A House vote is likely the week of Sept. 16, now that President Obama has asked Congress to back his decision to launch a military strike to punish Syrian President Bashar Assad, whom he believed ordered an Aug. 21 chemical weapon attack that killed nearly 1,500 of his own people.
A resolution to use military force has the best chance of passing in the Democrat-controlled Senate but appears to face a much greater challenge in the Republican-controlled House, despite the backing of Speaker John Boehner, R-Ohio, Majority Leader Eric Cantor, R-Va., and Democratic leader Nancy Pelosi of California.
A vote count Friday by The Washington Post found 223 House members in the "no" or "leaning no" category, which is more than the 217 that would be needed to sink the resolution.
After Syria, Congress's most immediate tasks will likely be passing a temporary spending bill to prevent much of the government from shutting down on Oct. 1, which is the start of the new budget year, and raising the debt ceiling before the government runs out of money to pay its bills by as early as mid-October.
Cantor told conference members Friday to expect a "robust" debate on Syria in the next couple of weeks and said the chamber will move on the debt ceiling before the middle of next month.
"Upon return to Washington, if we stay focused on our solutions and how they can benefit all Americans dealing with their every day challenges, I am convinced we will achieve more significant policy victories in the months ahead," Cantor wrote.
The stopgap spending measure would buy time to work out how to fund government programs over the next 12 months, but even its passage is in doubt.
Republicans are considering whether to use the measure as a last-ditch assault on Obama's expansion of federally-subsidized medical care, known as ObamaCare, and a new requirement that millions of people without health insurance either buy it or pay penalties to the Internal Revenue Service.
GOP leaders are eager to avoid an impasse and government shutdown.
They had signaled earlier that they prefer a straightforward temporary spending bill that would keep agencies running at current budget levels, reflecting the automatic, across-the-board spending cuts -- known as sequester and in place for the past six months.
A grass-roots campaign over Congress' August recess to not include ObamaCare in the funding has increased pressure on the House leaders to attach such a provision, but they have yet to announce a decision.
Congressional Democrats and the White House are eager to reverse the cuts, and many defense hawk Republicans would like to as well. But there have been no fruitful negotiations between the White House and House GOP leaders.
Negotiations between White House officials and a small group of Senate Republicans collapsed last month over familiar disagreements on tax increases and cuts to popular federal benefit programs.
Without a deal, those automatic spending cuts could become entrenched through all of next year and possibly into the next several years.
A 2011 agreement called for a total budget of $1.058 trillion next year to operate federal agencies. The automatic spending cuts were triggered by failing to follow up with further deficit cuts by curbing benefit increases, raising taxes or both would pare that figure by $91 billion, to $967 billion for the 2014 budget year.
A comparable spending figure for the soon-to-be-completed 2013 budget year is about $988 billion. The additional cuts looming next year come almost entirely from defense.
The administration wants Congress to raise the $16.7 trillion cap on its borrowing authority.
That legislation could be even more vexing because Boehner and Tea Party Republicans see it as leverage to force further spending cuts or other GOP priorities into law.
Obama agreed in 2011 to Boehner's demand that spending cuts equal the size of the debt limit increase, but the president says he won't do it again. Republican leaders say such a "clean" debt limit increase that Obama wants is a nonstarter.
An immigration overhaul could get lost in the shuffle.
The Senate in June passed a broad bill that would allow millions of immigrants now in the country illegally to stay, work and eventually acquire citizenship. House Republicans reject what they call a special path to citizenship in the Senate bill and favor a piecemeal approach that begins with better securing U.S. borders before excusing most people who entered the country illegally or overstayed their visas from being deported.
Revelations this summer about the National Security Agency's spying prompted demands from some in Congress to rein in the programs, as a series of hearings is scheduled. Leaders of the House and Senate intelligence committees face pressure from lawmakers to make changes to NSA surveillance in the longstanding authorization bills.
Lawmakers also are pushing for major changes in how the military handles cases of sexual assault in their ranks. A significant number of lawmakers want to remove commanders from the process of deciding whether serious crimes, including sexual misconduct cases, go to trial.
The Pentagon and some senior lawmakers reject that idea. A showdown is expected later this year when the Senate debates a defense policy bill.
Congress also will have to finish a farm bill before the end of the year if lawmakers want to avert the threat of milk prices doubling for consumers. Most of the current farm law expires at the end of September, but its effects won't be felt until the end of the year when dairy supports expire. Without the supports, milk prices are expected to rise.
The Associated Press contributed to this report.