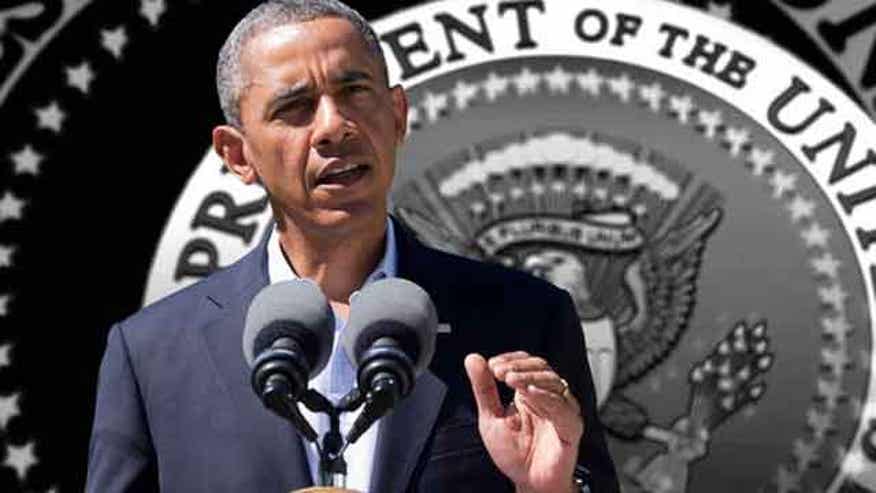 WASHINGTON – President Obama's two-day bus tour touting his revamped education plan has raised questions about his priorities as the Middle East convulses with violence and political upheaval.
On the same morning Obama traveled to address students at the University of Buffalo, Egypt's deposed former leader Hosni Mubarak was released from jail, four rockets were fired near Israel and global powers bickered at the U.N. over how to respond to an alleged deadly chemical gas attack in Syria.
Sen. John McCain, R-Ariz., issued a blistering statement Thursday morning in response to the latest violence in Syria. "American credibility in the Middle East has never been lower," he said.
The Republican National Committee, meanwhile, derisively dubbed the Obama trip the "lame duck" bus tour.
But White House spokesman Josh Earnest said Thursday that having Obama on the road and rolling out new education reforms for American families is exactly where the president's focus should be.
"As we're weighing these domestic policy positions and foreign policy decisions, the president puts the interests of the United States of America first," Earnest said. "The fact that we are doing this bus tour is an indication that the president has his priorities straight."
During Obama's 27-minute speech, he told a group of 7,000 students, parents and alumni packed into the upstate New York arena that Americas cannot afford "the usual circus of distractions and political posturing" over the budget, health care and other issues.
He also said that higher education could not be a "luxury" and said that "every American family should be able to get it."
On the crises in the Middle East, the administration is still weighing its options. In Egypt, the U.S. is torn between two risky options: condemning the military-backed government, and potentially emboldening the Muslim Brotherhood; or overtly backing the Egyptian military, and ignoring its ouster of elected president Mohammed Morsi. And in Syria, the administration has been reluctant to engage militarily despite mounting signs that the Assad regime has crossed the so-called "red line" Obama set regarding the use of chemical weapons.
The White House has ordered the U.S. intelligence community to probe the latest alleged chemical attack and get to the bottom of what happened.
The president's stop in Buffalo, meanwhile, was the first in his two-day bus tour, which will take him to parts of western and central New York as well as northeastern Pennsylvania.
During his speech, Obama also unveiled a broad new government rating system for colleges that would judge schools on their affordability and perhaps be used to allocate federal financial aid.
For colleges and universities, millions of federal aid dollars could be on the line if schools are downgraded under the government rating system. However, if colleges line up against the idea of tying ratings to federal aid, the proposal would face nearly impossible odds. Almost all members of Congress have colleges or universities in their districts, and a coordinated effort to rally students and educators against the plan would probably kill it quickly.
"This is extraordinarily complicated stuff, and it's not clear we have the complete data or accurate data," said Molly Corbett Broad, the president of the American Council on Education that represents colleges and universities in Washington.
The education proposals are part of the broader economic agenda Obama has been pitching across the country this summer. The tour is aimed at building public support for his economic policies ahead of fiscal fights with Congress this fall.
The rising cost of college has increasingly become a burden for many Americans. According to administration figures, the tuition costs at public, four-year universities have tripled over the last 30 years and average student loan debt stands at $26,000.
Over the past five years, the tuition sticker price at public four-year colleges is up 27 percent beyond overall inflation, according to a College Board survey. At private schools, the average student's cost has risen 13 percent beyond overall inflation.
There has been little consensus among policymakers on how to curb college costs.
While Obama's proposal could give colleges an incentive to slow increases, it could also add massive reporting requirements that could be a burden on schools already struggling to make ends meet.
Republicans on Capitol Hill like Rep. John Kline, R-Minn., urged caution.
"While I am pleased the president's new plan recognizes the importance of promoting innovation and competition in higher education, I remain concerned that imposing an arbitrary college ranking system could curtail the very innovation we hope to encourage - and even lead to federal price controls," Kline said in a written statement. "As always, the devil is in the details, and I look forward to examining the president's proposal further as part of the committee's ongoing efforts to reauthorize the Higher Education Act and help improve college affordability and access."
The new rating system does not require congressional approval, and the White House is aiming to have it set up before the 2015 school year. But Obama does need support from Congress in order to use the ratings as a basis for parceling out federal financial aid.
In addition to tuition, schools will also be rated on average student loan debt, graduation rates and the average earnings of graduates. Under Obama's proposal, students attending highly rated schools could receive larger grants and more affordable loans.
The president is also seeking legislation to give colleges a "bonus" based on the number of students they graduate who received Pell Grants. The goal is to encourage colleges to enroll and graduate low- and moderate-income students. Obama's other proposals include a requirement that colleges with high dropout rates distribute student aid over the course of the semester rather than in a lump sum. The aim is to ensure that students who drop out do not receive funds for time they are not in school.
The Associated Press contributed to this report.