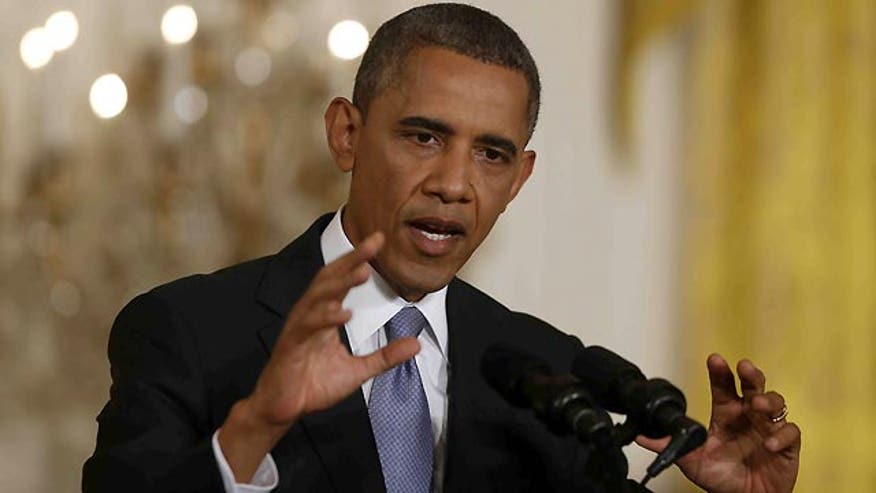 WASHINGTON – President Obama defended his controversial health care legislation Friday, calling Republican efforts to repeal it an "ideological fixation."
The president made the comments during an hour-long White House press conference where he also said it was a mistake for the GOP to tie funding the government to the healthcare law.
"The idea that you would shut down the government unless you prevent 30 million people from getting health care is a bad idea," Obama said. "What you should be thinking about is how can we advance and improve ways for middle class families to have some security so that if they work hard they can get ahead and their kids can get ahead."
The president added that Republicans would risk the wrath of the public if they vote to shut down the government this fall in an attempt to cut off funding – a comment that's not sitting well with some in Washington.
"Rather than engage in partisan attacks, President Obama should work with Congress to implement better health care reforms that lower costs, protect jobs and provide better care, as Republicans have consistently offered," Rory Cooper, the spokesperson for Majority Leader Eric Cantor said in a written statement.
"Obamacare increases costs, turns full-time jobs into part-time jobs and reduces the quality of care. President Obama should urge the Senate to pass our bill codifying his desired employer mandate delay which also extends this privilege to every individual citizen."
The new health care law will require most Americans to have health insurance or face fines. In return, insurers will be barred from turning away people with medical problems. The administration hopes to sign up at least 7 million uninsured people next year.
The massive bill has many details still left to be worked out and the sheer logistical complexity has many lawmakers questioning whether Obamacare is the best way to go.
The new online insurance marketplaces will be geared to people who don't have coverage through their jobs, most of whom will be eligible for tax credits to help pay their premiums
Insurance benefits take effect Jan. 1.
During the press conference, the president also promised to bring justice to those responsible for the deadly terrorist attack in Benghazi, Libya, where U.S. Ambassador Chris Stevens and three other Americans were killed.
Last week, the Justice Department filed the first criminal charges in the Sept. 11, 2011 attack at the diplomatic outpost.
Obama also announced plans to work with Congress to overhaul the nation's surveillance programs and said he'll disclose more information about the National Security Agency programs in coming weeks. He also outlined reforms he wanted to make in the controversial Patriot Act, which governs the NSA data collections.
"It's not enough for me to have confidence in these programs," Obama said."The American people have to have confidence in them as well."
Public wariness over the surveillance programs skyrocketed after NSA contractor Edward Snowden leaked information about the existence of them.
Snowden was recently granted temporary asylum in Russia – a move that prompted some lawmakers to call for the U.S. to boycott the 2014 Winter Olympics in Sochi, Russia. Those lawmakers also said America should skip the games because of the country's anti-gay laws.
Obama rejected the idea and said he's "looking forward to gay and lesbian athletes bringing home the gold, silver or bronze medals that would go a long way to rejecting the attitudes we are seeing there."