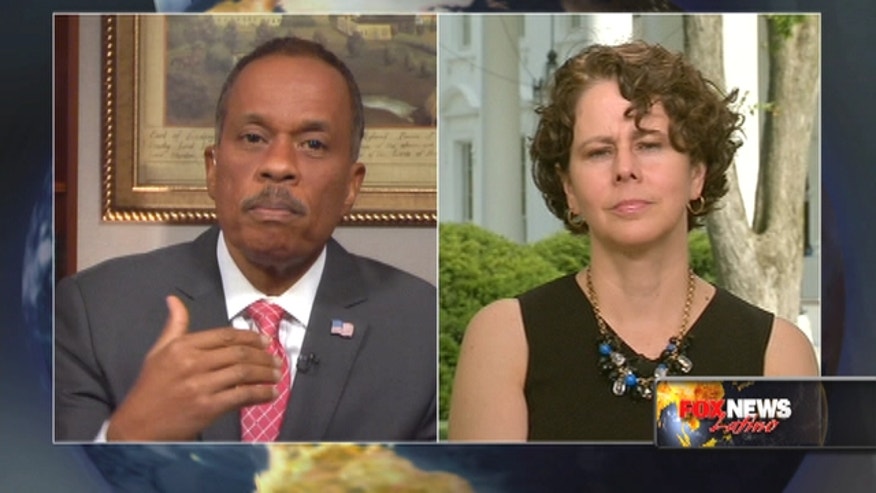 The White House director of the Domestic Policy Council said the president has no back-up plan if immigration reform fails.
Cecilia Muñoz said President Barack Obama has no intention right now to circumvent Congress if they do not pass legislation.
In an exclusive, wide-ranging interview with Fox News Latino's Juan Williams, Muñoz said the pressure is on lawmakers to approve immigration reform – and the demands are being felt both inside Capitol Hill and in their home districts.
"It's not just the advocacy groups in Washington hearing [about immigration reform]. You're going to see members of congress hearing from pastors in their district, you're going to see them hearing from local growers in their district, from business leaders in their districts," Muñoz told Williams in response to how the upcoming congressional recess would affect the bill. "The consensus around immigration reform is incredibly strong. It's bipartisan. It has depth in community all around the country and I think lawmakers are going to be seeing this, this August."
Currently both the House and Senate are on break until the second week of September. But before they went on break, there was speculation that Republicans wanted the bill to be broken up in order to be passed piece by piece.
Muñoz said the newest push by conservative evangelicals – and a town hall meeting by Congressman Paul Ryan (R-WI) where he said there would be a reform vote by October that would include a pathway to citizenship – bolsters the White House's position that the issue is a bipartisan one.
"I'm very hopeful there will be a vote and hopefully it'll be sooner than [October]," Muñoz said. "This issue is ready to be taken up. It has been discussed for years… it's really time for a vote."
With recent reports indicating Republican members of the House would prefer a piece-meal approach to immigration reform, something House Democrats have rejected, Muñoz was asked about the president's commitment to "comprehensive" immigration reform.
"As the president has said many times, what's important is that we have a comprehensive bill that really fixes the various things which are broken about our immigration system get to his desk," said Muñoz. "So it's important that the outcome be a broad bill and that it's comprehensive."
Muñoz believes there are many paths for the House of Representatives to get closer to immigration reform, such as reviewing their border enforcement legislation or their version of the DREAM Act legislation. But the end result, she said, should include the essentials.
"What's important is that the end result… that the thing which gets to the president's desk address border security, address what happens on the pathway to citizenship for the 11 million people that are working here without papers," she said.
Muñoz repeatedly said that "now" was the time to pass this important piece of legislation.
She also denied rumors that President Obama and Democrats wanted the legislation fail so that it could be used as a wedge issue in the upcoming midterm elections.
"That's an incredible argument to me. I work for a guy who has run his last race," Muñoz said. "This is a priority for the President of the United States because it's the right thing for the country."
Follow Victor Garcia on Twitter @MrVicGarcia
Follow us on twitter.com/foxnewslatino
Like us at facebook.com/foxnewslatino
Juan Williams currently serves as a co-host of FOX News Channel's (FNC) "The Five" (weekdays, 5-6PM/ET) and also appears as a political analyst on "FOX News Sunday with Chris Wallace" and "Special Report with Bret Baier."