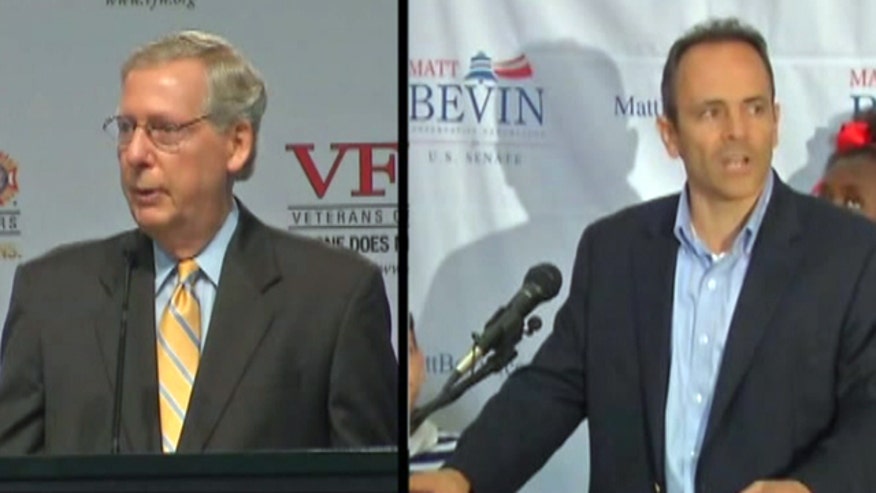 It will be one of the most watched races of 2014, and a measure of the rift in the Republican Party between the establishment and the Tea Party.
Mitch McConnell -- the country's most powerful Republican senator, the longest-serving senator in Kentucky history and a five-term incumbent -- faces a Tea Party primary challenge from millionaire Louisville businessman and Tea Party darling Matt Bevin.
The first-time candidate, in announcing his bid, ripped McConnell as simply not conservative enough.
"After 30 years in Washington, it is clear that Mitch McConnell has lost touch with our state, its people and our values," Bevin said.
Some Tea Partiers call GOP primaries "hunting season for RINOS" -- short for "Republicans-In-Name-Only." Bevin's first ad was indeed an attack in that spirit.
"McConnell has voted for higher taxes, bailouts, debt ceiling increases, congressional pay raises and liberal judges," the ad says. "I'm Matt Bevin and I approved this message because America deserves more than failed leadership."
Bevin's message, though, clashes with what Democrats have been saying all along, and McConnell's own image. For three years, Democrats have accused McConnell of pandering to the Tea Party. And he's already been endorsed by Kentucky's national Tea Party icon, fellow Sen. Rand Paul. In addition, McConnell's campaign manager -- Jesse Benton -- ran the 2012 presidential campaign of Paul's father Ron Paul whose 2008 rallies inspired the Tea Party movement.
McConnell's a savvy veteran who has been preparing for a stiff challenge for a couple years. He's known as a combative campaigner who does not pull punches or back down. When reporters asked McConnell about the newcomer's criticism, he seemed eager for the emerging battle "I think all of you know I love a good campaign and I think we'll have one," he joked.
Key for Bevin, who is worth about $12 million and has said he will spend some of it, will be attracting big Tea Party dollars.
Several other conservative groups are closely watching the race and may weigh in for Bevin, including the Club for Growth, the Senate Conservative Fund and the Madison Project which have all helped Tea Partiers knock off GOP incumbents in the last three years.
But McConnell's political organization is huge, and with $15 million in his war chest and a national network of donors and support, he is well prepared and armed for a long battle.
McConnell has also made sure he will not be caught off guard. For years he's been fond of saying "if a rival flicks a pebble at you, throw back a boulder."
His first paid recognition of Bevin's candidacy slammed the rookie politician's private sector experience for tax and bailout hypocrisy. "Bevin's business was assessed at least eight liens for not paying taxes. ... Bevin's company failed to pay taxes, then got a taxpayer bailout." The ad ends with a catchy catch-phrase: "Bailout Bevin Bot a Kentucky Conservative"
In an interview with Fox News on Wednesday, Bevin fired back.
"There are no taxes that are unpaid, nor were there any taxes that I was responsible for that didn't get paid. This is a smokescreen. This is a charade, and it's typical of Mitch McConnell -- after 30 years, there's nothing in his own record that he feels proud enough of to run on." Bevin said.
Last week, McConnell dismissed Bevin's candidacy as a "nuisance." On Wednesday, Bevin vowed to redefine the meaning of the word for McConnell.
"There is no one in America more qualified to talk about bailouts than Mitch McConnell. He is the master of the bailout, and he knows full well that the bailouts that he's perpetrated on the people of this nation, and the people of Kentucky, are nothing compared to a small grant at the state of Connecticut. A grant is not a bailout," Bevin said.
The Kentucky primary is in May of next year, 10 months from now. It will be a bellwether of the GOP's attitude and unity heading into the 2014 midterm general elections. So far, Bevin remains largely unknown in contrast to McConnell, who is a household name in Kentucky.
A poll last week by Wenzel Strategies showed McConnell crushing Bevin by nearly 40 points -- 59 percent to 20 percent.
The same poll also showed McConnell with an 8-point lead over Democrat Alison Lundergan Grimes, the Kentucky secretary of state who officially announced her Senate candidacy last week.