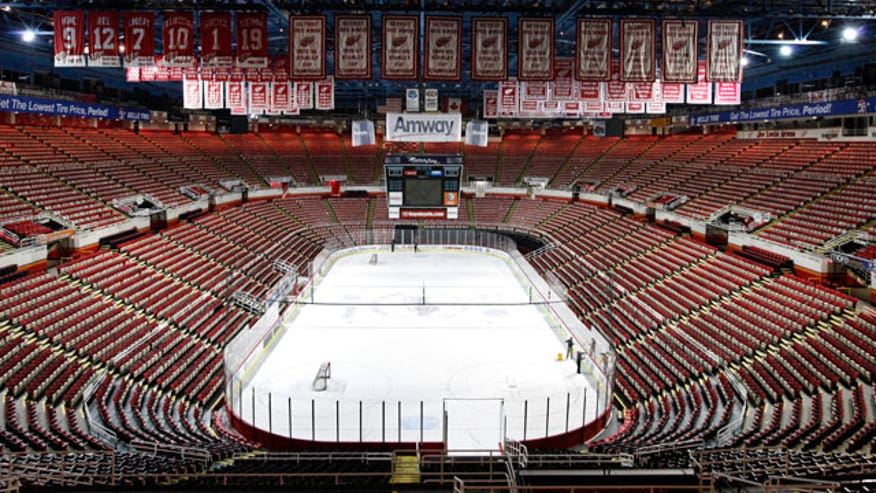 In the same week that Detroit announced its bankruptcy, a state board unanimously approved plans for a new hockey arena for the Red Wings -- a decision that has raised a few eyebrows among critics.
The new arena will be funded in part with $284 million in tax dollars.
"You've got this city that can't even afford to keep streetlights on, that's talking about selling off its art museum, and here they're talking about giving anywhere between $150 million and $300 million to the Red Wings for a new arena," said "Field of Schemes" author Neil DeMause.
Michigan Gov. Rick Snyder and others defended against criticism that the $650 million project should be financed entirely with private money because the city currently can't provide basic services and retirees are facing cuts in their pensions. The 18,000-seat arena is designed to be a catalyst for more development and to link downtown and midtown, turning a blighted area into a business, residential and entertainment district.
"This is part of investing in Detroit's future," said Snyder, a Republican who blessed a state-appointed emergency manager's request to take the city into bankruptcy last week. "That's the message we need to get across. ... As we stabilize the city government's finances, as we address those issues and improve services, Detroit moves from a place where people might have had a negative impression -- although there are great things already going on -- to being a place that will be recognized across the world as a place of great value and a place to invest."
The Michigan Strategic Fund Board approved the Detroit Downtown Development Authority's request to use economic development taxes for the project. The board also took a preliminary step toward issuing $450 million in bonds to build the arena, to be paid off in no more than 30 years by the Red Wings' owner and the city.
"They're not bringing in a new team. They're just moving the team from one part of Detroit to another," DeMause told FoxNews.com. "It might be that people will spend more on tickets – that helps Mike Ilitch, the owner of the Red Wings – it doesn't necessarily mean that the same number of people are going to go out and eat more before and after the game."
Ilitch has long wanted a replacement for the 32-year-old Joe Louis Arena located a few miles away. The new complex would be close to the Lions' Ford Field and Tigers' Comerica Park near Interstate 75 and Woodward Avenue.
Under the plan, the authority would own the arena and event center complex. The Red Wings' owner would have exclusive rights to use, manage and operate it, and hold naming rights. No new taxes or funds from the cash-strapped city would be needed.
Fifty-six percent of the overall project cost would be private and 44 percent public, though about 60 percent of the actual $450 million arena cost would come from tax revenues. Another $200 million --all but $23 million of it private -- is planned for projects nearby that could include rehabbing existing buildings and vacant lots for a hotel, stores, parking deck and residential units.
Olympia Development, owned by Ilitch and his wife, said the funding split for comparable major sports complexes in other cities in the past decade has averaged 75 percent public and 25 percent private.
Construction of the arena is anticipated to be done by 2017. It's also expected to host other entertainment events. No design has been made public.
Representatives for Olympia Development said the project will create 400 more permanent jobs and 5,500 construction jobs. At least half the construction jobs must go to city residents.
Other approvals are needed by local agencies.
"It's not the worst deal in the world, it's not the best deal in the world," explained DeMause, "but that it's somewhere in the middle doesn't necessarily mean it's a good deal for Detroit."
The Associated Press contributed to this report.