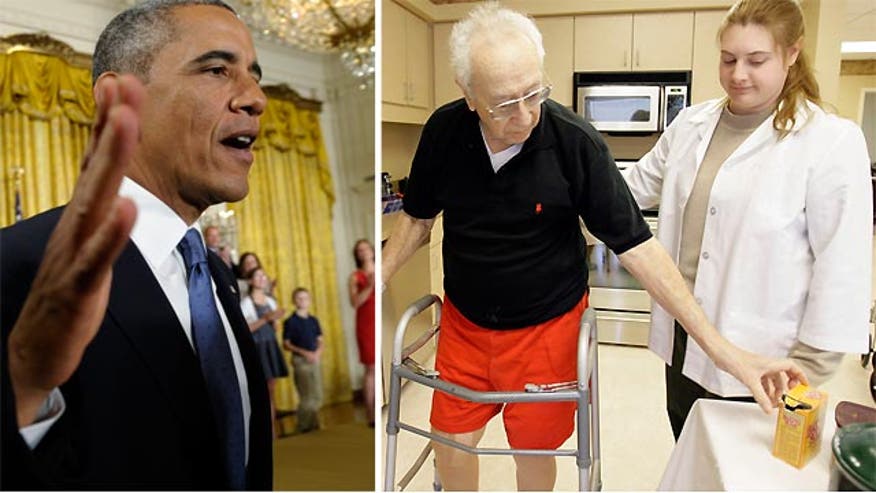 WASHINGTON – President Obama touted a provision in his Affordable Care Act on Thursday that would require health insurance providers to return money to consumers, pushing back on Republican criticism a day after the GOP-led House voted to delay key parts of the law.
The president's signature health care overhaul -- commonly referred to as ObamaCare -- has come under fire by many Republicans who have worked to defeat, delay or gut major parts of it.
At the White House event Thursday, Obama highlighted more of the financial benefits tied to it -- specifically, a half billion dollars in rebates going to 9 million people under a provision of the law.
Insurers must spend at least 80 cents of every dollar on medical care or quality improvement, or refund the difference. That's the $500 million consumers are getting in rebates averaging about $100. For Americans who get insurance through their work, the rebates go to their employers to be refunded or used to lower premiums.
"If they're not spending your premium dollars on health care, they have to give you some money back," Obama said, appearing with a group of health care consumers in the East Room.
The president's comments come a day after House lawmakers voted to delay two key components of ObamaCare, in an effort to chip away at the plan after the administration acknowledged new issues with its implementation.
Obama also noted that some states, ahead of the law's requirement that most Americans obtain health insurance, are anticipating lower premiums because of health insurance marketplaces that are being set up under the law so consumers can comparison shop for the coverage.
Obama pushed his pitch a day after the Republican-controlled House voted for the 38th time to eliminate, cut funding or scale back the 3-year-old law since the GOP took control of the House in January 2011.
Republican leaders swiftly organized the votes after the administration, in early July, said it would delay until 2015 a requirement that businesses with 50 or more workers provide insurance coverage or pay a penalty.
The House voted 264-161 for a measure that would do exactly that. But they also voted 251-174 for a measure that would delay the individual mandate -- the requirement on individuals to buy health insurance -- for a year as well.
Republicans argue that both delays are necessary. While they endorsed the delay for businesses, House Speaker John Boehner and other GOP lawmakers say it's unfair to deny everyone else a similar reprieve.
"It is not fair that the president is choosing to protect big business from ObamaCare, but not hardworking American taxpayers," Rep. Marsha Blackburn, R-Tenn., said on the House floor ahead of the vote.
She also said the delay was an admission that "this is a train wreck, and it is not ready for prime-time."
But Democrats sharply disagreed, and accused Republicans of wasting time with yet another set of votes against the health care law. Rep. Joseph Crowley, D-N.Y., said Republicans weren't simply trying to delay the requirements. "It is their intention to destroy the Affordable Care Act ... to do away with it, to annihilate it entirely," Crowley said.
Obama has already threatened to veto the bills.
The votes marked the 38th time the GOP majority has tried to eliminate, defund or scale back the program since Republicans took control of the House in January 2011. It is unlikely the Democrat-controlled Senate will advance the latest bills.
The Associated Press contributed to this report.