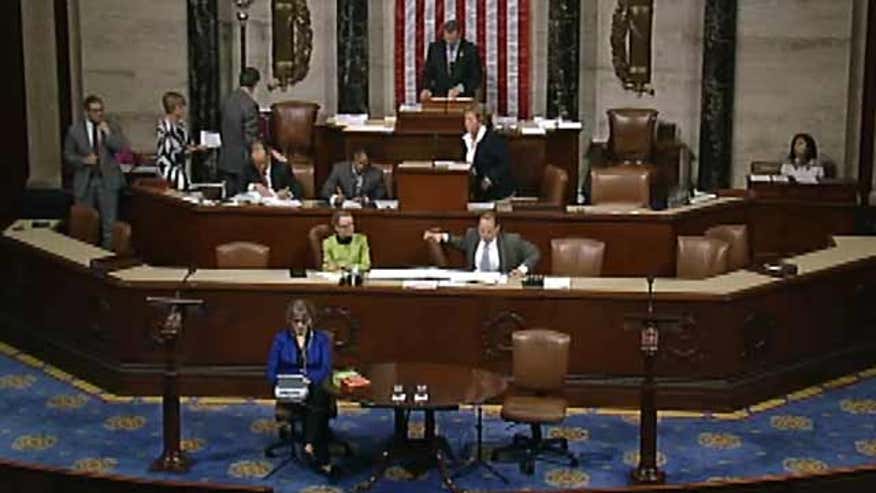 The Republican-controlled House will vote Wednesday on delaying key parts of ObamaCare, the party's latest effort to dismantle the law amid signs that it may be vulnerable.
The lawmakers will vote on bills to delay the start of the law's distinct employer and individual mandates, which respectively require businesses and individual Americans to purchase insurance next year or face penalties.
The Obama administration earlier this month delayed the start of the employer mandate, saying the decision was in response to business owners expressing concerns about the law's complex reporting requirements. Republicans say it's unfair to only delay that provision -- they want the requirements effectively pushed off for everyone.
Late Tuesday, the White House issued a threat to veto the Republican bills, saying their passage would help "further efforts to repeal a law that is already helping millions of Americans stay on their parents' plans until age 26, millions more who are getting free preventive care that catches illness early on, and thousands of children with pre-existing conditions who are now covered."
Political analysts have said that the administration's move to delay the employer provision until 2015 was an attempt to prevent Republicans during next year's elections from pinning ObamaCare problems on Democratic candidates.
However, the administration's decision appears to have energized Republicans, who say it validates their concerns about the law being too complicated and expensive, particularly on job-creating businesses.
"They have conceded to the argument we have been making," Arkansas Republican Rep. Tim Griffin, whose bill delays the implementation of the employer mandate, told FoxNews.com.
Griffin argues only Congress can change the law and that the companion bill by fellow House Ways and Means Committee member Rep. Todd Young, R-Ind., delaying the so-called individual mandate is only fair.
"Despite all of the talk about helping families, the president singled out big business," Griffin said. "To me, that seems to make no sense. Let's also give some relief to workers, families, all of us."
Labor unions started to complain about the law in May, fearing it would increase insurance costs for millions of union workers, despite Obama promising the opposite.
Their primary concern is that the roughly 20 million workers covered under the so-called Taft-Hartley Act will see their premiums increase because they will not get subsidies like those being given to workers seeking coverage in the upcoming, state-based marketplaces for insurance, known as exchanges.
They were joined last week by the powerful Teamsters union, which joined in sending a letter to House Minority Leader Nancy Pelosi and Senate Majority Leader Harry Reid, both Democrats.
"We have been strong supporters of the notion that all Americans should have access to quality, affordable health care," the letter reads in part. "We have also been strong supporters of you. … Now this vision has come back to haunt us."
The letter also argues that employers not having to offer coverage to part-time workers will "destroy the foundation of the 40-hour work week that is the backbone of the American middle class."
Republican House Speaker John Boehner on Tuesday reassured voters that his chamber will not give up the cause, despite having already voted at least 35 times on either a full or partial repeal of ObamaCare.
"We'll vote tomorrow to make sure that families and individuals get the same break from ObamaCare that the president gave big businesses," he said on the House floor. "This week we will take action to protect every American."
Later in the day, Senate Republicans joined in the fight, with South Dakota Sen. John Thune suggesting that Democratic counterparts vowing to change chamber rules was really an attempt to avoid discussions about ObamaCare, officially known as the Affordable Care Act.
"This really is a train wreck," Thune said. "I see why Democrats would rather talk about something else."