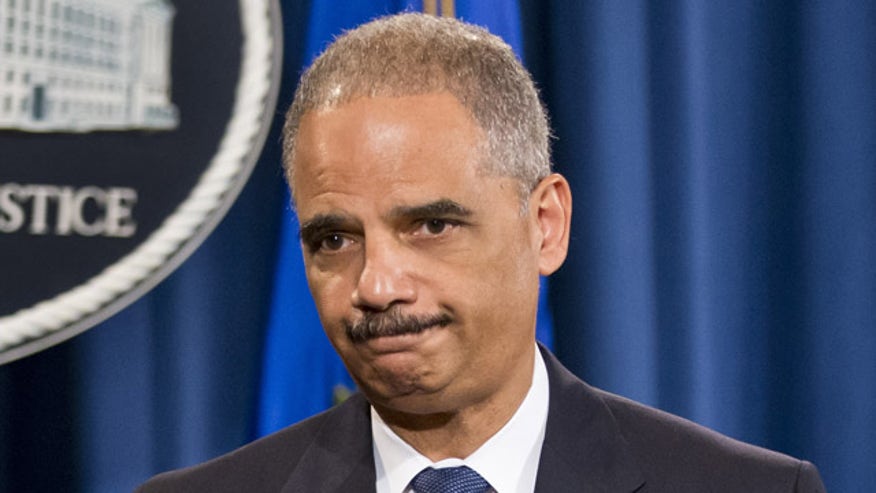 "So I've experienced [racial profiling] and I remember how badly I felt, how angry I felt and what a negative view -- at least, for me, it was a temporary one -- it gave me of the police."
-- Attorney General Eric Holder in an April interview with The Root in which he recounted two occasions when he was stopped by police as a young man in what he said were unwarranted, racially-motivated incidents.
If you ever wondered why Eric Holder has stayed on as attorney general long after even many Democrats were nudging him toward the exits, you will have your answer today.
Holder will be addressing the NAACP's national convention, which not coincidentally is being held in Orlando, the closest major city to Sanford, Fla., scene of the 2012 killing of Trayvon Martin and the just-concluded trial of George Zimmerman.
It's show time for the administration's top envoy to the black community.
Back in Washington, Holder is a symbol of the problems facing President Obama. Not only is Holder the personification of the administration's unprecedented action against the press in Obama's scorched-earth war on leaks, but the attorney general has got plenty of other problems. There's the long shadow of Operation Fast and Furious and the fact that Holder's department hasn't shown more prosecutorial zeal in rooting out abuses at the IRS. And what about those domestic eavesdropping warrants and legal authorizations for drone killings?
All that, combined with a perennially bad relationship with Congress, means that in conventional Washington timing, Holder has considerably exceeded the shelf life of an attorney general. Of the 82 who have been confirmed to that post since 1789, Holder has served longer than all but eight attorneys general. He and his former boss Janet Reno were the first to serve more than a four-year term since 1957. (At seven years, 10 months, Reno outlasted all but William Wirt, who served from 1817 to 1829)
But Holder is also the first black attorney general and he is serving the first African American president, and that adds considerable complications.
As evidenced by the anger in the black community over President Obama's evenhanded statement on the Zimmerman verdict over the weekend --"Obama Fails Black America and Trayvon" declared The Root -- many in the black community believe Obama has been a bust when it comes to advancing the cause of black America. High unemployment, high murder rates in black communities, a substantial reversal for the Voting Rights Act and a lot of white faces in high-level administration jobs has left many believing the president may have counted on black votes but hasn't delivered for black voters.
[pullquote]
But Obama also knows that with his approval ratings down and a host of problems foreign and domestic sapping his presidential clout, now would be a poor time to jump into the toxic territory of accusing a Florida jury of racism in acquitting Zimmerman. It may have been helpful once to remind Americans that Martin looked like he could have been Obama's son, but not now.
Holder, long the administration's point man on race, has a different role to play, though.
As he speaks to the NAACP, Holder will have to offer reassurance that the federal government will review the verdict and may be bringing civil rights charges against Zimmerman. That won't be enough for those pushing the racial grievance line in this verdict, but if Holder delivers some red meat for Obama's base, it may buy the administration some time with black voters.
On Monday, Holder told members of a black sorority gathered in Washington for its annual convention that he would address "the underlying attitudes, mistaken beliefs and stereotypes that serve as the basis for these too common incidents." Questions about the degree of commonness of Hispanic neighborhood watch block captains shooting black teenagers during fistfights notwithstanding, Holder was clearly putting more racial tinge on the incident than Obama. That ought to intensify today before a more political crowd at the NAACP.
This explains Holder's continued utility in the administration, despite all of his woes. For liberals and black activists, Holder still stands as the conscience of the administration. That makes him useful, yes, but also powerful and hard to remove without causing the further deflation of the already sagging left wing.
The question for today, though, is whether Holder can fire up and reassure the base without turning off moderate voters who wonder why the administration would be second guessing a jury in a trial so lavishly covered that even casual news watchers understand the details. How can the shooting of the member of one minority group by the member of another minority group be a civil rights violation? And why would Holder, whose own agency is under fire for misconduct, be diverting attention and resources to it?
But Holder, who famously started his tenure at the agency calling America "a nation of cowards" in talking about race, is likely tempted to err on the side of pumping up his supporters than in placating a mainstream audience. And that could mean trouble for a troubled department and a troubled administration.
And Now, A Word From Charles
"CNN and others had to invent a new category, the white-Hispanic. Up until now we had never heard of that. Why? Presumably one of Zimmerman's parents is white. That also applies to the president of the United States, which means is he a white -African-American? This is an absurdity and it's also a disgrace."
-- Charles Krauthammer on "Special Report with Bret Baier."
Chris Stirewalt is digital politics editor for Fox News, and his POWER PLAY column appears Monday-Friday on FoxNews.com. Catch Chris Live online daily at 11:30amET at http:live.foxnews.com.
Chris Stirewalt joined Fox News Channel (FNC) in July of 2010 and serves as politics editor based in Washington, D.C. Additionally, he authors the daily Fox News Halftime Report political news note and co-hosts the hit podcast, Perino & Stirewalt: I'll Tell You What. He also is the host of Power Play, a feature video series on FoxNews.com. Stirewalt makes frequent appearances on network programs, including America's Newsroom, Special Report with Bret Baier and Fox News Sunday with Chris Wallace. He also provides expert political analysis for FNC's coverage of state, congressional and presidential elections.