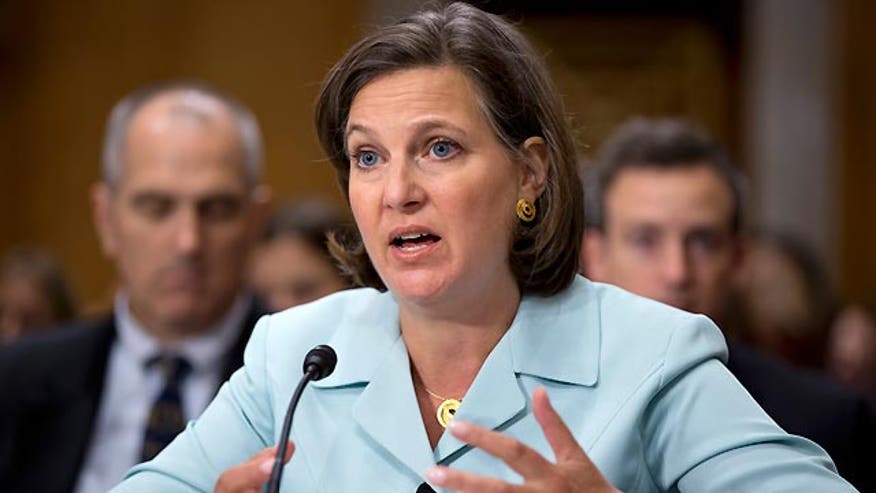 The debate over the Benghazi terror attack flared once again Thursday as senators grilled a diplomatic nominee over her role in massaging the Obama administration's initial story-line on the attack.
Republican senators repeatedly challenged Victoria Nuland, nominated as chief U.S. envoy for Europe, during her confirmation hearing before a Senate panel. The post typically would not receive this much scrutiny, but Nuland's prior job was as the top spokesperson in the State Department -- she was the face of the department in the days and weeks following the Benghazi attack.
Republicans say the full truth has not yet been told, and prodded for answers on the role Nuland played in pushing to change the so-called "talking points" after the attack. Those notes were ultimately used by then-U.N. Ambassador Susan Rice to give a faulty account to the public about the nature of the attack.
"It is pretty remarkable how sanitized they really were," Sen. Ron Johnson, R-Wis., said of the talking points.
He accused Nuland of being more interested in protecting her bosses' image than getting the truth out.
Nuland denied actually changing the talking points, noting she was acting in a "communications role" at the time and wanted to make sure all agencies were consistent in their message.
"I did not make any edits," she said.
In one testy confrontation, Nuland tried to explain why, in the drafting of the talking points, she objected to references to prior security warnings and incidents. Internal documents released by the administration in May showed Nuland expressing concern that they "could be abused by Members to beat the State Department for not paying attention to Agency warnings."
Nuland said Thursday she was concerned at the time that the notes were providing incomplete information.
"They struck me as a partial rendering of some of the background information ... and I was concerned that giving them out this way would encourage members of Congress and members of the public to draw inaccurate conclusions about our respective agencies' role in the entirety of the Benghazi issue," she said.
Johnson challenged Nuland on that claim: "You were more concerned about the State Department getting beat up by members of Congress than potentially getting the truth out to the American people."
She also faced tough questioning from Sen. Rand Paul, R-Ky., and others on Benghazi.
The hearing marked the first time Benghazi has surfaced in the Capitol Hill debate in several weeks. Other controversies and legislative battles have gradually pushed Benghazi out of the spotlight, though nobody has yet been brought to justice over that attack 10 months ago.
Congress continues to dig for answers on Benghazi. Congressional leaders so far have not answered calls to appoint a select committee, as some Republican lawmakers want, to investigate.
But the House Oversight and Government Reform Committee has steadily plugged away at its probe -- issuing subpoenas for additional documents in May and to four State Department officials late last month.
The administration, which claims it has been cooperative with Congress' investigations, tried to ease the tension in late May when it released a series of internal documents from the days after the attack.
Leading Republican Sens. John McCain of Arizona and Lindsey Graham of South Carolina have come out in favor of Nuland despite accusations by some in their party that she helped State Department superiors water down the now-infamous talking points.
"There are many questions still unanswered," McCain told reporters Wednesday. He said he saw nothing wrong with how Nuland acted but he still wants the administration to provide more information about those who survived the attack and those who ultimately signed off on the talking points.
Republicans have focused on the administration's talking points since they were used by Rice, then Obama's U.N. ambassador and now his national security adviser, for her public explanation five days after the attack. Rice blamed it on extremists hijacking a spontaneous protest against an anti-Islam video.
Few accuse the three-decade-long foreign service officer -- a one-time adviser to Vice President Dick Cheney and a former NATO ambassador -- of instigating any sort of cover-up. But with former Secretary of State Hillary Clinton weighing a possible run at the presidency in 2016, some Republicans want to hear more about why the points were edited and at whose insistence.
The Associated Press contributed to this report.