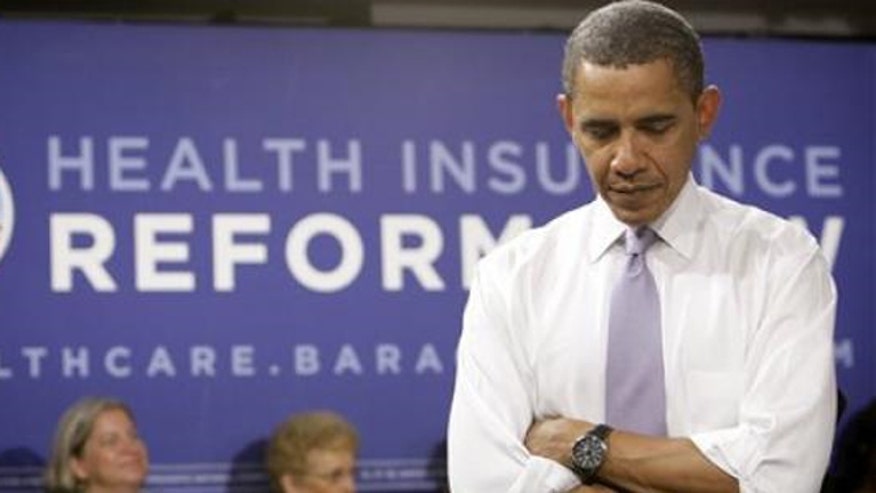 The Obama administration is easing requirements on those seeking government aid through ObamaCare, making it easier to apply for subsidies just days after making another major change to the law's implementation.
Reuters first reported that the Department of Health and Human Services was tweaking the rules which require those seeking federal aid for insurance coverage to prove they actually need the help.
Under the law, those seeking subsidies are supposed to have incomes no higher than 400 percent of the federal poverty line. Further, they can't have access to affordable insurance through their jobs.
The administration looked to the newly created "exchanges" -- a blend of federal- and-state run insurance marketplaces -- to verify those facts. Originally, the administration wanted to launch random checks to verify whether applicants got insurance through their jobs, and to individually verify everyone's income level.
But Reuters reports that the new rules released on Friday will give 16 states -- as well as the District of Columbia -- a pass for now on the employer-insurance verification. For those states, which are launching their own exchanges, the federal government will give them until 2015 to start random checks. The exchanges themselves launch at the beginning of 2014.
As for verifying the income levels of applicants, Reuters initially reported that the new rules will allow those running the exchanges to accept "an attestation of projected annual household income without further verification." But the HHS later clarified that income levels will still be checked via IRS data.
An administration official said the overall changes, announced as part of a more than 600-page regulatory document, were meant to ease the burden on the states implementing the exchanges -- and simplify the process for applicants during the first year.
The official said the process in the document is "consistent" with one described in a proposal last April.
Further, the official said those running the exchanges will continue to use IRS and other data to verify income. However, during the first year they will be allowed to conduct random checks when "income cannot be verified with electronic data."
The change comes after the administration last week announced it was delaying until 2015 a requirement that businesses employing 50 or more workers provide access to insurance.
Taken together, the two sets of changes indicate that bureaucrats and businesses alike need more time to prepare for the launch of the law.