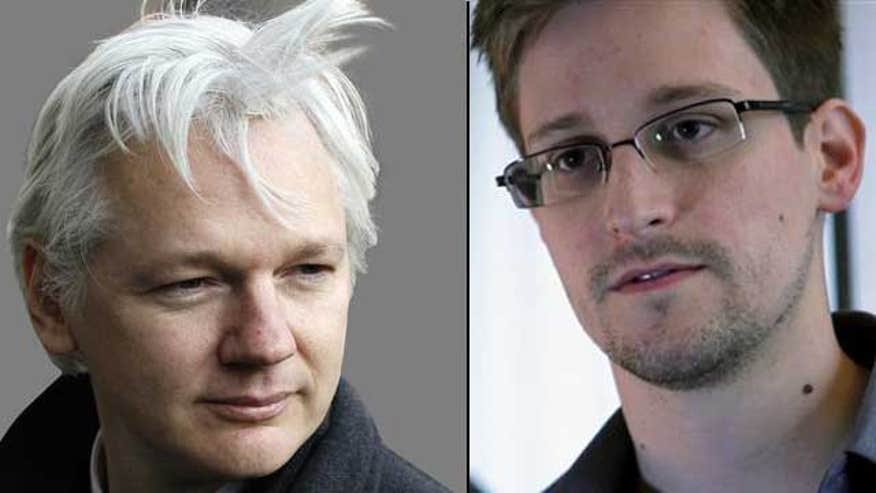 He's the man at the center of the world's most intriguing bout of diplomatic wrangling. Yet few can claim to have seen him.
Edward Snowden, more than a week after fleeing Hong Kong, supposedly remains in the Moscow airport's "transit zone" -- a place that to the rest of the world may seem more like the twilight zone with every passing day.
Reporters swarmed the airport last week after Russian officials said the infamous NSA leaker was still there, while claiming he technically was not on their territory and refusing to get involved in his case.
But to the media, the most-wanted leaker in the world was invisible, nowhere to be found. Even Snowden's father, Lonnie Snowden, is still trying to establish a "direct communications link" with his son, his dad's attorney Bruce Fein told Fox News on Monday.
Ian Phillips, the Associated Press Eastern Europe news director who spent 21 hours in the Moscow transit zone last week in an unsuccessful attempt to find Snowden, told FoxNews.com his best bet is that Snowden is holed up in the Novotel -- a bizarre hotel that has one wing jutting into the international transit zone. That's where Phillips stayed last Thursday and Friday, to no avail.
But really, Phillips said, "there are many places he can be."
"Who knows," he concluded.
WikiLeaks, which is helping Snowden and claims to have an adviser traveling with him, could shed light Monday on where Snowden is spending his time and how he was able to avoid prying eyes.
The group said on its Twitter page that on Monday, "we will issue several important announcements during the day." Hours later, reports surfaced that the WikiLeaks adviser traveling with Snowden has submitted a request for political asylum to Russia. There were no further details about his current whereabouts.
WikiLeaks Julian Assange was typically cagey during a Sunday show interview about Snowden's circumstances.
"The situation now with Edward Snowden is a very sensitive one. It's a matter of international diplomatic negotiations," he said.
Last week, after Snowden landed in Moscow, Assange only would say that Snowden and the WikiLeaks adviser are "healthy and safe."
Speculation swirls about where Snowden may be spending his time, though U.S. officials still say they believe he's at the Moscow airport -- somewhere.
Russian news reports claimed last week he was at a hotel in the terminal itself. But The Associated Press sent a reporter to the transit zone last week and could find no sign of Snowden at the on-site hotel, the Air Express, or any worker who would confirm he was staying there.
The AP reporter claimed to have entered the transit zone -- a sprawling area comprising several terminals, as well as the usual mix of duty-free shops and other stores -- last Wednesday in search of Snowden. While finding no trace of Snowden, the AP noted that aside from the hotel, there are a number of small rooms where someone could potentially hide.
Snowden was not found, though, in any of the VIP lounge areas.
The AP then sent Phillips to the Novotel on Thursday. Phillips described an "Orwellian" experience there, and on Monday recounted his visit to FoxNews.com.
He said he arrived last week with the understanding "it was a long shot." He took a bus and "walked in a free man into the lobby of what looked like a fantastic hotel."
But then, Phillips said, "a guard came and said, 'come with me.'"
Phillips was taken to the old wing of the hotel where travelers with no visas -- like Snowden -- are kept under tight security.
He tried to call the other rooms and hang out in the corridor, in hopes of stealing a glance at Snowden. No luck. Any further movement was prohibited.
"I walked out the first night and the guard jumped up as if to say 'what are you doing,'" Phillips said. "I think we expected a bit more freedom to roam."
At the same time, he said that if Snowden is in the transit zone, there's a "fairly good chance" he's at the Novotel, given how secure it is.
With Russia, and now Ecuador, trying to distance itself from Snowden's case, it's unclear who has actually had face-to-face contact with him besides the WikiLeaks adviser.
Fein, the attorney for Snowden's father, told Fox News that the family is currently trying to get information to Edward Snowden so he can make an informed decision about what legal options are available.
The father last week sent a letter to the Justice Department in hopes of securing a few key conditions for Snowden to return. He asked that Snowden not be detained before trial, not be subject to a gag order and have a trial in a venue of his choosing.
But Fein clarified to Fox News that these are not "ultimatums" and that the father is also respecting his son's wishes.
"He's an adult. He has to chart his own destiny, and his father's not going to dictate that," Fein said.