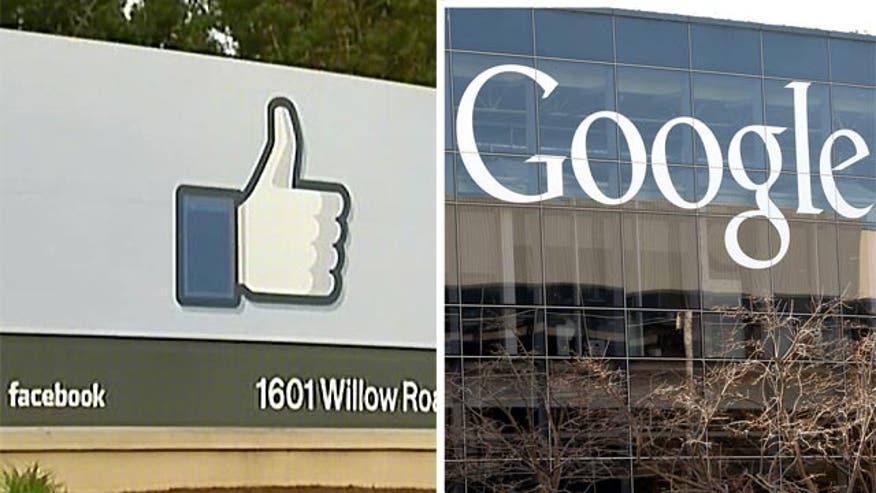 Sun-baked, rural and blue-collar, the Rio Grande Valley in Texas has little in common with latte-sipping, start-up country in California's Silicon Valley. But today, the two communities share an interest on Capitol Hill, where the Senate is squaring off over immigration reform.
While Falfurrias, Texas -- which has seen a surge in illegal immigrant traffic -- wants a bill that will increase the number of border agents, Silicon Valley has its own interests at heart. It wants a bigger shot at the world's high-tech labor pool, and is hoping the Senate bill can deliver.
In Palo Alto, Facebook founder Mark Zuckerberg and a group of high-tech leaders are waiting to see if their million-dollar super PAC spending spree paid off, by doubling the number of foreign workers Silicon Valley can import.
"High technology companies are among the fastest growing lobbying shops in Washington," said Adam Thierer, of the Mercatus Center for Politics at George Mason University. "Google, Facebook, Microsoft, these are among the largest players, and they're matching what a lot of other telecommunications and cable companies have done for many years."
Ahead of a key Senate test vote that passed 67-27 Monday night, President Obama promoted immigration legislation at the White House with several business owners and CEOs.
The U.S. Chamber of Commerce is launching an ad campaign in support of the Senate bill. But it was the tech sector, which wants the right to hire the best and brightest even if they're not American, that helped jump-start the immigration debate months ago.
Historically, Palo Alto has been a reluctant political player, often seeing Washington as too slow and methodical, plodding and unsophisticated. But frustrated by losing highly skilled and hyper-educated foreign tech workers to Canada, China, India and Europe, Zuckerberg recruited like-minded millionaires from Google, Microsoft, Apple and Yahoo to form "forward.us" to push immigration reform.
"If you are a tech company, immigration is not a social issue, not a cultural issue, not a moral issue -- it is a bottom-line issue," said Professor Dan Schnur at the Jesse M. Unruh Institute of Politics at the University of Southern California.
In 2012, it took 10 weeks for the tech sector to use up its entire annual allotment of 85,000 foreign worker visas. This year, all those visas were gone in just five days.
Labor unions argue these highly educated foreigners take American jobs and depress wages. American universities, they say, can deliver a steady stream of code writers and seriously smart engineers.
But Zuckerberg and his colleagues claim U.S. companies are losing out on the best and brightest students coming out of China and India, and unless Congress delivers more high-tech worker visas, American companies will lose their competitive edge.
"In a knowledge economy, the most important resources are the talented people we educate and attract to our society," Zuckerberg wrote in a Washington Post op-ed. "A knowledge economy can scale further, create better jobs, and provide a higher quality of living for everyone in our nation."
Acting with Sen. Orrin Hatch, R-Utah, "forward.us" successfully amended the current immigration bill to almost triple the number of foreign high-tech workers allowed into the U.S. from 65,000 to 180,000. The Hatch proposal also eliminated the requirement employers prove their new green card-holder did not displace an American worker.
The effort, which included TV ads in support of moderate, pro-immigration bill Sens. Lindsey Graham, R-S.C., and Mark Begich, D-Alaska, angered some of his Zuckerberg's own investors. The ads, which featured the lawmakers' support for oil drilling, caused three members of "forward.us" to pull out. They felt Zuckerberg was so single-minded about immigration reform he sacrificed equally important causes.
"Will FWD.us prostitute climate destruction and other values to get a few engineers hired & get immigration reform?" tweeted venture capitalist Vinod Khosla, one of those who pulled out.
"If you are a hard-line environmentalist, then what Mark Zuckerberg and his organization did is an absolute atrocity," Schnur said. "If you believe that immigration reform is more important than the environment then it is brilliant."
William La Jeunesse joined FOX News Channel (FNC) in March 1998 and currently serves as a Los Angeles-based correspondent.